Solid performance marked by district publicly traded companies
This year's pace of initial public offerings in the United States is far ahead of last year's quiet activity; there were as many IPO filings during the first half of 2004 as for the entire year of 2003. At the same time, U.S. stock prices have been soft; the Standard & Poor's 500 index dropped 1 percent for the first seven months of 2004.
How does the district fit into the U.S. portrait of publicly traded companies? Over 260 public companies reside in the Ninth District, or 2.7 percent of all publicly traded companies in the country. The district population represents 3 percent of U.S. population, suggesting that the concentration of publicly traded companies is slightly lower than in other areas in the United States.
District publicly traded companies range from small capitalized firms to large Fortune 500 companies. While most of them are located in Minnesota, publicly traded companies are spread throughout the district, and a few public companies are located in relatively low population areas. Some district companies went public in 2003-04, such as Buffalo Wild Wings, Gander Mountain and Life Time Fitness. In addition, an index of district mid-cap firms (companies whose stock valuation is between $1 billion and $5 billion) shows that they have increased in value while many other U.S. stocks have declined.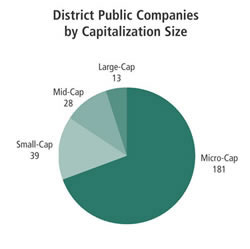 Going public is a transition in a company's ownership from a small group of private owners (maybe even a single person) to an open sale of that ownership, in the form of stock, to the general public. Some private firms go public to obtain greater amounts of capital—usually for investment and company expansion—than the firm could otherwise receive from its private owners. Other times—particularly at the height of the stock market boom of the 1990s—it's done by private owners looking to cash in on their ownership stakes, believing the market will pay handsomely for the opportunity to own a piece of a particular company.
Almost all publicly traded companies outside Minnesota are located in metropolitan statistical areas, such as Great Falls and Missoula, Mont., Fargo, N.D., and Eau Claire, Wis. However, there are examples of large publicly traded companies located outside metro areas. Kalispell, Mont., with a population of around 15,000, hosts two publicly traded companies, Semitool Inc. and Glacier Bancorp Inc., with a combined market capitalization of nearly a billion dollars.
An index of mid-cap stocks in the Ninth District shows that district mid-cap companies have experienced greater growth in company value than similarly sized firms throughout the nation since the beginning of the year. From Jan. 1 through July 28, the district mid-cap index increased 9.2 percent, while the S&P MidCap 400, an index introduced in 1991 as the first to describe this capitalization range, increased by only 0.7 percent.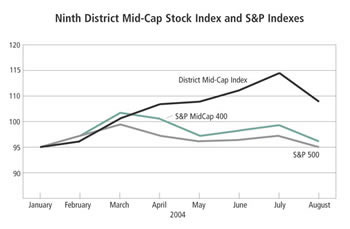 Sources: Minneapolis StarTribune, Milwaukee Journal Sentinel, The Business Journal, Smallcapreview.com
The Ninth District Mid-Cap Stock Index comprises 31 companies from a wide range of industries; four are financial firms, five operate in the technology sector, three provide goods or services in the health care industry, and another three are utilities companies. The remainder are either service-based businesses or manufacturers of various durable and nondurable goods. Though dominated by Minnesota firms, the index includes companies from throughout the district.
More About Stock Indexes
A stock price index statistically represents a group of stocks. The companies are weighted, so that the change in each company's daily stock price impacts the index according to the company's share of total. Well-known stock indexes include the Dow Jones Industrial Average (DJIA), NASDAQ and the S&P 500. Each of the 30 companies in the DJIA is a top company in its industry. Combined, they represent one-fifth of the total value of publicly traded companies in the United States. The tech-heavy NASDAQ composite index measures the movement of all stocks traded in NASDAQ. (The acronym stands for the National Association of Securities Dealers Automated Quotations.) The S&P 500 index is composed of 400 industrial stocks, 20 transportation stocks, 40 utility stocks and 40 financial stocks; it represents about 70 percent of the U.S. market.
Movements of stock indexes provide some indication on prospects for overall economic activity going forward. For example, The Conference Board includes stock prices in its index of leading economic indicators. However, day-to-day movements in stock price indexes often vary widely.