Business leaders very optimistic
The results of the November fedgazette business outlook poll were the most optimistic since the survey began in February 1989. "I am very upbeat about America," commented a western Wisconsin construction manager. Business leaders are confident that the national and district economies will grow at an average to above-average rate in 2005. Respondents also expect average to above-average growth in inflation in 2005. Still, they are optimistic about their community's economy, anticipating increases in employment, investment and consumer spending, though they see housing starts leveling off.
Optimism for the overall economy is also reflected in respondents' outlook for their own operations. Leaders expect increasing sales, employment, capital investment and product prices for their companies in 2005. This optimism may be a result of the national elections as most of the respondents indicated that the elections, will have a positive impact on their operations.
GDP growth predicted
Almost 80 percent of the 340 respondents expect growth of 3 percent or more in U.S. gross domestic product in 2005. This is the highest percentage since the poll first posed the question in 1992. Minnesota and western Wisconsin predict the largest growth in 2005 GDP, while respondents from the Dakotas and Michigan's Upper Peninsula (U.P.) expect the least. Though all sectors expect solid growth, agriculture and retail respondents are the least optimistic. Even with overall optimism, several respondents commented about the negative effects of war, government spending and higher costs. "Steel pricing and availability are a major challenge now, and we expect that to continue," said a Wisconsin manufacturer. Another manufacturer, from the Twin Cities, mentioned concern over the high cost of fuel.
"I see inflation creeping into the economy, driven by energy prices and the result of financing our federal deficit," commented a Minnesota manufacturer. In fact, 34 percent of respondents expect inflation to increase at a rate of 4 percent or more, a sentiment shared across most sectors.
Business investment up in 2005
Business leaders not only expect increases in U.S. production and prices in 2005, but 87 percent are optimistic about the economic prospects for their particular community, the highest level since this question was first asked in 1996. This local optimism is widespread across states and industry sectors. Respondents overall expect business investment, employment and consumer spending in their local community to increase in 2005.
Almost two-thirds of the respondents expect business investment to increase, the highest number since the poll first asked this question in 1992. The strongest growth in investment is anticipated in the Minneapolis-St. Paul area, and the weakest in the U.P.
In line with more robust capital investment are stronger employment expectations, as 60 percent of the respondents plan employment increases compared with only 8 percent who expect more layoffs. Again, respondents from the Minneapolis-St. Paul area expect the highest growth, while U.P. respondents predict the weakest. Even though wages are expected to increase around only 2 percent or 3 percent, more employment means more consumer spending. Overall, 47 percent of business leaders see increased consumer spending, while only 9 percent expect decreases.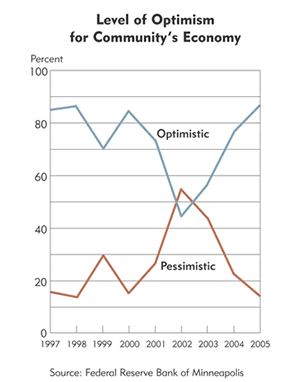 About the only pessimism seen in the survey related to housing. Housing starts are expected to remain flat, as 30 percent of respondents predict declines compared with 28 percent who expect increases. Respondents from the Minneapolis-St. Paul area are the most pessimistic about housing starts, while Montana respondents are the most optimistic.
Improved business, higher prices
"We are running at 100 percent," commented a U.P. manufacturer. Business leaders expect company sales, employment, investment and prices to increase for their own businesses and organizations in 2005. This may be partly due to recent election results. More than two-thirds of the respondents indicated that the presidential and U.S. congressional elections would have a positive impact on their company in 2005. The impact of state elections was mixed, as respondents from the Dakotas indicated positive effects, while respondents from Minnesota indicated generally negative effects.
Seventy percent of business leaders reported that sales would increase in 2005, compared with only 7 percent who expect decreases. Although this is somewhat consistent across states, there are some notable differences across sectors. Respondents from the computer, software, finance and manufacturing industries were more optimistic, while respondents from the agriculture and service sectors were less optimistic about their sales prospects. About half of the businesses plan to increase prices on their products and services.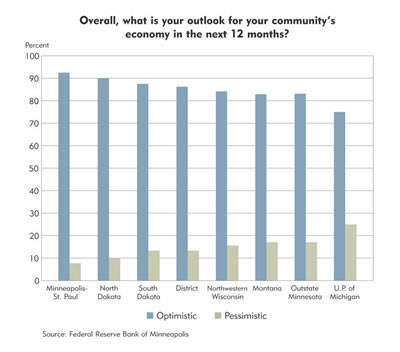 To accommodate higher sales, companies plan to hire more workers. Overall, 44 percent of respondents expect increased employment, compared with 7 percent who see decreases in employment. Employment is expected to increase across all business sectors and states. However, 44 percent of businesses are finding it a challenge to locate qualified workers. Meanwhile, respondents said that investment in their own plants and equipment is expected to increase in all states and sectors as well, most notably in manufacturing and computers/software. Businesses may be increasing the investment in capital goods due to increased productivity. Nearly a fifth of respondents indicated productivity gains of over 5 percent in 2004. In addition, 28 percent saw productivity gains of 3 percent to 5 percent.