Exploring new tourism territory
For a three-year celebration, some organizations have been cashing in on the Lewis & Clark bicentennial for more than twice that long.
The North Dakota Lewis & Clark Interpretive Center outside Bismarck, for example, opened its doors in 1997, seven years before the 200th anniversary of the Corps of Discovery's stay near there in the winter of 1804. It opened right around the time Ken Burns' documentary about the expedition was airing on television, creating an explosion of interest about the Corps of Discovery's voyage from 1804 to 1806 to explore the newly purchased Louisiana Territory in search of a northwest passage to the Pacific Ocean.
The public attention to Lewis & Clark and to sites along the voyage's route in turn caught the attention of tourism officials in the states the expedition visited, including the Ninth District states of Montana, North Dakota and South Dakota. If the interest continued, they thought, the bicentennial could generate tourism dollars.
And so it did. The interpretive center near Bismarck saw increased visitors in the first seven years of operation, from 25,000 in 1997 to 50,000 in 2004. Such a showing is rare for historical attractions, which usually get the most visits with the publicity of their first year. The trend was similar for North Dakota tourism as a whole.
Then this past summer something changed. In the middle year of the bicentennial, interest seemed to diminish. There were ominous signs starting in 2004 because the state's overall tourism indicators were down, though some blamed that on lousy weather, and tourism this year has been mixed.
Whatever the case for overall tourism, visits to the interpretive center and other Lewis & Clark attractions in North Dakota have decreased this year to date. "We have been on a growth spiral, and 2005 was a year we just kind of settled a bit with growth. It will be down from last year in the double digits," said David Borlaug, president of the Lewis & Clark Fort Mandan Foundation, which runs the interpretive center. "It's not an insignificant number; let's put it that way."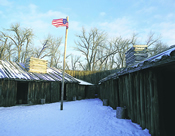 Visits to other major attractions in North Dakota, including Lewis & Clark–related sites, were also down this year. North Dakota wasn't alone in seeing some disappointments regarding tourism flows from Lewis & Clark. While it was by all accounts a high-quality production, the 34-day "national signature event" in Great Falls, Mont., attracted fewer tourists than had been hoped.
Some have blamed low attendance on factors like high fuel prices. But some observers wondered whether "Lewis & Clark fatigue" had begun to set in—a potentially troubling development in light of public spending that was expected to permanently raise North Dakota's tourism profile.
History
Of the 15 states involved in the bicentennial, the one with potentially the most to gain was North Dakota. The Corps of Discovery spent about a quarter of its time in the state, due to its winter with the Mandan Indians, where they met their guide, Sacagawea.
Officials hoped that interest in Lewis & Clark would help do away with the unwelcome distinction of being the nation's least-visited state. Tourism has been growing in North Dakota, and by some measures, it is the second-largest industry in the state. But tourism boosters believed North Dakota could be more like its neighbors if only people were made aware. "It wasn't that tourists thought of us negatively; they just didn't think about us at all," Borlaug said.
So the bicentennial was hoped to be the event that would put North Dakota on the map. "We feel that this is just creating some awareness. Even though around here a lot of people are very aware of the bicentennial … other parts of the country aren't," said Sara Otte Coleman, director of the North Dakota State Tourism office. "It's going to take more years for them to realize that," and the bicentennial puts them on the path to do so as "all the thousands of new people we've attracted are going to go out and spread the good news."
In order to raise that awareness, North Dakota state government officials decided some public financing was in order. They weren't alone in that decision, although most other states didn't hitch such high hopes on their efforts to spur overall tourism. Montana and South Dakota, for example, also lie in the path of the bicentennial, but each has major tourist destinations already. Montana gets about 9.7 million visitors a year, mostly for skiing and nature sightseeing, and South Dakota contains such popular destinations as the Black Hills and Mount Rushmore.
Montana dedicated considerable resources to the celebration, since the expedition spent a great deal of time crossing the massive state and experienced some important historical incidents there, including leaving the only remaining physical evidence of the expedition when William Clark etched his signature on Pompey's Pillar. South Dakota, by comparison, is a minor player in the bicentennial, and as such, the state did not put much into promoting events.
When states did get involved in creating Lewis & Clark attractions, they typically got involved at several levels: building exhibits and other capital projects, operating them and promoting them. Federal money helped get many projects off the ground. Private money has been involved—typically as charity to support capital projects or ongoing operations—though exactly how much is difficult to say. Attractions also depend on private ticket sales to supplement their budgets.
For example, the original construction cost of the interpretive center near Bismarck was $1.5 million, 80 percent of which came from a federal grant, with the remainder coming from the state. As part of a renovation in 2001, which doubled the size of the interpretive center, the federal government kicked in $1 million, with the foundation that runs the center privately raising another $2 million. The facility is owned, but not operated, by the state. Only $50,000 of the center's $1.5 million budget comes from the state government. But it nonetheless depends on significant public contributions: Half of its operations are funded by a National Parks Service grant and direct appropriations from Congress, and the other half comes from sales and private donations.
Efforts were made in many states to raise private money to build and operate various Lewis & Clark attractions. Some were not particularly successful. The most notorious example is Montana's failed Legacy Fund campaign. The campaign began in early 2003 with plans to raise $14 million for projects statewide, with hopes of creating a permanent effect on the state's tourism and historical preservation efforts. Ken Burns and historian Stephen Ambrose, whose book Undaunted Courage played a major role in popularizing Lewis & Clark, sat on the campaign's board.
But within months the campaign realized that it would not nearly meet its goals, and it ended up spending more money than it had raised. The statewide campaign was abandoned, and fundraising for the bicentennial continued at the local levels.
Whereas capital projects and ongoing operations typically involved at least some private money, marketing has been funded almost entirely by state governments. Both Montana and North Dakota have used state lodging taxes to pay for marketing and organizational efforts.
North Dakota's lodging tax was particularly contentious. In 2003 the state Legislature passed a 1 percent tax on hotel rooms to pay for tourism marketing efforts. The tax was strongly opposed by the state's hoteliers.
The lodging tax was closely related to Lewis & Clark, because the state's tourism campaign, built around the slogan "Legendary," is heavily focused on historical and cultural themes—what Coleman calls"heritage tourism."
The tax raised $2.5 million for the last biennium, which ended in July. The money went to the state tourism office for marketing. That was only part of the office's total budget of $7.7 million for the biennium. Over the next two years, the tax is expected to raise about $3 million, toward a total budget of $8 million. Some of the marketing was directly related to the bicentennial, but the tourism office has promoted historical tourism more generally.
Including revenue from the lodging tax, the state Legislature earmarked a total of $5.7 million specifically for Lewis & Clark in its 2003–05 budget. About 60 percent went to the state tourism office, with the remainder going to the Historical Society, the Parks and Recreation Department and the Council on the Arts for events, construction and operations. Expenditures for the coming biennium will break down about the same, at a total of $5.6 million.
What did they discover?
It's tough to say how well the bicentennial promotion has paid off for North Dakota. Attractions like the interpretive center, the Fort Buford confluence center in Williston and the Lewis & Clark Riverboat in Bismarck all saw increased attendance through 2004. But visits to all of those sites declined this year.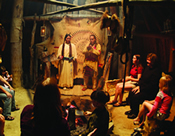 Annual visits to Knife River Indian Villages, near Stanton, had reached 40,000 in recent years, but were down 15 percent from last year through September. Fort Lincoln, in Mandan, also sees 40,000 visitors a year and had a double-digit decline in visitors. Last year, the Fort Buford center saw a record 18,000 guests,but received just 8,000 visits through the summer.
There are a number of possible explanations for this year's attendance drop. For starters, 2004 was the anniversary of the Corps' initial trip through the state, which drove a lot of visits. The October 2004 national signature event in Bismarck—one of 15 such commemorative celebrations throughout the country during the bicentennial—was expected to attract 20,000 to 30,000 visitors, but about 50,000 turned out. As such, 2005 was expected to be a lull between the two big years, since the festivities follow the progress of the trail.
Overall tourism in the state has also weakened in recent years after significant growth. From 1995 to 2002, estimated tourism revenue in the state increased 235 percent, from $913 million to more than $3 billion. Tourism is now the fastest growing sector of the state's economy. Other tourism indicators in the state—hotel bookings, airplane boardings, visitor center guests, lodging tax revenues—were up from 2001 through 2003.
There were big hopes for 2004 given the official start of the bicentennial. But the state saw significant declines in every category except local visitor center guests. Tourism indicators this year through June have been mixed. Airplane boardings, hotel stays and the lodging tax are all up, but that might have as much to do with state business indicators as with tourism. Visits to major attractions, like the Plains Art Museum and the Medora Musical, were down 7 percent, with state park visits down 3 percent.
It's hard to know exactly where or how Lewis & Clark attractions fit in the context of overall tourism trends. The increase in statewide tourism began before the bicentennial and the promotional campaign. And, in fact, the bicentennial coincides with a slower rate of tourism growth since about 2000 compared to growth in the late 1990s. However, visits to Lewis & Clark attractions were still growing in 2004 while tourism overall was slumping. This year, it's something of the opposite.
Trip exhaustion
Results in other states have been similarly mixed. "It's probably been kind of a so-so year," said Clint Blackwood, executive director of the Montana Lewis & Clark Bicentennial Commission.
Some events have been well received, others not so much. A clear disappointment occurred in Great Falls, Mont., and the nearby small city of Fort Benton. The 34-day "Explore the Big Sky" national Lewis & Clark signature event had been planned for several years, but ended up a bit of a letdown.
By some measures, the festival was a success. Bookings at Great Falls hotels during the event in June were up 17.4 percent from the previous June, and visits to museums and other attractions were also up. However, many businesses expected more visitors than they received. The big loser in Great Falls was the city treasury. The city's expenses for the event exceeded its revenues by about $535,000. The city had to make up the difference through its reserves. Blackwood suggested that people might have a limited appetite for Lewis & Clark attractions.
"One of the biggest challenges we have right now … is just the perception that this has already been done—that this is a bicentennial that has been talked about for a number of years, there have been documentaries, there have been lots of people doing Lewis & Clark. So what we're seeing sometimes in the marketplace is, 'Oh, shoot. Here they come again.' There's a complacency; there's a feeling that we've already done this, and that's hard to overcome," said Blackwood.
This year's numbers in North Dakota would tend to support that notion, but other factors like high gas prices and weather that has been unseasonably cool and wetter than normal complicate any easy conclusions.
New frontiers
It's worth remembering that there's still a year left in the bicentennial, and many states are planning events, reenactments and festivals around the Corps' return trip through the region. Most North Dakota attractions expect double-digit increases in 2006.
But what about after the bicentennial? North Dakotans are banking on the attention they've earned continuing to bring visitors to the state.
"What our plan is after the bicentennial is to offer a program that focuses on North Dakota's rich history and culture, so it's a heritage and cultural tourism offering that includes the Lewis & Clark corridor, but also focuses on other parts of the history and culture of North Dakota," said Coleman.
Research conducted by Longwoods International has shown increased awareness of North Dakota as a tourism option and improved opinion of the state, as measured by surveys. The same research attempted to estimate the influence of state-funded marketing on decisions to visit the state, controlling for other factors. It concluded that the state spent about $1.97 per trip per U.S. visitor and $1.27 per Canadian visitor. However, the study did not indicate how important the advertising was in the decision to visit the state, only how many tourists could recall the marketing.
So is the state's investment in Lewis & Clark paying off? "That's what's hard to quantify—for me to look at somebody and say, 'Yeah, that million dollars that was put into Lewis & Clark, it paid off in spades,'" said Beth Campbell, coordinator of visitor services for the North Dakota State Historical Center in Bismarck. But Campbell is seeing a change in the clientele. Normally, the center gets a lot of visits from people traveling back to the state to see family.
"When I was up on the floor visiting with our visitors this summer and still this fall, I'm seeing actual tourists," Campbell said. "People who were coming here, not necessarily for Lewis & Clark, but because they wanted to see North Dakota; they had never seen it and they didn't know what they were going to find."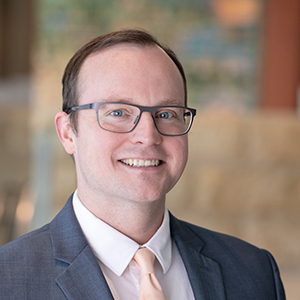 Request as a speaker
Joe Mahon
Director, Regional Outreach
Joe Mahon is a Minneapolis Fed regional outreach director. Joe's primary responsibilities involve tracking several sectors of the Ninth District economy, including agriculture, manufacturing, energy, and mining.