Keep on truckin' (please)
The trucking industry, like many others, was hit by the last recession when demand for shipping dropped. It has had a strong recovery since the rebound, but it now faces another problem: a shortage of qualified drivers, despite employer attempts to make the job more attractive by raising pay and offering other incentives.
"Right now, I think for anybody who comes to school here, there are probably 10 jobs out there," said Sandy Hurlbut, president of the Transportation Center for Excellence, a truck driving school in Eagan, Minn.
One of the driving factors in the trucker shortage is economic growth, particularly in manufacturing, the biggest user of truck transport. "This is a coincident indicator, and they're booming, baby, they're booming," said Steve Burks, a professor at the University of Minnesota-Morris who researches the industry.
From November 2001 to November 2004, the American Trucking Association's (ATA) adjusted Monthly Truck Tonnage Index increased 15.6 percent and saw particularly strong growth of 6.5 percent in the most recent 12-month period, a return to the kind of growth seen in the late 1990s.
The capacity crunch is nothing new. Capacity also tightened as the boom of the 1990s unfolded. But by 2000, manufacturing was beating the rest of the economy into recession, and the ensuing two years saw some 8,700 trucking firms go out of business, an annual rate more than three times higher than for 1999, according to the ATA.
Now trucking demand is growing again, and in the longer-term context of increased dependence of shipping via truck. Railroads in the Ninth District are operating at full capacity, owing again to the economy and particularly strong mining and crop harvests this year. Even with railroads expanding intermodal shipping to stay competitive, trucks will likely be the shipping choice for any high-value or time-sensitive goods, due largely to a strength for timely delivery.
Trucking now accounts for nearly 68 percent of all tonnage nationwide. And the ATA forecasts truckload volume to increase at an annual rate of 2.5 percent for the near future, with the share of total tonnage hauled on trucks to reach nearly 70 percent in 10 years. Because trucks tend to handle higher-value goods than railroads or river barges, trucking firms earn about 87 percent of all transportation revenue.
It should be noted that capacity problems and driver shortages are plaguing only the truckload segment of the industry. The largest employer in the business, truckload carriers tend to haul full trailerloads of freight over long distances. The other major segments are parcel carriers, like FedEx or UPS, and less-than-truckload (LTL) carriers, which haul smaller shipments of higher-value merchandise. While these two segments may haul over long distances, they require more complex networks.
"The barriers to entry increase with the size and requirements of the terminal network, therefore truckload is essentially purely competitive," Burks said. "The biggest guys have three or four billion dollars in revenue a year. And three quarters or more of what they do is competition with mom-and-pop trucking at every move. So that means that what they can afford to charge is constrained by what mom-and-pop trucking [firms] are willing to charge."
But despite driver shortages, trucking firms are seeing an open road ahead of them. Profits for the year through October at large public truckload carriers were up 50 percent over a year earlier, according to analyst reports. Nationally, revenues for all trucking firms grew 2.5 percent over 2003 according to the U.S. Census Bureau, and 2004 was an even stronger year. That revenue jump came not just from increased business; trucking companies are raising their rates.
Trucking firms interviewed around the district said they were raising rates anywhere from 6 percent to 10 percent. But not a lot of that appears to be getting to the bottom line because of higher costs for fuel, insurance (which jumped after Sept. 11, 2001), maintenance and equipment. And with the driver shortage, wages are beginning to increase as well.
But strong trucking demand has meant that successful truckload firms have been able to recoup as much as 70 percent of their cost increase through higher rates, according to Jack Waldo, a trucking industry analyst for investment bank Stephens Inc.
Assessorial charges are also being introduced in light of the new regulations on hours of service for truckers. Those are the fees drivers collect during waiting time, such as loading or unloading. "It used to be that you didn't get paid for that time, you just sat idle, and now they're starting to charge anywhere from $50 to $150 per hour for the driver waiting on unloading or loading a shipment," Waldo said.
So what's the problem?
With strong demand and the ability to pass higher costs on to the customer, one might think that the driver shortage would take care of itself in the form of higher wages for drivers. That's happening to an extent, but the shortage is more complicated than that.
The size of this shortage is significant. In November, the ATA estimated that the trucking industry could use another 80,000 to 100,000 drivers nationwide. There are roughly 3.2 million truck drivers nationally. A few years back, the ATA estimated a guideline of 82,000 new drivers needed each year to keep up with growth and turnover. Through November 2004 trucking had seen a gain of just 26,000 jobs.
Though not a perfect indicator of working drivers, the number of commercial drivers' licenses has increased in recent years in every district state. In Montana, for example, where there are about 63,000 licensed truck drivers, the number of licenses jumped by 2,031 in the first half of 2003 alone. Although 2004 figures aren't yet available for Minnesota, the number increased more than 4,000 to 233,355 in 2003. Licenses in North Dakota have gone up 5 percent since 2001. The number of registered trucks has also increased in the Ninth District, as have sales of semitrailer tractors.
But demand for drivers also appears higher in parts of the district than the nation as a whole, partly because of the preponderance of manufacturing in Minnesota and Wisconsin, and reflected in higher shipping rates and better driver wages. Daniel Wroblewski of Martin's Trucking in Tomah, Wis., said the combination of a strong economy and many truckload carriers located nearby makes drivers a hot commodity.
"We'll pick up people from down south sometimes who are making 28 cents a mile, which is unheard of up here. Up here if you don't offer them at least 35 or 36 you can't get them to start," he said.
Minnesota's Department of Employment and Economic Development listed 1,936 job vacancies for truck drivers (heavy and tractor trailer) in the second quarter of 2004—a vacancy rate of 6.2 percent despite median wages that are better than average ($15 an hour) and lackluster job growth elsewhere in the economy until fairly recently.
But pay is not the only issue affecting the shortage. Another problem is the demographic pool trucking companies use. In order to be an interstate truck driver, one must be 21 or older, with training and a good (though not necessarily perfect) driving record, among other things. Applicants also need decent credit and a fairly clean criminal background, and they must speak English.
Often, workers who might otherwise be interested in trucking have found other work by the time they reach 21. Worse, the 20- to 44-year-old age group, which makes up the core of truckers, is now accounted for by the "baby bust," a relatively smaller chunk of the population.
An analysis by BB&T Capital Markets found that this vital demographic will shrink by 53,700 people by 2007. If GDP growth averages 3 percent over that period, BB&T reports, the driver situation could be 12 percent to 15 percent worse than it is already.
Many in the industry say the driver problem is not always availability, but quality. "Accidents cost our industry so much money. They want to hire people that are quality drivers," said Bob Costello, chief economist for the ATA. "They're not just going to hire anybody to fill a seat, because that person could end up costing them more money than they're making them. And a lot of times, to be quite honest, liability insurance companies dictate whom you can hire."
What's more, even though job creation has been mixed, there has been strong growth in sectors that compete with trucking for labor. "You see a lot of overlapping of employment between truckers and construction," said Waldo. "The construction boom has obviously diverted some would-be truckers to a business where you can work outside, where you're home every night and you're getting paid good wages."
That fact reveals another unavoidable aspect of the business: Truck driving is hard work. This is possibly the strongest factor restraining the availability of drivers. The job often requires drivers to be away from home for weeks at a time, working 60 or more hours per week, and often only allows them to spend a few days back home before leaving again. If a driver has a family, no amount of pay might be able to compensate for that. As Burks put it, "If you just look at somebody who has high school qualifications and needs a blue collar job, you can make $30,000 to sometimes close to $40,000 in your first year on one of these jobs. But what you really have is like 1.7 $20,000-a-year jobs."
The conditions and improving economy have led to extremely high turnover lately. According to Costello, annualized turnover at the largest truckload carriers is now more than 120 percent. That's the nature of the beast; Burks said that although they are exceptionally large now, turnover rates for truckload carriers have been fairly high ever since deregulation 25 years ago.
Turnover is high only among truckload carriers. Turnover rates among parcel and LTL firms range from 3 percent to 20 percent. Both sectors are more heavily unionized than truckload carriers, and LTL drivers are paid much more. More important, in both the other sectors drivers need to spend less time away from home than truckload drivers.
A final culprit some observers point to is recent changes to hours-of-service regulations. The regulations allow drivers on the road one more hour a day (moving it to 11) and set work days at 14 hours, but also require more time off duty for a day worked and change the way on-duty time is counted. Opinions are mixed on the net effect of regulations on driver productivity, though some research shows small decreases in total driver productivity (and thus wages). At the very least, new regulations reconfigure work schedules and an occupational lifestyle that is already nontraditional and challenging.
Such difficulties mean that trucking firms are always on the lookout for drivers. Hurlbut, of the Trucking Center for Excellence, said in addition to seeing more jobs for students, he sees graduates getting hired faster. Still, enrollment rates are only steady.
Trucking school takes four weeks (or 10 weeks if one attends on weekends) and costs about $6,500. Often, a trucking company will cover tuition for new hires, since the market is so tight.
What shortage?
Burks claimed there isn't technically a "shortage" at all. Historically, the truckload segment of the trucking industry has learned to tolerate and adapt to high turnover rates, and today there is just greater pressure to keep finding replacements. "There's no shortage of truck drivers. There's a labor market which happens to function in such a way that there's a huge flow of people trying out the job and deciding they don't like it," he said.
But Burks acknowledged that certain, larger pressures have "started to catch up with them. The demographics are working against them slowly. And you also have the economy coming back a bit, and so now the labor markets are a little tighter than they were a while back."
Costello agreed. "I don't think it's anything new, but it's become much more acute recently."
More truckload carriers have decided that the high turnover costs them too much. Trucking firms want safe, quality drivers, especially with insurance premiums on the rise. And safety comes from experience, which can only come by retaining drivers.
Increasing pay should attract more drivers. This is the conclusion of many managers in the industry, who hope raising the wages of truckers from a current average of $40,000 will fix the situation. As an example, Schneider Inc. of Green Bay, Wis., one of the nation's largest truckload companies, announced the biggest pay increase for its 15,000 truckers—9 percent—in the company's history.
Initially, firms were reluctant to put through raises, afraid of causing a bidding war. "Right now, it's almost a slowest-buffalo mentality in terms of pay raises. Everybody's waiting around to make the first move, and so far the first move has been relatively small incremental increases to the dollars paid per mile driven," Waldo said. "To really eliminate the problem I think you'd have to see really substantial increases."
It seems others in the industry agree with Waldo. At a recent trucking summit in Atlanta, some managers suggested—to mixed reaction—raising wages to $60,000 a year to attract more drivers.
Better pay will also help retain existing drivers, and with them their experience and safety record. Burks said no major industry players have been doing much about the pay issue, despite its economic sense. "If you want people to stay, pay them to stay. Don't pay them more money for more miles; pay them longevity bonuses of some kind or other, through their retirement program, or through actual cash bonuses that cumulate and potentially roll over."
Whatever form raises take, the solution might not be a panacea. One reason is that it's hard to say just what higher wages will do to man-hours. "As we pay more, a lot of the drivers just want to do less," Wroblewski said. "They know they need $800 a week. Well, the minute you start paying more for the miles, they can say, 'Oh well, I don't have to work so hard to make my $800.'"
Other options are also available to trucking firms. For example, productivity enhancements, like on-board computers and new communications and routing systems for truck fleets, make trucking firms more efficient, delivering more freight per driver. And as driver productivity improves, "the drivers can make more money," Costello said.
But a major issue preventing more workers from considering truck driving is the conditions of work, and that won't be addressed easily or ironed over by modest pay raises. It might seem impossible to change the lifestyle of a truck driver, but some operators in the district are trying to do just that.
For example, in addition to raising pay, Schneider International is also expanding something it calls its "home run" program. This allows drivers to spend more time at home, say, by having them on the road two weeks and off a full week. Drivers in the program actually get paid less, but it reduces the pressure of the job and provides an incentive to stay longer.
Another useful strategy available to multihub carriers is called "meet and turn." The technique works by coordinating shipments so that two truckers coming from different home bases can meet each other halfway, switch loads and return home (or some other nearby location) with each other's shipments. That way, truckers can spend less time away from home.
Possible consequences
In many ways, trucking firms are the grease that makes the economy go, delivering goods to businesses and consumers. Despite the shortage of drivers, the situation has not hit crisis mode for trucking clients. Businesses made it through the hyper-sales holiday season without any notable merchandise problems.
"If you're asking me if freight's sitting on docks, no. We're not there yet," Costello said. "It doesn't mean we can't get there." Already, strains are evident. Some firms are asking customers to schedule pickups further in advance to avoid difficulty.
There is also a natural concern about increased shipping costs and how long customers and consumers will agree to foot those higher costs.
In the larger view, Burks' research shows that the costs of shipping by truck have actually dropped over the last 25 years, so some cost inflation might not be a big deal. Or it might be, according to Burks, because the cost drop was due largely to the drop in drivers' wages (thanks to deregulation in the 1980s), fuel prices that dropped on an inflation-adjusted basis and a small drop in the price of trailer tractors. This, in effect, "raised measured productivity without raising underlying [labor] productivity. And, the problem is that those trends have now reversed themselves."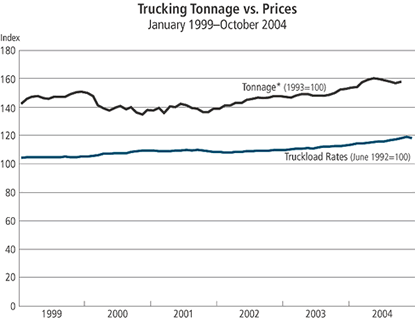 *The tonnage index is the adjusted three-month centered moving average.
Sources: American Trucking Association Monthly Truck Tonnage Index and Bureau of Labor Statistics Producer Price Index
The silver lining, however, is that there is still room for efficiency improvements in the supply chain—for a so-called logistics revolution—since the industry hasn't yet fully tapped information technology and other productivity improvements.
Jerry Fruin, an associate professor at the University of Minnesota's applied economics department who studies transportation and logistics, thinks the capacity shortage in trucking may be just a symptom of the larger problem of infrastructure. The problem of congestion, he said, wastes man-hours, in addition to discouraging drivers by forcing them to sit in traffic.
"We have not kept up with the expansion of our total logistic capacity—highway lane miles, [and] ways to get in and out of the ports where the ships are. Our railroad system has generally been at capacity for 10 years now. This is not something to worry about for the next six months, but I think in less than five years we have to really worry and recognize the importance of rail, highways, ports, barges and all kinds of stuff," Fruin said.
Costello seemed to agree. "I would say put this in a perspective of looking at all modes of transportation. The rails are practically maxed out. There's a lot of different things that need to happen for freight transportation, and [trucking] is one of them. This is why I think we'll be working with different groups to figure out, once we quantify the magnitude of this shortage, what we can do to help alleviate it."
Until then, the driver shortage and resulting increased shipping prices are likely to continue into the near future, no matter how innovative companies get. Said Costello, "I don't think it's going to go away anytime soon."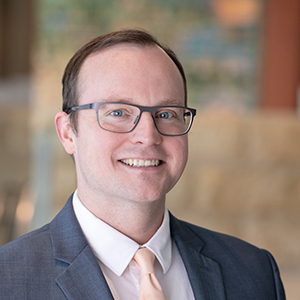 Request as a speaker
Joe Mahon
Director, Regional Outreach
Joe Mahon is a Minneapolis Fed regional outreach director. Joe's primary responsibilities involve tracking several sectors of the Ninth District economy, including agriculture, manufacturing, energy, and mining.