The markets for livestock have had a bouncy few years, but right now most producers are calmly enjoying high prices.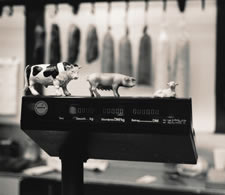 Although facing a panic after a case of mad cow disease was discovered in December 2003, U.S. ranchers benefited from a restricted supply of Canadian cattle and from surprisingly strong domestic demand. However, the supply restriction ignited an ongoing trade dispute.
Then in mid-July, the U.S. government announced it would reopen the border to Canadian cattle. A reduction in the beef supply largely due to keeping the Canadian border closed has been as vital to the strength of the industry as domestic demand. In order to determine what effect the move will have on the industry, it helps to understand how it got where it is now.
The beef over trade
In May 2003, Canadian health agencies reported finding a cow infected with bovine spongiform encephalopathy (BSE), or mad cow disease, as it's more commonly known. The U.S. government responded by banning all imports of live Canadian cattle.
Then an infected cow ended up in the United States, causing a panic and a drop in prices. A number of nations closed their borders to U.S. beef, including important East Asian markets like Japan and South Korea. U.S. exports dropped by 83 percent from 2003 to 2004, from 858,000 metric tons to 148,000 metric tons.
Surprisingly, however, U.S. ranchers are still making decent profits. "In the short term the prices have been up, and they've been up due to several factors, of course, one of which is the border closing with Canada. But also demand is at an all-time high, and our supply in this country, our cow herd, is as small as it's been since the '50s," said Bill Donald, a rancher in Melville, Mont., and president of the Montana Stockgrowers Association.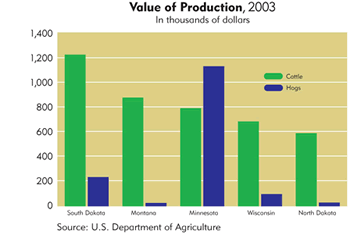 Exactly how much of a role the ban on Canadian imports has played is difficult to say, but it clearly has had a major effect. Before the ban, the United States imported about 1 million head of cattle from Canada annually, largely for slaughter. So shaving those off has had a significant effect on prices. Kevin Elfering, director of the Dairy, Food and Meat inspection division of the Minnesota Department of Agriculture, thinks the ban is largely based on trade.
"The Canadian government was really showing that this [BSE] was more of an isolated incident, rather than something that's considered to be widespread," Elfering said. "The reason we put a ban on importation of cattle was not an issue of human health, though. The ban on the importation of cattle was a trade issue. If we were to take Canadian beef, Japan and all of our other trading partners would say, 'Hold on a second, we don't want beef from the United States anymore.'"
The ban had the effect of dulling the consequences of lost exports. Won Koo, director of the Center for Agricultural Policy and Trade Studies at North Dakota State University, has researched the effect of lost export markets on U.S. beef prices. "If the Asian market opens their door for U.S. beef, the price will go up about 20 cents (per pound) or more from the current level. That's what we are arguing. If we open the market for Canada, then we are going to import more Canadian beef. That will depress the U.S. beef price, so that may be another 15 to 20 cent reduction. So that's why there are some balancing effects," Koo said.
In fact, the border was supposed to open in April, but a cattlemen's group sued to keep it closed, claiming it was a food safety issue.Other factions of ranchers don't support this kind of protectionism. With strong prices, "some people look at it as now you'll start seeing overproduction in the United States, and this is eventually going to drive prices down," said Elfering.
Donald, from the Montana Stockgrowers Association, said the biggest long-term consequence of keeping the border closed may be that Canada started to increase its slaughter capacity to handle all the extra beef. In fact, Canadian beef cuts were still allowed across the border, because the ban was only on live cattle, so Canadians began processing more beef for export. "We brought in 1.1 billion pounds of beef last year, which, on an equivalency basis, that is as much as we've ever imported from Canada. So that's one of the things people need to keep in mind when they think that the closing of the Canadian border is the only thing that's increased price," Donald said. "Odd as it may seem," Donald continued, "there might be cattle going north to Canada to be slaughtered here in three or four years' time, because they're gearing up their slaughter capacity and ours is falling back."
Even with the Canadian border opened back up, Elfering worries there may be a long-term effect. "You may still see [Canada] doing some expansion of their slaughter capacity, because this was devastating to some of the industries up in Canada. First of all, you look at the livestock industry, but then there's so much collateral damage. You have trucking companies. There was one firm up there that went bankrupt, and they built trailers for hauling cattle. Well, they have no business anymore. There's so many other industries that are involved in the livestock industry that we never think about. So I think they would want to try to avoid anything like that ever happening again, for a reason other than BSE."
Toward greener pastures?
U.S. livestock farmers have been able to weather storms and cycles through a confluence of factors, one of which is the strong consumer demand at home. One wonders, then, how consumers have been affected by trade policy made largely with producers in mind.
Shoppers have demonstrated a willingness to pay current high prices for beef. If importing more cattle from Canada means lower prices, then more open borders should likely benefit them.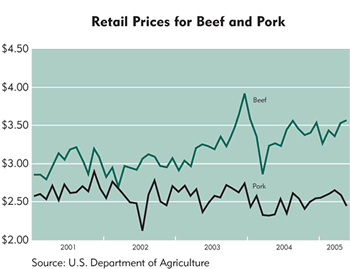 The hope of beef producers is to keep prices steady by synchronizing border openings. Most everyone is convinced that the East Asian markets and others will open back up to U.S. beef before the end of the year. It was even rumored that on a recent visit to Japan, Secretary of State Condoleezza Rice spent more time talking to officials about the beef ban than about Japan's participation in the Iraq war.
Donald said he'd like to see the border open up to Canadian cattle (which happened shortly after this fedgazette interview) around the same time other borders open up to U.S. beef. "Hopefully those two will happen fairly close together. The policy of Stockgrowers is that one of the hinges on getting the Canadian border open is getting our export markets open so it has a minimizing effect on the negative aspects," he said.
One possible bump in the road for beef prices may be high production sparked by the present favorable climate. Heifer slaughters have decreased recently, suggesting that ranchers are building up their herds. This combination of effects makes it difficult to say exactly what the future has in store for beef.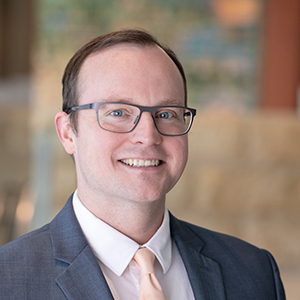 Request as a speaker
Joe Mahon
Director, Regional Outreach
Joe Mahon is a Minneapolis Fed regional outreach director. Joe's primary responsibilities involve tracking several sectors of the Ninth District economy, including agriculture, manufacturing, energy, and mining.