Many agricultural lenders report increased farm income in the second quarter
"Ag conditions and crops look good," commented a South Dakota lender to the Minneapolis Fed's first-quarter agricultural credit conditions survey. Farm income increased in most parts of the Ninth District during the second quarter as spring rains gave a lift to crops in the western part of the district. Meanwhile, respectable prices pushed up financial conditions as farmers and ranchers increased household spending, capital investment and demand for new loans. Land prices continued to rise, even though interest rates increased. However, agricultural producers are cautious about the third quarter as farm profits are expected to stabilize and input costs tempered respondent enthusiasm for financial conditions in the second quarter. Farm profits and other indicators are expected to even out.
Farm income, household spending and capital investment
Farm income and capital investment increased slightly during the second quarter of 2005. A quarter of the lenders reported higher farm income in the second quarter, while 17 percent of respondents indicated lower income. Spring rains reduced drought conditions in the western part of the district. "Very good growing conditions due to recent rains." This comment from a North Dakota lender reflects the general mood from Montana and the Dakotas as respondents from those areas were the most positive about income, spending and investment. However, dry weather in western Wisconsin and storm damage in isolated areas made some lenders nervous. "There is a considerable amount of crop damage and loss," commented a Minnesota lender in regard to storm destruction.
Meanwhile, a third of respondents reported higher household spending. The biggest increase was in Montana as 70 percent reported increased levels. In addition to higher farm income, the increase in household spending may be due to higher expenses and more off-farm income. "High fuel cost and health insurance increased family living costs," reported a South Dakota lender. Based on the responses to a special question, approximately 57 percent of the farms use off-farm income to substantially support farm income. "A majority of farm families have at least one person with nonfarm income," commented a Minnesota lender.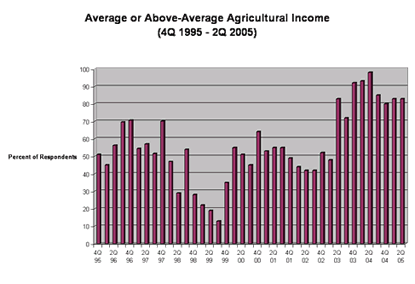 Source: Federal Reserve Bank of Minneapolis
Loan repayments and renewals
Loan repayments were stable during the second quarter as 80 percent indicated no change in the repayment rate. In addition, 87 percent of respondents reported no change in loan renewals and extensions. A Montana lender commented that government payments have stabilized conditions.
Demand for loans, required collateral and interest rates
Loan demand increased during the second quarter. Thirty-four percent of lenders reported increases, and 61 percent indicated no change. Loan demand may be driven by the need to purchase additional capital equipment, a lender from Minnesota indicated. Interest rates increased during the second quarter, raising the cost of borrowing relative to the first quarter by about 25 basis points for operating and machinery loans and 20 basis points for real estate loans. Collateral requirements did not change, and only 1 percent of the respondents indicated that loans were refused due to a shortage of funds.
Land values
"Land values continue to rise based upon farm payments, interest rates, lack of confidence in the stock market, capital gains re-invested from investors and profits in the agricultural sector," commented a South Dakota lender. Ranch land values increased an average of 30 percent from the second quarter of 2004. Meanwhile, nonirrigated farmland values increased from a year ago by an average of 19 percent. The highest reported average increases were from lenders in South Dakota, who reported a 29 percent increase in nonirrigated farmland. However, the outlook for land prices is uncertain as the South Dakota lender noted, "If interest rates continue to rise, land values will soften starting 12 months from now." (Note: Land prices can vary significantly, not only from state to state, but also from parcel to parcel. For more detailed information on agricultural prices, see the Minnesota Land Economics Web site.)
Outlook
The outlook for farm profits is fairly balanced as two-thirds of the respondents expect no change in income and the remainder is split between increases and decreases. Montana lenders are the most optimistic, while Minnesota lenders are the most pessimistic. The majority of respondents expect no change in capital and household spending. Bankers plan to keep the same collateral requirement for loans and expect steady loan renewals and repayments. However, loan demand should grow, as a quarter of the respondents expect increased loan demand in the third quarter.
Appendices: State Fact Sheet | State Fact Sheet-Outlook