With about 2,800 people, Rugby, N.D., is too small to support a fixed-route bus system, the kind with scheduled stops and curbside bus shelters that you find in bigger North Dakota cities like Fargo and Grand Forks. But autoless residents of the geographical center of North America get about town just fine—as long as they plan ahead.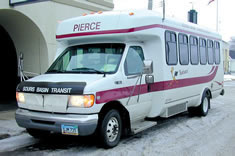 Rugby is one of more than 50 small communities scattered about north-central North Dakota served by Souris Basin Transportation (SBT), a nonprofit company that operates mostly on a "dial-a-ride" basis. Looking for a ride to the Heart of America Medical Center, or Leevers Foods? Call SBT two hours beforehand, and a bus or van will pick you up at home and take you there for $2.
Over 80 percent of the firm's dial-a-ride customers are elderly or disabled—the reason all vehicles are equipped with wheelchair lifts and tie-downs. But 20-something parents also use the publicly subsidized service, which runs four days a week in Rugby. "The moms ride along to the day care, then we finish up and take them to work," said Rick Thoms, SBT's executive director. The company also makes weekly runs into Minot from Rugby, Bottineau and other towns. To save time and fuel, the bus makes a limited number of scheduled stops, but will detour from its scheduled route to pick up passengers who call in advance.
Transit services like this often operate below the public radar. Amid widespread furor last summer over Greyhound Lines dropping service to Bismarck and 10 other North Dakota cities, SBT's modest fleet of 13 buses and three vans stayed on the road, getting people to their destinations in a seven-county service territory of almost 10,500 square miles. Likewise, curbside transit services kept chugging along in other areas of the district affected by the Greyhound cuts—Dickinson and Jamestown in North Dakota, Winona and Brainerd in Minnesota, Chippewa Falls and Onalaska in Wisconsin. It was the same story in 2002, when a budget crunch at Amtrak threatened the continued existence of the Empire Builder train through the heart of the district.
Of course, you can't ride a minibus or van from Minot to Fargo, or from Brainerd to Los Angeles, as you could on Greyhound and Amtrak. But arguably, hand-wringing by state and local officials over real or threatened route cuts by Greyhound and Amtrak—both financially strapped despite significant public subsidies—has been misplaced. More essential in terms of its public utility is transportation that moves carless folks around their local communities, getting them to the supermarket, the doctor and other life-sustaining destinations. And the type of local public transit that seems to make the most sense outside urban areas, despite its high cost, is paratransit. Sometimes called demand-responsive transit, this call-and-they-will-come approach to rural mobility is on the rise in the Ninth District.
Going my way?
Public transportation is irrelevant for the vast majority of people in rural areas of the district. About 96 percent of American rural households owned cars in 2001, according to the U.S. Department of Transportation. Both Montana and North Dakota have more registered vehicles than state residents—including children.
"If you can afford a vehicle and legally drive it, that's what your choice is going to be," said Jim Miller, an expert on rural transportation affiliated with the Small Urban and Rural Transit Center (SURTC) at North Dakota State University in Fargo.
But for a small slice of the population—that 4 percent of rural households without a motor vehicle—public transportation is a lifeline to the outside world. Without local transit, tens of thousands of elderly people would be marooned in their homes in small towns and on isolated farmsteads. The physically and mentally disabled, and those who can't afford a car, also depend on public transportation.
As a matter of public policy, society has decided (and government decreed) that it can't simply abandon those without cars. Nor does it expect the elderly, disabled and poor to move to a city such as Fargo or Minneapolis—where public transit is available—for the sake of mobility, said Dale Marsico, executive director of the Community Transportation Association, an advocacy organization based in Washington, D.C. "Why should they be forced to move from rural communities into some urbanized area just to get some basic transportation, when it would cost us very little to provide the necessary service so they could get around to the things that make the quality of their life important?"
How "little" rural public transportation costs society is an open question. But if the debate about public (or quasi-public) rural transportation is not whether to provide it, but how to provide it, then one needs to take a look at different service models and evaluate their individual utility.
By definition, long-haul buses and trains don't provide frequent service to everyday destinations about town—city hall, the post office, the shopping center or the workplace. They stop in town once or twice a day to pick up and drop off passengers and head for the next scheduled stop on the line. It follows that most intercity bus and train riders board only infrequently, when business or pleasure calls them out of town.
In a 2001 customer survey by Minneapolis-based Jefferson Bus Lines, the primary reason cited for riding the bus-by high school and college students as well as elderly and disabled passengers-was visiting out-of-town relatives and friends. Over 85 percent of riders surveyed had taken the bus three or fewer times in the past year. On the Empire Builder's Montana segment, sightseeing tops the list of reasons to ride.
A 2003 study of the Empire Builder's economic impact commissioned by the state found that 71 percent of the more than 100,000 riders who boarded or got off the train in Montana in 2002 were out-of-state tourists on the way to attractions such as Glacier National Park. While that might be good for local economies and for Montana's tourism business, that's not a particularly strong argument in terms of public need.
In contrast, local transportation has greater relevance to more people's everyday lives because it regularly serves mundane yet vital destinations—the grocery store, the hospital, the community center. "Based on the number of trips, and the number of different kinds of needs that can be met, local transit is more important [than intercity transportation], because you can mostly conduct the essential parts of your life in a local area," Miller said.
Fixed-route local transit doesn't work in small towns, according to Miller and other rural transportation experts, because there isn't enough population to support scheduled buses, light rail and other urban-style methods of moving people around. In Montana, traditional fixed-route bus systems operate only in Billings, Missoula and Great Falls. South Dakota boasts just two metro bus systems, in Sioux Falls and Rapid City. When a Moorhead, Minn.-area transit agency proposed a commuter route between Moorhead and neighboring Fargo last fall, the idea was dropped because of lack of interest among potential riders.
Instead, a demand-responsive model for local transit has emerged in the hinterland over the past 20 years. In the district's wide-open spaces, paratransit holds a key advantage over fixed-route systems: less unused capacity, because vehicles roll only when a call comes into a central dispatcher.
Anytime, anywhere transit
More than 40 paratransit systems operate in small towns and thinly populated counties across the district, often offering the only available local transit. They include dial-a-ride services, taxi services in which two or more people share a ride to common or separate destinations and buses like those on SBT's Minot runs that deviate from their scheduled routes to pick up passengers. Many are private companies, operating either independently or under contract to local government.
On a national level, paratransit accounted for just over 1 percent of passenger trips in 2002, according to data compiled by the American Public Transportation Association. But paratransit ridership rose 43 percent in the previous decade, faster than any other transportation mode besides urban light rail.
One reason for the increase is a rapidly aging rural population. Another is the convenience of paratransit; for rural riders accustomed to driving, being picked up at the curb by a mini-bus or a shared-ride taxi is far less onerous than walking to a bus stop in the rain, or soliciting a neighbor for a ride.
Many paratransit systems in the district started out as social service programs mandated by federal civil rights legislation in the 1970s. The Americans with Disabilities Act, Title III of the Older Americans Act and Medicaid either require or provide funding for public transportation, so that the elderly and disadvantaged—including those in rural areas—can access social programs and participate in all aspects of society.
Over time, the scope of many of these transit systems has broadened to encompass more territory and a diverse constituency. You don't necessarily have to be over 65 or a wheelchair-user to ride. When it was founded in 1980, SBT of Minot picked up only elderly and handicapped people and served just three counties. Today SBT's white-and-maroon vehicles range over seven counties, and 18 percent of its customers are "general" riders—under-60, able-bodied people taking SBT to work, the shops or other destinations. Parents in Rugby and Bottineau began calling for rides to day care and their jobs three years ago, when telemarketing firms expanded in both cities. "We're catering to the younger generation," said SBT's Thoms.
Prairie Hills Transit, a nonprofit company in Spearfish, S.D., has also branched out from its original mission and base of operations. Originally a one-van service for a senior community in Spearfish, Prairie Hills has extended its reach over the past 15 years to 11 cities in the Black Hills, including Deadwood, Sturgis, Belle Fourche and Hot Springs. "It's sort of expanded with a life of its own," said Director Barb Cline. "We'd get requests for service from different communities, and from different portions of the community." Regular riders include grade school students, mentally disabled workers in sheltered workshops, senior volunteers in hospitals and libraries, and low-income retail and fast-food workers.
We're all along for the ride
Taxpayers heavily subsidize paratransit, just as they do Amtrak's Empire Builder and many intercity, underutilized bus routes in the district (see "Singing the intercity blues"). Typically, fares cover only a fraction of operating costs.
At Prairie Hills Transit, fare revenue accounts for only about 5 percent of the company's $500,000 annual budget, Cline said. Federal and state grants absorb 58 percent of costs; the balance is cobbled together from contracts with nursing homes and sheltered workshops, cash and in-kind support from municipalities, and charitable donations. Onalaska/Holmen Public Transit, a shared-ride taxi service operating on the northern fringes of La Crosse, Wis., generates about 20 percent of its income from the $2.75 fare it charges each passenger. Federal Transit Administration (FTA) subsidies cover about 60 percent of operating expenses, said Richard Running, owner of a private firm that operates the service under contract to the city of Onalaska and village of Holmen.
Why can't rural dial-a-ride systems make a profit, or at least cover half their costs? Because, despite its advantages over fixed-route transit in rural settings, paratransit is still a losing proposition. When riders are few and widely dispersed, it's difficult to consistently fill seats on vans and minibuses, which cost almost as much to operate as full-size buses.
In 2003, based on 56,000 riders, Prairie Hills Transit's costs averaged $6.11 per ride—more than twice the per-passenger expense incurred by RapidRide, a scheduled bus system in nearby Rapid City. SBT spent $9.36 on each passenger in 2003. Yet transit operators are reluctant to raise fares, mindful of the limited means of their core ridership: the elderly and the disabled. When SBT hiked its fares in the early 1990s, ridership fell about 10 percent and took six months to rebound.
The unforgiving economics of rural transportation explains why paratransit faces little competition from market-rate taxicab and other transit services. Unsubsidized taxi and limousine services that hope to recoup their expenses must charge more than many residents on fixed incomes can afford.
And in many towns in the sparsely populated western half of the district, there simply aren't enough people willing to pay full freight for taxi service, said Mark Chaney, owner of Chaney's Basin Cab in Williston, N.D. The for-profit firm, Williston's only local transit provider, relies on federal grants and a needs-based voucher program administered by Mercy Medical Center to stay in business. "It's the same story across the Dakotas and in Montana," Chaney said. "Most of the cities are not large enough to support a cab company."
Given its high cost, rural paratransit can be justified only if the overall benefit to society—the public good—outweighs the public subsidies. Cost-benefit analyses of rural transit are scant, but what little research exists indicates that systems such as Prairie Hills Transit and SBT represent a net economic gain. A 1998 study sponsored by the National Research Council found that every public dollar invested in rural transit yielded, on average, a $3 return to taxpayers by increasing access to jobs, education and training, social services and critical health care.
One case study of a dial-a-ride service in Sweetwater County, Wyo., concluded that the system saved $720,000 each year in nursing home costs by allowing elderly residents to remain in their own homes. In addition, researchers calculated that by getting people who had no other means of transport to work, the system generated over $174,000 in annual wage income and saved taxpayers almost $153,000 in welfare payments.
Other evidence suggests that rural paratransit is more effective at promoting the independence of the elderly and disabled than it is at helping people to get to work. While some systems such as SBT and Prairie Hills Transit have attracted low-income commuters, others have largely been ignored by workers and job seekers. Across the country, state and federal transit initiatives designed to move the autoless off welfare rolls and into jobs have failed to attract significant ridership.
Future transit
Unless gasoline prices skyrocket, forcing more rural residents to forsake their cars, SUVs and pickups for public transportation, paratransit is likely to remain a tax-supported endeavor, a service provided to the auto-challenged as an act of compassion, and because not doing so may impose even higher costs on society.
In an alternative vision of rural mobility, trains, motor coaches, minivans, private cars and other transportation modes work in consort to boost ridership and efficiency. The North Dakota Department of Transportation, in collaboration with SURTC, is researching ways in which rural residents can achieve optimum personal mobility at the lowest cost. Ideas being explored include tapping into unused capacity on school buses, recruiting volunteer drivers to give their neighbors lifts into or about town, and forging links between local paratransit operations and long-distance bus and rail. "There's no one answer, but maybe there's a whole bunch of little things that can be done to help address [transportation] needs," said Jon Mielke, a SURTC researcher.
The concept of intermodal transit networks has already been put into practice by Jefferson Bus Lines. In what the intercity bus industry views as a groundbreaking approach to doing business in rural areas, the company has boosted its ridership in Minnesota, South Dakota and Iowa over the past decade by establishing agency relationships with local transit providers. Paratransit systems in Aberdeen, S.D., Northfield, Minn., Fort Dodge, Iowa, and more than 20 other communities in the Upper Midwest sell Jefferson tickets that allow their riders to connect seamlessly with the Interstate and distant cities. The local transit service delivers passengers to the nearest Jefferson stop, earning a sales commission and a prorated cut of ticket revenue.
Akin to code-sharing agreements between national airlines and regional carriers, these "feeder" networks may allow Jefferson to wean itself off FTA subsidies by making currently underused routes pay their way. Just one or two extra passengers a day can make the difference between losing money and turning a profit on routes that Greyhound abandoned, said company President Charlie Zelle.
Another idea that has been proposed to jump-start competition in rural transit is user-side subsidies that let rural residents choose the transit option—bus, train, taxi, vanpool—that's right for them. Instead of subsidizing transit systems, government assists (either through direct payments or voucher programs) individuals who qualify for aid because of age, disability or low income. In theory, user subsidies promote efficiency by encouraging private companies to get into the local transit business.
"The beauty of it is that a government agency doesn't decide who wins and who loses; it's a free market," Miller said. But only a few communities in the country, among them Williston, have introduced voucher programs or other user subsidies. They work best in cities with existing, multiple transit providers, Miller said.
If innovations like these catch on, creating a national transportation system as pervasive as streets and highways, rural transit may evolve into something more than the last resort for people who don't drive, paid for by those who do. In the meantime, seniors and working moms living in the geographical center of North America have SBT's telephone number taped to the refrigerator.