This little piggy restricted market access
Pork demand has also increased, thanks in part to low-carb dieters and to pork exports filling some of the international gap left by beef. Meanwhile, hog farmers had their own issues with the Canadians, who they claim are unfairly subsidizing pigs heading stateside.
In a surprise decision in early April, the U.S. International Trade Commission decided 5-0 that Canadians were not hurting U.S. farmers by dumping subsidized hogs on the U.S. market. Canadian producers would be allowed to recoup tariffs levied on Canadian hogs by the U.S. government retroactive to October 2004.
Some district hog farmers were let down by the decision. Don Buhl of Tyler, Minn., is one such farmer. "As long as things are equal, then the pigs can be raised wherever it's the most efficient to do so, but if there's a subsidy and it distorts that relationship, then that needs to be addressed," said Buhl, who sits on the board of the National Pork Producers Council, which brought the complaint.
The Canadian Agricultural Income Stabilization Program provides producers with a guaranteed income of at least 100 percent of their average for the past five years. The Canadian government claimed it doesn't violate trade rules because it is not "program specific"—it protects an overall income for farmers and not the price of a certain commodity.
But U.S. producers claimed the Canadian program is more distorting to pork than other commodities, because hog production is more mobile and uses less land than grain or cattle, and is therefore more responsive to price changes. The system ensures Canadian producers will not be adversely affected during the low part of the hog price cycle, since the average income includes boom years. Indeed, for the period 1999-2002, which included a lull in the cycle, payments to hog farmers in Canada far outstripped payments to producers of other commodities.
The trade commission actually found that there was some dumping by Canadian farmers, it just hadn't significantly harmed U.S. producers. "The reason they did not find injury, in our opinion, was the fact that the year they looked at, the most recent year, was 2004," said Buhl. "That year was a year when U.S. hog producers had very good profits. It's very hard to show injury from any action when you have good profits."
Even with Canadian competition, U.S. hog farmers are doing quite well. In 2004, average annual returns for hog production reached their highest level in nearly 15 years. The estimated returns for 2005, based on data up to May, were similar.
However, average returns in the two years prior to 2004 were negative, as they often have been. U.S. producers claimed the Canadian subsidy program sheltered farmers during those hard times and encouraged them to gear their production toward feeder pigs—young pigs sent to farms in the United States and elsewhere to be raised to slaughter weight—as opposed to raising mature pigs for slaughter.
From the mid-1990s, when Canada began its current subsidy program, its hog exports to the United States roughly quadrupled, and most of that change was due to feeder hogs. As a consequence, some U.S. hog farmers were harmed by the tariffs on Canadian swine. These were farmers who could purchase young pigs on the cheap from Canada and raise them for slaughter.
One estimate found that Canadian producers had an advantage of $4 to $6 per hog. That's great news to some farmers, but not to Buhl, who doesn't currently import any feeder pigs. "If that advantage is putting too many pigs on the market, it lowers my revenue," he said.
It remains to be seen whether the benefit to some producers outweighs the losses to others, but for now farmers who import feeder pigs will be relieved to have the tariff removed, while those who don't are mainly concerned with getting Canada to change its subsidy program.
Consumers of pork are likely to see lower prices regardless of greater imports, since they are now at the high end of the price cycle. Ending tariffs shouldn't change that trend.
Hog farmers hurt by Canadian subsidies didn't really suffer a devastating blow at the trade commission, because rather than keeping U.S. tariffs in place, they'd prefer to have the Canadian government change its support programs.
Buhl said the U.S. and Canadian State Departments are in a dialogue over the subsidies, and he hopes they can resolve the issue without going to court. "As long as there's something that gives a producer in one country an advantage over a producer in another country that is due to some kind of government action, that's something that needs to be looked at."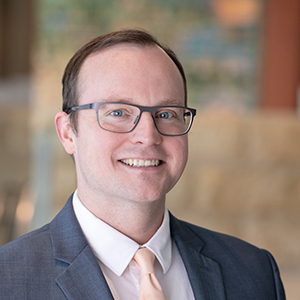 Request as a speaker
Joe Mahon
Director, Regional Outreach
Joe Mahon is a Minneapolis Fed regional outreach director. Joe's primary responsibilities involve tracking several sectors of the Ninth District economy, including agriculture, manufacturing, energy, and mining.