For kids, winter is the time for snow days, sledding and hot chocolate. For those old enough to wield a shovel or pull-start a snow blower, the beauty of a fresh snowfall often gives way to sore backs and gasoline-soaked mittens. But to those attending the seventh annual Snow and Ice Symposium, falling snowflakes look a lot like dollar signs.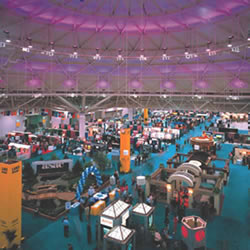 Held at the Minneapolis Convention Center in June, this four-day convention/trade show offered roughly 1,000 attendees the opportunity to check out educational sessions on anti-icing strategies and preseason logistics. Participants traveled from snow cities across the United States to fraternize with fellow snow busters and peruse roughly 150 booths manned by vendors demonstrating the latest in snow displacement and ice suppression technology.
Literally hundreds of events like the Snow and Ice Symposium are held each year at convention and civic centers in cities across the Ninth District. Compared over time, the number and size of these events can be a useful tool for gauging local, regional and national economic activity, particularly coming out of a recession.
Conventional wisdom (no pun intended) says that convention activity has a lot to do with the health of the U.S. economy. The logic is pretty simple. When consumers are spending and the economic outlook is rosy, firms are much more likely to host or participate in industry-related trade shows, meetings and conventions. An uncertain or declining economy is believed to have the opposite effect, putting a damper on both the number of events and attendance.
However, this maxim may not always hold. The 9/11 terrorist attacks and coinciding recession put an immediate and noticeable dent in business travel. While that would seem to purport doom for convention activity, anecdotal evidence and available (though spotty) data suggest that convention activity has held its ground over the last three years, particularly in the district.
Steady as she goes
A 2003 state-of-the-industry report by industry magazine Event Solutions described a mixed bag for meetings and conventions. Some event professionals believed that the industry had undoubtedly been damaged by a rash of delayed, postponed or canceled events stemming from both 9/11 and the economic slowdown. But others reported no noticeable negative effect and, in some cases, that their business had actually improved during the period. The report concluded that there was no general consensus—the health of the industry really depends on the source.
Going back to 2002, the biennial Meetings Market Report from Meeting and Conventions magazine found an industry "on hold, shaken up by 9/11." But instead of portraying a big dip in the total number of events for the year, the data showed relative normalcy. Rather than reflecting the perceived decline in corporate spending, numbers and attendance for meetings and conventions had actually increased marginally from 1999. The 2004 report shows a larger, albeit modest, gain. The total numbers of meetings and conventions were up 2 percent and 4 percent, respectively. Attendance had also improved noticeably (see charts).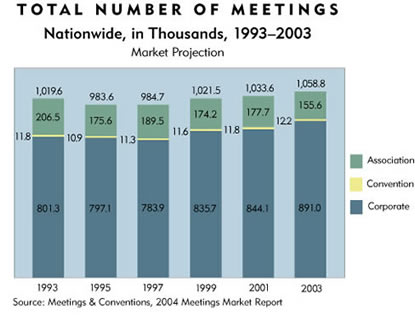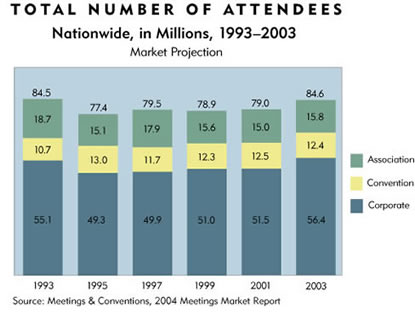 As a whole, the data seem to paint a picture of an industry that has been pretty stable over the last decade, surviving the shock of 9/11 and the recession without a large decline in total events.
Based on data provided by a half-dozen convention and civic centers around the district and anecdotal information from phone conversations with executives from various centers, activity in the district also appears to have been pretty steady, echoing the national trend.
Gauging district activity is a little tricky because no public or private source tracks convention and meeting activity in mid-level markets like Billings (Mont.), Fargo (N.D.) or La Crosse (Wis.). Annual data on events and attendance were requested from 20 convention and civic centers in the district; six responded.
Several reported that they don't keep track of past performance or were just too busy to participate, or that the figures they could provide would only amount to averages or rough estimates. Still others offered data with gaps that made meaningful analysis difficult. In lieu of hard data, these facilities noted almost without exception that business has been steady over the period in question.
Dale Anderson, manager of the IRA Civic Center in Grand Rapids, Minn., said that the center held "about 12" trade shows and conventions each of the last four years and that he hadn't seen any change in the number of events or their attendance stemming from the recession. He noted that dependable local shows like the Home, Sports and Travel show consistently draw 7,000 people each year.
Among the six facilities providing meeting and attendance figures (which include small, medium and very large facilities and home markets), business also looks fairly consistent. As a whole, the total number of events held at all six facilities slipped just 1 percent in 2001 and 2002. The numbers were down 4 percent in 2003. The chart below displays the change separately for each facility.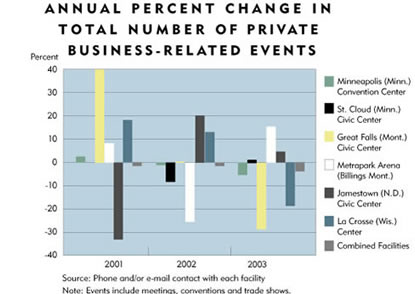 (It should be noted that the centers that did provide annual data are not a random sample, and therefore cannot be considered representative of the district. There could also be what statisticians call "selection bias" involved because facilities with poor numbers or those under close scrutiny from taxpayers may be less likely to participate. Also, smaller centers have seen more volatility in percentage terms, due mainly to their smaller 2000 base. For example, the Great Falls (Mont.) Civic Center reported five events in 2000.)
Tire markets
The level of consistency in regional activity over the period may also have something to do with the kind of events that district facilities tend to host. Overwhelmingly, representatives from both the centers, and local convention and visitors bureaus (CVBs) noted that they host a lot of local, state and regional events and a smaller percentage of national and international groups. Any turbulence that is felt in the larger event industry nationwide may be tempered in the region by a healthy percentage of dependable regional events like consumer shows and state association meetings.
Julie Larson, vice president of conventions, sales and marketing at the St. Paul (Minn.) CVB, said that although the occupancy rate at the city's RiverCentre slipped from 64 percent in 2000 to 56 percent in 2003, a steady diet of state organization events and lower levels of travel anxiety in the Midwest as a whole helped St. Paul avoid the 10 to 15 percentage point drops felt in some of the nation's larger markets during the period.
"Some meetings just didn't happen due to the sluggish economy, but we have a lot of repeat state clients like Minnesota Dental, Midwest Poultry, Minnesota Pollution Control and others that are pretty dependable," Larson said.
Local events may have smoothed any economy-related turbulence in the district's smaller metropolitan areas as well. Jim Brown, director of group sales for the La Crosse CVB, said the city is well positioned geographically to host regional events from the tristate (Iowa, Minnesota and Wisconsin) area. As a result, while the city-owned La Crosse Center draws a few national events each year, local companies and associations put on the vast majority of events. "We book plenty of annual shows like the Home and Builders Show and the La Crosse Tribune's Golf Expo that draw a local and regional crowd," he said.
The tendency to host mostly local events is common for smaller convention markets, according to Brendan Lynch, associate editor of Meetings and Conventions magazine. "Convention centers in small markets tend to seek and win business from area associations, locally based corporations and also from what's known in the meeting trade as SMERF [social, military, education, religious and fraternal] organizations," he said via e-mail.
Even the district's larger centers report that while they bid competitively for plenty of national and international events, the lion's share of their business comes from local clientele.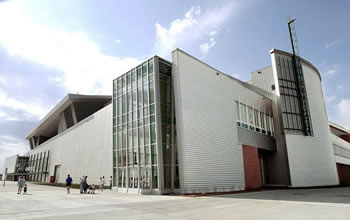 Constructed primarily as a sports and entertainment complex in 2001, the Alerus Center in Grand Forks, N.D., hosts over 100 conventions, trade shows and meetings each year. Sandy Dobmeir, visitor services manager for the Grand Forks CVB, said the city bids competitively for some national shows.
As an example, she said the University of North Dakota's world-renowned aerospace sciences program has hosted events attended by researchers from around the country and abroad. In spite of these big-ticket affairs, she stressed that the city is really a regional gathering place. "Aside from a few national events like that, Grand Forks is really what you call a 'tire market.' We host mostly regional and state events that people drive, rather than fly, to," she said.
The Duluth (Minn.) Entertainment Convention Center competes for national events, but the CVB there still relies heavily on local and state groups. Renee Appel, director of sales and operations at the Duluth CVB, said the city competes with metros of comparable size like Buffalo, N.Y., Albuquerque, N.M., and Milwaukee and for larger events, but state and local functions make up the majority. "We shoot for about 50 events per year at the convention center. Of those events, around a third are national or international," she said.
Appel also said the common perception that 9/11 had significantly impacted the industry is largely a fallacy. She said the Duluth area lost one national convention due to the economy and travel concerns, but that group has since rebooked. "Conventions are such big pieces of business that they're booked a minimum of one year out, with three- to 10-year lead times more the norm," she said, noting that this inherent lag time in the industry has helped insulate convention business nationwide from economic or travel shocks.
Too much of a good thing?
Though convention and civic centers in the district appear to have emerged from the recession relatively unscathed, the continued expansion of convention space nationwide—and in the district—could eventually take a toll. On the national level, available exhibit space increased by 12.3 million square feet—a 20 percent jump-between August 2000 and July 2003, according to a recent report by the Chicago Convention and Tourism Bureau and consultant PriceWaterhouseCoopers. That growth is expected to continue, although at a slower rate; an additional 5.9 million square feet are expected by the year 2006.
While additional space by itself might not constitute a problem, when combined with a slow-growing events market, that additional capacity may predictably translate to lower occupancy rates as distended existing facilities compete with brand new complexes for essentially the same number of events.
To date, smaller convention markets seem to be faring better than their more prestigious counterparts. According to the Chicago tourism report, expansion has led to double-digit declines in occupancy rates in 2002 for the country's larger "gateway cities" like Chicago , New York and Las Vegas. During the same period, convention facilities in regional centers (defined as those with fewer than 15,000 hotel rooms) saw an annual decline of just 1 percent in 2002. But these centers also sported the lowest average occupancy rate in the first place at just 27 percent in 2000-2001. (With the exception of the Twin Cities, district markets fall into this regional center category.)
But there's evidence that competition is heating up for larger state and regional shows, and facilities in the district have responded by throwing their hat into the expansion ring. In the past few years alone, convention facilities in Minneapolis, La Crosse and Fargo have expanded their available space.
Two of the district's largest convention structures are in eastern North Dakota. The three year-old Alerus Center in Grand Forks and the 12-year-old Fargodome in Fargo are situated approximately 75 miles apart. While competition between these facilities for convention, trade show and meeting business isn't explicitly acknowledged, recent activity suggests that both centers are growing in order to attract new business and retain existing clients.
The city of Grand Forks has contracted with Winnipeg-based Canad to build a 190-room hotel, water park and cineplex adjacent to the Alerus Center for $40 million. Dobmeir said the new hotel will help the Alerus to win large events whose planners may have liked the size of the facility and its high tech audiovisual system but went with other locations that could offer discounted on-site lodging. "We think that our convention business will increase dramatically as awareness in the industry increases and the hotel comes online in 2006," she said.
Adding on-site lodging may be a sign that the Alerus Center has felt the effects of increasing competition firsthand. Lynch, from Meetings and Conventions, said that 83 percent of convention planners report that hotel availability is the most important component in site selection. "Many cities build convention centers without a hotel nearby, then, once the center falls short of expectations, go back and build a headquarters hotel a few years later," he said.
Bonita Kuntz, business manager at Alerus, said the Fargodome recently added convention and meeting space as well. She said that the two "probably do compete for some events" but that the long lead time between booking and events makes it difficult to discern whether the recent addition at the Fargodome will cut into Alerus' convention and meeting business.
Despite this ever-growing capacity, every CVB and convention center representative contacted for this article said their city's convention outlook is positive. The city of Sioux Falls, S.D., has a lot to offer potential clients, according to Jessica Green of the city's CVB, via
e-mail. "I do think that we have an advantage because of less expensive rates, less crowded airport, great restaurants at affordable prices; traffic is not a problem, [and] you are within 10 to 15 minutes of any destination within the city."
Whether they can all continue to thrive in a climate of growing space and declining occupancy rates remains to be seen. Lynch said that the state of the industry doesn't always factor into the decisions made at the city level. Convention center space has already probably reached its saturation point nationwide, according to Lynch, and "cutthroat" competition has already caused many centers to give their space away for free.
But that hasn't stopped the building boom from continuing, according to Lynch. "Many individual municipalities still feel that a national oversupply of center space shouldn't preclude them from building a center, since they have their own unique appeal and customer base, regardless of the picture nationwide," he said.
Editor's note: The complex issue of public subsidies for convention centers, and the efficacy of that spending, has received considerable attention in recent years and is discussed at length in the March 2001 issue of the fedgazette.