African American enterprises on the rise in Minnesota
Small businesses, which the U.S. Small Business Administration defines as firms with fewer than 500 employees, are vital contributors to the dynamism of the U.S. economy. According to the 2002 U.S. Economic Census,1/ African Americans are leading the latest wave of small business growth in Minnesota.2/
What accounts for this development? Dramatic growth in Minnesota's African American population over the last decade may be a major factor. As the African American community has grown, so has its demand for goods and services, and entrepreneurship has flourished in response to the demand.
A rise in small business development is encouraging news for any community, since entrepreneurial success can build wealth, create jobs and attract new opportunities. However, African American entrepreneurs are likely to face a host of challenges that threaten to block their path to success. Fortunately, as we shall see, a network of organizations in Minnesota is ready to support African American entrepreneurs in their business ventures.
Business growth and demographic shifts
The U.S. Economic Census reported 7,837 African American-owned firms3/ in Minnesota in 2002, compared to just 4,024 in 1997. Clearly, small business growth has increased dramatically in a short period within the state's African American community.
The growth in small business coincides with a boom in the African American population. In 2000, 179,957 Minnesotans identified themselves as Black or African American, compared to 94,944 in 1990. The number of African Americans in Minnesota is projected to reach 259,600 by 2010. A closer analysis of these data reveals the population boom is largely due to two simultaneous waves of in-migration.
The first wave is made up of U.S.-born African Americans. According to Public Use Microdata Samples from the U.S. Census Bureau,4/ 58.8 percent of the U.S.-born African Americans living in Minnesota in 2000 were born outside Minnesota and 17.4 percent of them reported that they had not been living in Minnesota five years previously.
The second wave consists of African immigrants who move to Minnesota directly from their home countries or from other U.S. states. For example, a number of Somalis moved to Minnesota from Africa, while others arrived in the state after previously living in states such as Texas, Georgia, Tennessee, Ohio or California. The recent influx of African immigrants is reflected in the decreased percentage of African Americans in Minnesota who are U.S.-born, from 93.9 percent in 1990 to 81.1 percent in 2000.
The recent boom in Minnesota's African American population prompts the question, Why is the state attracting so many newcomers? A strong economy and comparatively high quality of life may be the biggest reasons, especially for African immigrants. Minnesota offers support for refugees escaping civil war and strife in their own countries. Once they become established, immigrant communities can grow quickly through word of mouth.
Whether U.S.-born or foreign-born, it is clear that more and more African Americans in Minnesota are applying their talents and drive to the creation of small businesses. Many of their enterprises are created in response to demands for goods and services that are not available from the majority community. For example, the Twin Cities are home to unique marketplaces known as "Somali malls," where dozens of individual businesses display products imported from Somalia or the Middle East. On a given day, these markets buzz with activity, as customers browse for goods that can't be found at other retailers. The bustle masks the fact that Somali mall merchants, like many other African American entrepreneurs, face a daunting set of challenges.
Acknowledging the hurdles
Securing the funds to turn a business idea into a reality is one major challenge for African American entrepreneurs. Access to adequate financing at start up is often an issue, especially among recent African immigrants, who encounter hurdles during the lending process. These include the difficulty of writing a solid business plan that includes financial forecasts, marketing, and sales strategies; limits on borrowing imposed by conventional lenders or community assistance programs; limited collateral; credit histories that are weak or nonexistent; and barriers resulting from customs or beliefs. For example, many Muslims interpret Islamic law, or Sharia, as forbidding the payment of interest, which means African immigrants who hold this view must seek alternative financing options or risk violating important principles of their religion.
African American entrepreneurs who succeed at acquiring start-up financing can have a hard time keeping their new businesses going. Studies have shown that new African American-owned businesses have the lowest survival rate.5/ Why? Economist Timothy Bates has found that small businesses are more likely to remain in business if 1) the owner invests substantial amounts of financial capital at the start-up phase, 2) the firm competes in the open marketplace, instead of catering to a small segment or a minority clientele; and 3) the owner has attained a high level of education.6/ The same economist found that when compared to all U.S. businesses, African American-owned businesses have lower capital inputs, a heavier reliance on cultural or minority markets and a lower proportion of owners with four-plus years of college. Although the proportion of African American entrepreneurs with a postgraduate degree has increased since Bates published his findings in 1989 and now stands at 24 percent, compared to 19 percent for all business owners,7/ African American-owned businesses are still experiencing difficulties.
The difficulties show in U.S. Economic Census numbers. The 2002 census revealed a 30 percent receipts growth rate for African American-owned businesses in Minnesota. This number actually compares favorably to the 21 percent rate for all firms in Minnesota. However, the average gross receipt per firm is comparatively low. African American-owned firms averaged $87,079, whereas firms owned by Asians and Pacific Islanders, American Indians and Alaska Natives, or Hispanics averaged $245,726, $117,077, and $116,159, respectively. Moreover, the 2002 average gross receipt per firm represents a 33 percent decrease from the 1997 amount of $130,000.
The low average for gross receipts may be partly due to the size of these businesses. Many are "mom and pop" operations with zero to just a few paid employees. Whatever the explanation, there are clearly ample opportunities to foster African American-owned businesses in Minnesota and help them grow. A number of organizations are ready to do just that.
Nonprofit, public and private sectors offer help
Minnesota is suffused with organizations, agencies and programs that work to improve conditions in which African American entrepreneurs start their operations. Most of them are located in the Twin Cities area, where the majority of Minnesota's African Americans live. Together, these organizations help new entrepreneurs realize their dreams of business ownership and assist existing companies in remaining competitive in the marketplace. Services provided include help with business plan preparation, business management and financing, legal and governmental issues, technology, financing tools and options, marketing and market research, and accounting and record keeping, just to mention a few.
One organization with a commitment to helping African American entrepreneurs is the Minneapolis Consortium of Community Developers (MCCD), a community development financial institution8/ in Minneapolis. MCCD made 76 new loans totaling $1.3 million in 2005, with 58 percent of the total going to African American-owned businesses. A recent priority for MCCD was to identify a funding source that could meet the Muslim community's increasing demand for religiously appropriate financing.
"Because of the Koran's prohibition on paying interest on a loan, we were limited to sources of capital that we can access that don't have interest attached," explains MCCD Executive Director Jim Roth. "We found a source with the state's Urban Initiative Program, which was designed to promote business development and job growth in low-income areas of the Twin Cities. We went to the legislature in 2005 and got the program changed to allow expansion into many of the inner-ring suburban communities that are seeing dramatic increases in their Muslim populations."
MCCD hopes to spread the word about its small business development program through TV and radio spots targeted to the African American community.
"We see the loan program at MCCD as a community resource. We hope that we can contribute in some way to the growth of African American entrepreneurship within the state," Roth says.
Another program known for its efforts to promote and sustain African American entrepreneurship is Northside Residents Redevelopment Council (NRRC), which serves North Minneapolis.
According to Sherrie Pugh, executive director of NRRC, the number one challenge African American entrepreneurs or potential entrepreneurs face is to maintain a credit record that will facilitate the process of securing financing for their new or existing businesses.
"Starting entrepreneurs need working capital and there are not enough resources out there that would tolerate or accept the amount of risk involved," she comments.
To prepare individuals for business ownership, NRRC offers technical assistance and micro-entrepreneur training. The organization is looking into enhancing its curriculum and recommends the creation of business incubators in North Minneapolis.
African Americans are just one of many communities MCCD and NRRC serve. Another nonprofit organization in Minnesota, the African Development Center (ADC), was formed specifically to assist African- and refugee-owned businesses. Its executive director, Hussein Samatar, describes the two major challenges of his organization's work.
"In working with our clients, we have the initial challenge of providing basic financial literacy. In working with the financial community, we have the challenge of demonstrating that, with a finite amount of strategic help, African enterprise will thrive in Minnesota. We've been laying the groundwork of this exchange since 2004, and we are now seeing results."
In 2004 and 2005, ADC provided entrepreneurship training to 75 clients and leveraged more than $2 million in business loans through private financial institutions.
"In 2005, we started a nationally unique Islamic financing program and made 24 business loans with Sharia-compliant terms," adds Samatar. "These are significant steps toward maturity for a sizable market segment that is largely new to Minnesota and arrived here with no resources and little understanding of American business."
ADC's efforts are already strengthening the local economy, Samatar notes.
"The success we've been nurturing isn't just about individuals making a fresh start. Entire neighborhoods are stabilizing. Commercial corridors on Lake Street in Minneapolis and University Avenue in St. Paul are growing. As a result, the Twin Cities area is a better place for all of us."
The State of Minnesota contributes to the success of African American-owned businesses, too, by providing a lending source that continues to benefit entrepreneurs. The state's Urban Initiative Program (UIP), which MCCD lobbied to expand to suburban areas, assists minority-owned and operated businesses and other enterprises that will create jobs in low-income areas of the Twin Cities region.9/ According to Bart Bevins, Minnesota Department of Employment and Economic Development loan officer, the UIP has disbursed over $4.1 million in loans to African American entrepreneurs since 1995, with a median loan amount of $10,000. The program has contributed to the creation of 3.3 jobs per business, with a median hourly wage of $9.25.
Finally, increasing numbers of banks are reaching out to serve African American business owners. Dorothy Bridges, president and CEO of Franklin Bank of Minneapolis, comments on the efforts of her bank to promote African American entrepreneurship.
"We are making this a significant focus of our marketing and strategic plan. We partnered with several nonprofit organizations such as MCCD, ADC and the Neighborhood Development Center in St. Paul to finance small business projects developed by African Americans and new immigrant entrepreneurs, including recent African immigrants."
Other major lenders such as U.S. Bank and Wells Fargo have designed community development programs to help address the needs of African American entrepreneurs. The expansion of small business lending benefits entrepreneurs and may have a major benefit for banks as well. Providing loans, investments and services in support of small businesses, regardless of the race of the entrepreneur, may enable banks to meet part of their obligation under the Community Reinvestment Act, which requires federally insured commercial banks and savings institutions to help meet the credit needs of the communities where they are chartered.
A trend of growth
As noted earlier, Minnesota's African American population is projected to grow for years to come. The increase in population will create additional needs—and, if the current business boom is any indication, additional ambitions. New African American arrivals in Minnesota will start new enterprises, and some existing firms will outgrow their need for the small business development services that nonprofit organizations, public entities and financial institutions provide. In fact, the 2002 economic census already showed a movement of African American-owned firms to midsized and larger operations in manufacturing; real estate; finance and insurance; health care and social assistance; and professional, scientific, and technical services. If the trend continues, African American-owned enterprises will account for a bigger share of Minnesota's economy, and perhaps some of the challenges African American entrepreneurs face will fade away.
---
1/ The U.S. Economic Census, which is conducted every five years by the U.S. Census Bureau, provides a detailed collection of economic statistics from the national to the local level. For more information, visit www.census.gov/econ/census02.
2/ The expression "African American" in this article refers to U.S.-born and Africa-born members of the Black race.
3/ For the U.S. Economic Census, a firm is a business organization or entity consisting of one domestic establishment (location) or more under common ownership or control. All establishments of subsidiary firms are included as part of the owning or controlling firm. Also, the terms "firm" and "company" are synonymous.
4/ Public Use Microdata Samples (PUMS) are publicly accessible data files that contain records for a sample of housing units. PUMS records are designed for extrapolation and are used for many kinds of statistical analysis.
5/ Office of Advocacy, U.S. Small Business Administration, 2001.
6/ Timothy Bates, Entrepreneur Factor Inputs and Small Longevity, Economic Studies 89-4, U.S. Census Bureau, 1989.
7/ U.S. Census Bureau.
8/ Community development financial institutions, or CDFIs, are specialized entities that provide lending, investments and other financial services in underserved or economically distressed communities.
9/ Areas currently covered by the UIP are Anoka, Blaine, Bloomington, Brooklyn Center, Brooklyn Park, Columbia Heights, Crystal, Fridley, Hopkins, Lauderdale, Lexington, Minneapolis, New Hope, Osseo, Richfield, South St. Paul, Spring Lake Park, St. Anthony, St. Francis, St. Louis Park, St. Paul and West St. Paul.
Entrepreneur profile
Alberta Smith
Atrebla Early Learning Center
612-724-0788
www.atrebla.com
Mississippi native Alberta Smith moved to Minnesota in 1973. After spending close to 20 years in the daycare industry, she founded her own daycare business, Atrebla Early Learning Center, in South Minneapolis in 2000. The center currently serves children aged 16 months to 12 years and features a training curriculum designed to prepare kids for kindergarten.
"We hope to serve infants, too, in the near future," says Smith, "and we're in the process of obtaining accreditation from the National Association for the Advancement of Young Children."
Unlike many African American entrepreneurs, Smith had little trouble finding start-up funds. The business finance arm of the Minneapolis Community Planning and Economic Development Department (formerly the Minneapolis Community Development Agency) provided initial financing. For Smith, preparation was the key.
"You have to know the business inside and out and be able to prepare a good business plan. Once I gathered all the documents, it was fairly easy to get the financing I needed at the beginning phase."
Her business has grown steadily since its early days.
"Our first year, the total receipts were $200,000," Smith recalls. "Last year, we reached $700,000. And already this year, we're pushing the million-dollar mark. [As of midsummer 2006.] We opened a second site, in North Minneapolis, and now have a total of 15 employees, the majority working full-time."
The expansion, which was funded by Franklin Bank and the Minneapolis Consortium of Community Developers, significantly increased Atrebla's child care capacity. To attract more families to the center's expanded services, Smith relies partly on word of mouth and partly on marketing.
"We print hundreds of flyers and pass them out to local employers. We have a contact database that we maintain regularly. Also, we place ads on local radio and in local newspapers."
When asked what advice she would offer to other African American entrepreneurs, Smith replies, "You have to be very sharp. Your plan has to be well thought-out, and location is the key." And for those interested in launching a business in a highly regulated industry like daycare, she stresses the importance of knowing the rules. "There's a big difference between running a home daycare and a commercial one. The rules and regulations aren't the same, and you have to know them thoroughly."
Entrepreneur profile
Ray and Brooke Memene
Eagle Employment
1-877-70-EAGLE or 612-604-0578
www.eagleemployment.com
Shortly after they met and married in 2000, Nigeria native Ray Memene and his wife Brooke, a member of the Fond du Lac Chippewa tribe of American Indians, began to think about creating a business to serve minority communities in the Twin Cities. They decided to develop a staffing agency for recent African immigrants and members of the American Indian community.
The Memenes sought start-up funding from a variety of sources, ending up with a combined loan package from M&I Bank, the Metropolitan Economic Development Association, the American Indian Economic Development Fund, and Phillips Community Development Corporation. Later on, expansion funding came from Franklin Bank and the Fond du Lac Loan Fund, which is managed by the State of Minnesota Department of Employment and Economic Development.
The new business, Eagle Employment, opened in November 2002. In the first year of operations, total receipts amounted to $98,000. Although they make a business of connecting employers and job seekers, the Memenes lacked resources to expand their own staff in the early days.
"In the beginning, there was no way we could manage to have paid employees," says Ray. "We couldn't even pay ourselves."
The couple encountered many challenges during the start-up phase. When asked to list them, Ray remarks, "This is going to be a lengthy conversation."
He describes the challenges of understanding market dynamics, approaching corporate entities and understanding their expectations, convincing financial institutions and community development corporations of the feasibility of a business dream, adjusting thinking patterns and cultural behaviors, recognizing the roles and value of business associations and chambers of commerce, managing time while implementing a business plan, and attending industry-specific training.
With no direct financial support from friends or relatives, the Memenes both had to work second jobs as they built the business. They're now reaping the rewards of their labor. In 2005, total receipts reached $1.6 million. As of midsummer 2006, sales had already reached $1.5 million.
"Our business is profitable and now we can pay ourselves," says Ray with a smile.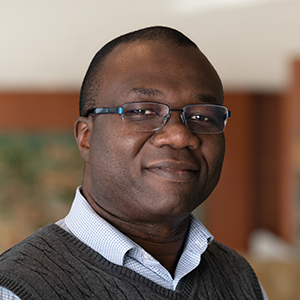 Michou Kokodoko
Project Director, Community Development and Engagement
Michou Kokodoko is a project director in the Minneapolis Fed's Community Development and Engagement department. He leads the Bank's efforts to promote effective community-bank partnerships by increasing awareness of community development trends and investment opportunities, especially those related to the Community Reinvestment Act.