Canadian tourism on the rise, eh?
Most Minnesotans don't see their state's winter weather as an international tourist attraction. But for Canadians, traveling just south of the border often means warmer weather, and "those five or six degrees make a big difference," said Bruce Gerbrant, president of International Travel, a Winnipeg tourism agency.
The number of Canadians crossing the border into the Ninth District ebbs and flows over time, and it's again on the rise, now approaching levels last seen in 2000. But Canadians don't come just for the weather. Most venture to the Ninth District for the shopping, the recreation and the je ne sais quoi of being in a foreign country. They don't mind the lower gas prices, either.
But more than anything else, there is nothing like a great exchange rate to get Canadians to pack their bags and head south. In the early 1990s, the U.S. dollar was weak against the Canadian dollar and the United States experienced record numbers of Canadian visitors. During that time, said Gene Shaw of the Duluth Department of Tourism, "Canadians came to Duluth by the busload."
Over the next decade-plus, however, the loonie fell from 87 cents to 64 cents against the dollar, and Canadian tourism in the nation and district fell in virtual lock step. But thanks to a strengthening Canadian dollar of late—recently topping 90 cents—Canadians are showing signs of cross-border flow once again.
Everyone likes a loonie
Everyone loves a great deal. Shopping was the main reason that Canadians visited the United States in 2004, according to the U.S. Department of Commerce's Office of Travel & Tourism Industries (OTTI), when 68 percent of Canadian visitors cited shopping as one of the top reasons they visit.
That's not news to Bill Reid, general manager of Columbia Mall in Grand Forks, N.D., built in 1978 to attract Canadian tourists as well as to appeal to local residents. These days, according to Reid, the mall is benefiting from the buying power of the loonie. About half the mall's stores—more stores than ever—accept loonies as well as dollars. And as Canadian traffic increases, so has investment around the mall. Hotel CanadaInn recently broke ground on a 191-room complex.
Gayle Fisher is executive director of Russell Country. Named after the famous western artist Charlie Russell and encompassing much of north-central Montana, it is one of six tourism regions delineated by the state. Fisher said she also has seen an uptick in visitors, which she attributes to the low exchange rate. She said that when the exchange rate reaches a certain point, Russell Country generally starts seeing more Canadians. "There are benchmarks" in the exchange rate, she said, and hitting one of those benchmarks means more Canadians come down to shop.
Spokesman Dan Jasper of the Mall of America in Bloomington, Minn., said that Canadian presence is steadily increasing there as well. Jasper added that while MOA experienced a dip in Canadian visitors for two or three months following 9/11, the rate of Canadian visits quickly recovered. International Travel's Gerbrant confirmed that while news-making incidents involving national security generally cause a dip in tourism from Canada, the rate of tourism quickly returns to its previous average. Sept. 11, he suggested, was an extreme example, but even that did not change the rate of Canadian visits to the United States for more than a few months.
Recreation areas are also reaping the benefits of the exchange rate. Craig Pugsley, an official at Custer State Park near Custer, S.D., said there is no shortage of Canadian license plates in the parking lot, although the park doesn't formally track Canadian visitors. Some private recreation areas do track visitor origins, and they confirm rising numbers of Canadians. Big Mountain Ski Resort in Whitefish, Mont., reports a surge of Canadian visitors over the past year. "Alberta is now one of the top five places our visitors are coming from," said Brian Schott of Big Mountain. "It hadn't been in the top five since the early or mid-1990s."
Golf courses are doubly blessed. Not only is the exchange rate favorable, but Canadians are traveling more to play and are attracted to the high-end U.S. courses. According to the OTTI, golf was included in 24 percent more winter travel packages at Toronto's top travel agencies in 2003–04 than in 2002–03. While states in the Ninth District can't offer golf in the winter as the southern states do, Canadian golfers do come to the district in the warmer months. Linda Johnson, marketing manager at Giant's Ridge Golf and Ski Resort, a high-end course in Biwabik, Minn., said that Canadian golfers currently make up only 5 percent of the golf course's business, but interest is on the rise.
The broader picture suggests that Canadians are spending more on leisure in general. "Nationally, the trend for Canadian leisure travel is up," said Cheryl Offerman at the Minnesota Department of Tourism. "The Canadian economy has been strong, and disposable income has increased. … Canadians have more money to spend on leisure activities."
With more disposable income in hand, Canadians seem more interested in active vacations than in years past, some sources say. Johnson, of Giant's Ridge, said it is becoming increasingly common to see parents, children and grandchildren skiing together or taking part in other outdoor activities.
Can't be everywhere at once
Not every state in the district is seeing the same activity or trends among Canadian visitors.
In 2004, Minnesota and South Dakota posted above-average annual gains in Canadian tourism, according to the most recent information available from the U.S. Department of Tourism. South Dakota experienced a 37 percent increase in unique visitors from Canada—from about 84,000 in 2003 to 115,000 the next year, the largest percentage increase in Canadian tourism of any state—and nearly a 50 percent increase in total visitor nights.
It's difficult to say for sure what's behind South Dakota's increase (and it should be noted that in absolute terms, the state still sees relatively few Canadian visitors compared to other states). Nicole Pullman of the South Dakota Department of Tourism attributed the spurt in Canadian visitors to the exchange rate, the state's promotional activities and the popularity of South Dakota parks.
"In 2004, we tailored our ads to Winnipeg and Saskatchewan because of the exchange rate," said Pullman. To keep Canadian interest piqued, last year South Dakota launched promotional campaigns highlighting the state as an affordable family vacation destination for Canadians. The campaigns included an "at-par" promotional travel package, whereby participating businesses offer Canadians discounted travel. In effect, businesses value $100 CAD the same as $100 USD, which means a Canadian traveler could get a $100 hotel room for $83 USD at last year's average exchange rate. The state's tourism department reported that Canadian inquiries increased 39 percent in 2005.
Minnesota was one of a handful of states that instituted a similar at-par program from 2000 to 2004. Coincidentally or not, Minnesota was the eighth-most-popular state for Canadian travelers in 2004, seeing a 27 increase over the preceding year, to more than 600,000.
"Canadian tourism's impact on Minnesota's economy is huge," said Offerman. She said that Canadians come to Minnesota for the state's major league sports, theater and attractions like Valleyfair amusement park. She said that Minnesota can also be a bargain because the state does not have sales tax on clothing, unlike other states. Another reason Canadians come to Minnesota is to gamble. Unlike Wisconsin or North Dakota, she said, Minnesota doesn't have limits on the amount Canadians can take back home.
Neither were 2004 results a one-year fluke, as South Dakota and Minnesota have posted the best numbers for Canadian tourism since 2000. North Dakota and Wisconsin both posted solid increases in Canadian visitors last year, but have only managed to return to levels last seen in 2000.
The Upper Peninsula of Michigan can't claim the same growth as South Dakota or Minnesota, according to Tom Namacheck of Upper Peninsula Travel and Recreation. "Canadians are not a major part of our tourism economy," he said. "Canadians in the U.P. mainly cross over the border and then drive out West to take advantage of cheaper gas prices."
Despite ranking 13th among the most-visited states by Canadians, according to Statistics Canada, Montana has lagged other district states a bit; Canadian visitor levels remain below those of 2000. To attract more visitors and capitalize on the attractive exchange rates, Montana launched its first Canadian advertising campaign in several years.
"We felt the time was right," said Sarah Lawler of the Montana Department of Tourism. "Our neighboring states had been seeing an increase in Canadians while we weren't seeing the same percentage increases."
It's the exchange rate, silly
Though new attractions and clever marketing plans are helpful, and terrorism threats might have some short-term influence, nothing affects Canadian tourism like the value of the loonie. In short, the recent surge is the beginning of a recovery after a steady, decade-plus decline.
In 1991, when the average annual nominal exchange rate reached 87 cents for Canadians, the United States hosted a record 19 million Canadian visitors, according to the OTTI. The United States hasn't see figures like that since, and you have to look no further than the exchange rate to find out why.
From 1991 to 2002, the annual average exchange rate for Canadian dollars slowly and steadily deteriorated, and Canadian tourists generally followed the same trend. Total visits to the United States dropped to about 15 million in 1996 and to just 12.7 million by 2003 (see chart).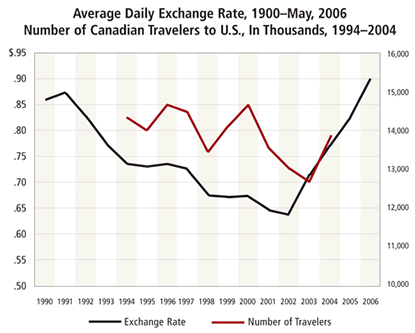 Source: Office of Travel & Tourism Industries, U.S. Department of Commerce
Though data for individual states were not available before 2000, visits to Ninth District states have generally been in line with the national trend. Canadian visits to the Ninth District (including all of Michigan) fell from 2.8 million visitors in 2000 to 2.5 million visitors in 2003.

Source: Office of Travel & Tourism Industries, U.S. Department of Commerce
With that historic backdrop, it's no coincidence that Canadian tourism is currently rising at a healthy clip in step with the exchange rate. From 2002 to 2004, the loonie appreciated by 20 percent and helped resuscitate Canadian southern travel, for both the nation and the district. The loonie has continued its ascent over the past two years, hitting 90 cents earlier this year, a few cents higher than it was in the heyday of the early 1990s.
So the upward trend in Canadian tourism should continue in the near term, driven mostly by strong exchange rates for visitors, and by the fact that even a short hop over the border still offers the allure of international travel.
When describing the lure of the United States, International Travel's Gerbrant said the United States offers a little different atmosphere than Canada. "Canadians just like to be in a different country."