District business leaders expect modest overall growth in 2006
The majority of respondents to the Minneapolis Fed's business outlook poll are positive about economic activity in 2006. They expect moderate growth in the national and local economies. However, burned by higher energy and other input costs, respondents expect above-average growth in inflation.
Business leaders expect business investment and employment to increase in their communities, but anticipate declines in consumer spending and housing starts. Poll respondents are optimistic about their own operations, expecting increases in sales, employment, capital investment and product prices for their companies. "Our industry remains stable," said a Minnesota moving company manager.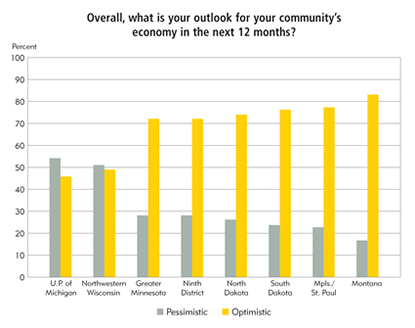 Source: Federal Reserve Bank of Minneapolis
Average GDP growth, higher inflation predicted
"The economic outlook is positive," reported a Minnesota retailer. Forty percent of respondents expect real growth of 1 percent to 2 percent in U.S. gross domestic product in 2006, and 39 percent expect real growth of 3 percent. Minnesota respondents predict the largest growth in 2006 GDP. The finance and insurance sector expects large growth, whereas the retail and agriculture sectors expect the smallest growth. One respondent from North Dakota said, "This is the strongest market I have seen since 1999."
"I think the economy is in good shape overall, but the [higher] fuel prices could take the wind out of the sails," commented a Minnesota manufacturer. Higher energy prices have most respondents concerned. Over two-thirds of the respondents indicated that higher energy costs will lower profits in 2006. In addition, 62 percent of the respondents are expecting to raise prices on their products and services because of higher energy costs.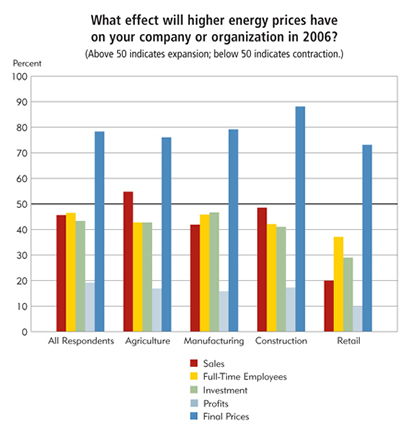 Source: Federal Reserve Bank of Minneapolis
"The prices of our basic inputs have risen dramatically. This will send inflationary prices throughout the economy," said a western Wisconsin forestry company representative. Most respondents agreed with this sentiment, as 62 percent expect inflation to increase at a rate of 4 percent or higher. The agriculture, construction and manufacturing sectors expect the highest level of overall inflation.
Outlook optimistic for local communities
Business leaders are generally optimistic and expect growth in business investment and employment in their communities. However, they also anticipate consumer spending and housing starts to decrease in 2006. A large majority—72 percent—are optimistic about the economic prospects for their communities. This optimism is widespread across industry sectors, except for the agriculture sector, where only 48 percent of the respondents are optimistic. Leaders from northwestern Wisconsin and the Upper Peninsula of Michigan (U.P.) are the least optimistic for their local economies.
Only one in five of the respondents expects business investment to decrease, while 41 percent expect increases in business investment in 2006. The strongest growth in investment is anticipated in Montana and the Dakotas, and the weakest is in the U.P.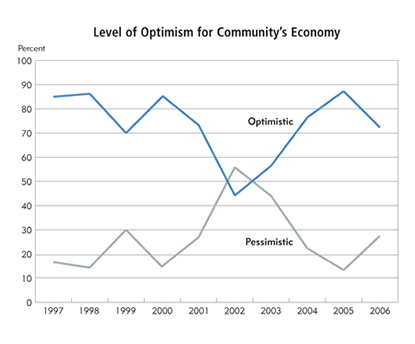 Source: Federal Reserve Bank of Minneapolis
In line with more capital investment are stronger employment expectations, as 40 percent of the respondents plan employment increases compared with 22 percent who expect declines. Again, respondents from Montana and the Dakotas expect the strongest growth, while U.P. respondents predict the weakest. Seventy percent of the business leaders plan to raise wages about 2 percent to 3 percent. In North Dakota, 52 percent of respondents indicate increases of 4 percent to 5 percent, placing that state at the top of anticipated wage increases.
Even though business investment and employment are expected to increase, consumer spending and housing starts are expected to decrease. Forty percent of those polled expect decreased consumer spending, while only 22 percent expect increases. More than half of the respondents from western Wisconsin and the U.P. expect decreased consumer spending. Consumer spending is expected to increase slightly in Montana, with 34 percent of those respondents expecting increases and 32 percent expecting decreases. A majority of retailers and agricultural producers expect decreased consumer spending in their communities. Meanwhile, housing starts are expected to decrease, as 52 percent of respondents predict declines compared with 17 percent who expect increases. Respondents from the Minneapolis-St. Paul area and western Wisconsin are the most pessimistic about housing starts, while Montana respondents are the most optimistic. Over two-thirds of the respondents from the construction industry expect declines in housing starts in 2006.
Companies to expand in 2006
Business leaders report that prospects for their own companies are good. Part of their optimism comes from the ability to pass higher input costs on to customers in the form of higher prices. Almost two-thirds of the respondents expect to raise prices on their products in 2006, while only 7 percent expect to lower prices. Respondents from the Dakotas and leaders from the retail sector are the most bullish on raising prices. Meanwhile, business leaders from the finance and insurance sectors expect a more difficult time raising prices.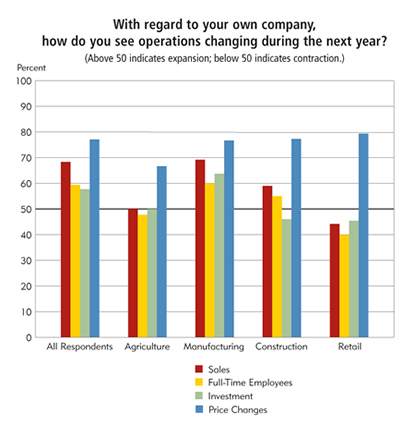 Source: Federal Reserve Bank of Minneapolis
Increasing prices are not the only issue facing business leaders. "Our biggest challenge is finding qualified employees," commented a manager of a U.P. construction company. The majority of respondents reported that securing workers is a challenge or a serious challenge for their business. Still, a third of the respondents expect to increase employment at their own company or organization in 2006, while only 14 percent see decreases. The strongest sector is services with 41 percent expecting increases, and the strongest area is North Dakota with 43 percent.
In addition to hiring more people, companies plan to add equipment, machines and buildings. Over a third of the respondents expect increased investment in plant and equipment in 2006 compared with 19 percent who anticipate decreases. Forty-six percent of respondents from the U.P. expect increases, while only 24 percent of Montana respondents see gains in investment.
While companies plan to increase hiring and investment in 2006, they experienced productivity gains in 2005. Eighty-one percent of respondents reported increased productivity in 2005, while only 6 percent reported decreased productivity. Nearly half of the respondents saw productivity grow over 3 percent. Companies from the U.P. and Montana and manufacturers and agricultural producers had the largest increases in productivity.
With higher prices, more workers and equipment companies expect sales revenues to grow in 2006. Fifty-six percent of respondents anticipate sales increases in 2006 compared with 19 percent who expect sales decreases. Finance and insurance companies expect the highest increases, while retailers expect decreases in sales.