In American Indian cultures, few things are revered as highly as land. Land's value has deep historic and religious roots; its significance is impossible to overstate. But as important as land is, most researchers would suggest that education is even more crucial to the economic future of Indian Country.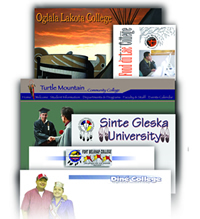 "Economic history tells us that land as the source of wealth and growth was important in the 19th century, but it's really human capital, not land capital, that's the source of growth and wealth today," said Ralph J. Brown, an economist at the University of South Dakota, Vermillion, who has studied the economic development of Indian reservations in his state. "More investment is needed in the area of human capital, and we see recognition of that in those reservations with colleges."
Indeed, the growth of tribal colleges and universities over recent decades has been nearly as phenomenal—if far less heralded—than the growth of Indian casinos. The first tribal college, now called Diné College, was formed in 1968 by the Navajo Nation in Arizona. Now there are 35 tribal colleges in the United States, plus one in Canada, and 22 of them are located in the Ninth District—seven in Montana, five in North Dakota, four in South Dakota, three in Minnesota, one in Wisconsin and another two in the Upper Peninsula of Michigan (see table). Nationwide as of fall 2002, they had an enrollment of nearly 16,000 students (over 10,000 in district colleges).
From the start, these schools have operated on shoestring budgets. "The typical campus is a hodgepodge of renovated buildings and doublewide trailers," according to a 2004 article in Native Peoples magazine. While some schools are beginning to build well-equipped facilities, most rely on rehabbed structures. The main building of Bay Mills Community College in Brimley, Mich., for instance, is an old fish-processing facility. For many years, Little Big Horn College's chemistry lab in Crow Agency, Mont., was a defunct sewage treatment plant. Still, for many Indian students, tribal colleges provide an essential bridge from high school to a four-year college.
While the primary mission of tribal colleges is education and cultural preservation, tribal college officials and researchers in the field contend that tribal colleges also make significant contributions to the economic development of their reservations and local communities. At the same time, however, these colleges face chronic funding shortages, which exacerbate ongoing problems in retaining students and faculty.
Still, the commitment of both Indian and non-Indian leadership to their existence suggests that tribal colleges will continue to grow, and even thrive, in coming years. "These colleges are underfunded [and] overworked," wrote Wayne Stein, professor of American Indian Studies at Montana State University, Bozeman, a few years ago. But, he added, they are also "viewed by the rest of American higher education with some wonder at their ability not only to survive, but to survive with panache."
Economic engines
Tribal colleges were begun in response to the poor educational outcomes experienced by many Indians attending mainstream colleges and also in recognition of the importance of sustaining traditional cultural values. But in addition, tribal colleges have been looked to as economic engines, a means of generating improved living standards for individual Indians and their communities, in both the short and long term.
That they do so for individuals is confirmed by research showing better employment outcomes among tribal college graduates than nongrads, in line with research on economic returns to higher education among the general population. A 1997 survey of graduates from Stone Child College on the Rocky Boy Reservation in Montana found that 15 percent of graduates were unemployed, compared to an overall unemployment rate of 72 percent on the reservation. A similar study of Turtle Mountain Community College (N.D.) graduates in 1995 found an unemployment rate of 13 percent for graduates, less than a third of that reservation's 45 percent unemployment rate.
While hard data on the broader economic impact of tribal colleges is scarce, evidence suggests a positive effect, both directly through expenditures and indirectly through support of business infrastructure and development of workforce quality—the hard-to-measure "human capital" to which Brown refers.
"Tribal colleges are becoming a vital tool for promoting Native entrepreneurship," wrote Brad Bly, in a 2005 issue of the Minneapolis Fed's Community Dividend. "Through their curricula, community services and business development initiatives." In addition, tribal colleges increase skill levels and foster employment in local economies, according to a 2000 report by the American Indian Higher Education Consortium (AIHEC) and the Institute for Higher Education Policy, which argued that "tribal Colleges are vital components of the process of building a foundation for future growth on Indian reservations and are strongly contributing to the economies of this nation's most disadvantaged areas."
As detailed by Bly, many tribal colleges sponsor chapters of American Indian Business Leaders, a national student group that serves as a support network for young business students. Almost all campuses offer business programs with specific training for entrepreneurs, and business is the most popular major among students at the nation's 35 tribal colleges.
Jobs on the reservation
Moreover, almost all tribal colleges are located on reservations and are often the largest local employer, with all that that entails. While jobs would be created wherever such expenditures were made—on Indian reservations or Madison Avenue—it's undeniable that the reservations themselves benefit from the boost tribal colleges give to their local economies, and the boost can be considerable in areas so burdened by poverty.
"We are one of the primary economic anchors of the region," noted William LoneFight, in an e-mail. LoneFight, the president of Sisseton Wahpeton College, located on Lake Traverse Reservation, near Sisseton, S.D., estimates that his school has "a direct impact of [approximately] 5 million dollars annually." Other college administrators emphasized their local employment effect. "We've been referred to as the hub of the community," said Carole Falcon-Chandler, president of Fort Belknap Community College in Harlem, Mont., "because we employ tribal members mostly."
Many tribal college programs are geared toward meeting needs in their local and regional economy. FBCC has responded to community economic needs by starting a small business center that offers entrepreneur and computer skills training for local citizens. "We've gone into the community and asked them what they think is needed," said Falcon-Chandler. "That's where we learned that they want these programs."
Steve Goulding, business manager at Lac Courte Oreilles Ojibwa Community College in Hayward, Wis., said the school conducts surveys "on a regular basis to see what kind of training is needed. We go out and talk to local employers, and we try to find out what kind of training they need for their employees. And then we try to see what we can do with our curriculum." The school has started a nurse's aide program in response to employer needs surveys, in addition to programs in tourism and hospitality. "Those are big industries in our area."
Fort Peck Community College in Poplar, Mont., has also surveyed local businesses to learn employer needs and design curricula accordingly. Salish Kootenai College in Pablo, Mont., on the Flathead Reservation, was one of the first in the state to develop forestry courses to train students for jobs in that local industry. A few years after the Oglala Lakota College began graduating students from its nursing program, 50 percent of the nurses at the local Indian Health Services clinic were American Indian, up from a small fraction before the program began.
Other tribal schools have begun their own businesses. Sitting Bull College in Fort Yates, N.D., started the SBC Construction company in 1997 "to provide employment experience opportunities for graduates of the Building Trades Program," according to the college Web site. To date, SBC Construction has built 21 houses and eight office buildings—a slow pace by commercial standards—but the firm plans to build 18 residential units per year over the next few years as the college expands to a new campus. With experience under their belts, says the college Web site, the SBC Construction employees will have "better job opportunities than they would have as program graduates with no experience."
Stopping out
But how many will actually graduate? Tribal colleges were created because of the difficulty Indian students were having in mainstream colleges. Underprepared, culturally disoriented, far from family, Indian students in traditional colleges often dropped out before completing four-year degrees.
"When you look at the history of mainstream institutions, they were retaining about 10 percent of Native American students in the 1960s," said Iris PrettyPaint, codirector of Research Opportunities in Science for Native Americans, at the University of Montana, Missoula. While retention rates have improved somewhat at conventional four-year colleges, she said, the prevalence of dropping out motivated Indian educators to try a different path. "One of the reasons tribal colleges originated is because of frustration with such low retention."
Tribal colleges are close to home and provide culturally sensitive environments (offering courses in Indian languages and culture, for example), factors that should improve graduation rates. But retention of students has remained a challenge, even at tribal schools. "We have all struggled with retention, and we're still struggling," observed Fort Belknap's Falcon-Chandler. To some degree, it's a question of poor student preparation prior to attending tribal college. Recent research by AIHEC indicates that 70 percent of tribal college students need remedial math, for example. But Falcon-Chandler suggests that broader issues play a part. "There's all kinds of problems. Transportation. Young people who have babies. We've been addressing drug and alcohol problems. All of it has an impact."
"Retention rates are problematic for most tribal colleges," concurred Betty Red Leaf, academic dean at Little Priest Tribal College in Winnebago, Neb. The most common factors for attrition, said Red Leaf, who has studied college persistence among American Indians at tribal colleges, are family obligations, lack of financial support and employment. "It's because of the makeup of our student population," she said. "A lot of them are single head of households with child care, work and family responsibilities, so it takes them longer to get through. Sometimes they have to stop out."
"Stopping out" is not a euphemism for dropping out, but rather a term to describe what many Indian students see as a necessary phase in attending college. If family needs arise, if financial burdens are too great, then college will have to wait until the immediate situation is resolved. The student may well return to college, but degree completion will often be substantially delayed while the student stops out to attend to other pressing concerns.
Family education
While no one has discovered exactly how to ensure high rates of completion at tribal colleges, research by PrettyPaint and others suggests that emphasis on strong college support systems that resemble families in their cohesiveness can increase successful outcomes.
"A close examination of the retention factors for Indian students reveals that replicating the extended family structure within the college culture enhances the student's sense of belonging and leads to higher retention rates," wrote PrettyPaint in a 2002 article in the Journal of American Indian Education, coauthored with Richard DeCelles. "Establishing and maintaining a sense of 'family,' both at home and at college, fortifies American Indian students' academic persistence."
PrettyPaint's research on student/family support programs at four tribal colleges in Montana—Fort Peck, Salish Kootenai, Blackfeet and Stone Child—found that such programs significantly improve college completion. At Fork Peck, for example, "we were able to track an increase in student retention from 54 percent to 81 percent" between 1997 and 2001, she said.
Falcon-Chandler speaks of a similar initiative at Fort Belknap. Last year, says Falcon-Chandler, the college graduated only 15 students, the smallest number in recent history. "We really had a bad year, and we don't know why," she said. This year, with a special grant, the school hired a retention counselor who has organized a committee to meet monthly with students to review progress and deal with problems. "We have 30 potential graduates, so we're [trying] to make sure that they do graduate," explained Falcon-Chandler. The counselor and his committee members are "checking in on these students every month to make sure that they're in the right place. So we're gearing up for this year. We're watching them [carefully]. They don't get this in the mainstream [colleges]; they don't get that monitoring."
Turnover
Retention isn't a problem only among students. Tribal colleges have also had periodic bouts of difficulty in retaining faculty and administration. Part of it is politics; though the colleges are nominally independent of tribal government, they can't help but be influenced by it. A recent editorial in the Grand Forks Herald headlined "Tribal Colleges Must Rise Above Politics" noted that in North Dakota, "a number of college presidents and administrators … made institutions out of nothing but were not supported by their tribal councils."
But economics also plays a powerful role. Tribal college pay scales are well below those at four-year colleges and even two-year community colleges to which they're often compared. According to the National Center for Education Statistics, the average 2003–04 salaries of full-time faculty on 9/10-month contracts were $36,434 at tribal colleges, but $52,819 at associate's colleges (schools, like community colleges, which confer associate's degrees rather than baccalaureates) and $61,560 at liberal arts colleges.
"There are seven tribal colleges right now that are looking for a college president, and right now we're operating without a college president," said Goulding, of Lac Courte Oreilles Ojibwa Community College. "It's quite a pain." They've had several good candidates apply for the position, he said, but can't afford them. "We've had problems adjusting our budget to pay what these people are actually worth. … That's been a stopping block for us."
Pay is an issue for staff and faculty as well as top leadership, says Goulding. "Well, for example, I've been the business manager here for six years, and yesterday I interviewed for a job, a county job, that would pay about $20,000 a year more," he said. "So that's what we have, a problem with funding … to retain some of the experienced and good people."
Faculty instability has clear implications for students: If faculty members leave, the "family-like atmosphere" is broken, exacerbating the tendency of students to stop out. Falcon-Chandler expects to retain most of her faculty in coming years due to her efforts to improve compensation. "We changed our salary scale, which is still not adequate, but it's better than it used to be," she said. "And then we offer benefits; some places don't, but we have health insurance and retirement [plans], 401(k)s. We never had that before. We weren't able to afford it."
"Underfunded miracles"
Asked about the adequacy of his school's federal funding, LoneFight of Sisseton Wahpeton College wrote in an e-mail that total funding per full-time student is approximately two-thirds that of a mainstream institution. "You can think of [the] difference between receiving adequate nutrition and receiving two-thirds of necessary calories. One is health, and the other is chronic malnourishment and eventual starvation." A colleague, Schuyler Houser, former president of Lac Courte Oreilles Ojibwa Community College in Wisconsin, has described tribal colleges simply as "underfunded miracles."
Insufficient funding in higher education is a common complaint at all levels and schools. But for tribal schools, the grievance seems particularly well-founded. The Tribally Controlled College and University Assistance Act of 1978 mandates Congress to provide federal funding for tribal colleges, and the schools have relied on these allocations for core operational funding. Because they're on reservation land, tribal colleges can't depend on state or local taxes for supplemental funding, as two-year and four-year colleges do. Federal dollars, then, are crucial.
In fiscal year 1981, Congress appropriated $2,831 per Indian student. In FY 2005, it brought appropriation up to $4,448. But factor in inflation, noted Meg Goetz, AIHEC's director of congressional relations, and tribal colleges are actually losing buying power. In 1981 dollars, the 2005 appropriation is just $2,078, a 27 percent drop.
Moreover, federal funding is allotted to schools on the basis of Indian students only, but many tribal colleges enroll significant numbers of non-Indian students—about 20 percent on average. Joseph McDonald, president of Salish Kootenai College, has taken a strong stand on the issue because of the financial impact on his school's bottom line. In 2003, he petitioned the Montana Board of Regents for state funding for non-Indian students attending SKC—termed "nonbeneficiaries" since they don't benefit from federal funding—estimated at 26 percent of the student body for the five-year period 1998 to 2002.
"This is a tremendous burden for a small college to shoulder," he argued. "Twenty-six percent of SKC's annual costs are properly attributable to nonbeneficiary Montana resident students. These costs continue to have a huge impact on SKC's budget, which is stretched thin since the college receives little or no government support to offset these costs." His initial pleas went unheeded, but in 2005, the Montana Legislature passed into law a bill appropriating funding for non-Indian students at all the state's tribal colleges.
Incoming
The recent Montana law is an exception to the rule that state legislatures generally provide little funding to tribal colleges. As Leonard Dauphinais, comptroller of Turtle Mountain Community College, put it, TMCC "receives no funding from the coffers of the State of North Dakota." Kyle Erickson, development director at Leech Lake Tribal College in Minnesota said that "we're kind of kept out of the loop for the state money … which puts us at a bit of a disadvantage" relative to two-year community colleges in Minnesota that can receive federal and state monies. In fact, the only tribal college in Minnesota which does receive state funding is Fond du Lac, which has a majority non-Indian enrollment. (In most states, according to a November 2000 report by the Education Commission of the States, community colleges receive about two-thirds of their funding from state and local sources.)
Tribal schools therefore seek additional federal funding, through their newly granted status as land-grant schools and a variety of other federal programs. They also rely heavily on corporate donations and private foundations. From 1989 and 2002, according to the Harvard Project on American Indian Economic Development, five tribal colleges or tribal college organizations were among the leading recipients of grants for Native American concerns. The American Indian College Fund received nearly $62 million in grants, Sinte Gleska University received $11 million, Salish Kootenai College got $9.4 million, AIHEC received $6.5 million and Oglala Lakota College was granted $5.7 million (all in 2002 dollars). Sounds like a fair amount of money, but if it were divided on a per capita basis—16,000 students enrolled in 2002—it barely covers books.
Some tribal colleges have struggled unsuccessfully to make ends meet. California's only tribal college lost its accreditation in 2005 after not remedying fiscal problems. Southwestern Indian Polytechnic Institute in New Mexico laid off 29 employees and required unpaid leave of other staff this past spring after facing a $1 million budget deficit. And in South Dakota, Si Tanka University declared bankruptcy and closed its off-reservation campus last year, while maintaining its on-reservation campus.
Of course, tribal colleges also depend on their students, but according to a 2003 study by the U.S. Commission on Civil Rights, "because tribal colleges do not receive sufficient federal funds, tuitions are typically so high that many Native American students cannot afford them." Even at comparatively inexpensive schools, going to school is an expensive endeavor. Annual full-time tuition at Turtle Mountain, for instance, is $1,776, significantly less than tuition at North Dakota's state-run community colleges. But tuition is only the tip of the financial iceberg for students. Turtle Mountain estimates total student costs, including room and board, transportation, books and so on can add up to almost $22,000 per year. That isn't much compared to Harvard, but for students from a reservation where the median household income in 2000 was $23,642, it's, well, a lot of money.
The American Indian College Fund provides scholarships for many students, over 6,000 in 2003, but the reality is that there's not enough for everyone. Other financial aid is available, but the Civil Rights Commission concluded that "bureaucratic hurdles and increasingly complex application procedures, coupled with unrealistic earning requirements, often mean that students do not have enough financial resources to cover costs." A 2005 NCES report showed that American Indian college students received less financial aid in 1999–2000 than students of other racial groups, and the same as Hispanic students. And so, inevitably, some Indian students stop out to earn more money for college—or perhaps for the more pressing financial needs of other family members.
Retaking the commons
Despite the problems that tribal colleges face, most of them are likely to survive. Some will even prosper. Tribal officials are committed to them—if not always to their administrators. Students and families support them, as demonstrated by their growing enrollment. Local communities depend upon them more than ever as one of the reservation's most stable institutions. Even politicians are beginning to recognize the importance of tribal colleges.
At the June 2005 graduation ceremony at Salish Kootenai College, Montana's largest tribal college, nearly 180 students took their diplomas. Among the new graduates stood a white man wearing blue jeans and a beaded vest, a man granted an honorary degree that day in Native American Studies: Gov. Brian Schweitzer of Montana. "We will invest in tribal colleges," promised Schweitzer in his commencement speech. And he urged the new graduates to travel off-reservation in the coming year, to be ambassadors, to let the world know about their home community. And then, he said, "Come home. We need you. You are the brightest and the best. Please come home and help us to grow."
Schweitzer's presence at the ceremony implies a sincere support of tribal colleges. But it also suggests a shrewd calculation that Indians hold significant political power in Montana and other district states, a potency that will grow as their numbers begin to dominate in rural counties and as educated Indian leaders provide political voice. With high birth rates and migration from urban centers, Indian populations are growing in counties on or near many reservations while non-Indian populations are shrinking. And as tribal colleges add to their economic and educational clout, Indians will, in many areas, become an ever more serious political force. The plains of the Upper Midwest may never again be populated by buffalo—but Indians, by degrees, are making a comeback.
See related articles in March 2003 fedgazette.