If you live in the United States but were not born here, you're more likely to be poor than the native born. This trend holds at the national level as well as for district states, but what's interesting is that while the overall poverty rate for the district is below the national rate, poverty among immigrants is higher.
Though immigrant populations are growing, district states have a far lower percentage of immigrants than the nation. Minnesota has the highest share of its population born elsewhere, a little more than 6 percent in 2005—about half the national share of about 12 percent, according to the U.S. Census Bureau's most recent American Community Survey. Montana's immigrant population continues to hover below 2 percent; the Dakotas' a tad above that.
The district also saw growth in immigrant poverty over the period. While not directly comparable to the 2000 Census figures (see editor's note below), the ACS numbers show an increase in the foreign-born poverty rate for almost every district state as well as the nation in the five years since the last census. The sole exception was Montana, which saw its share of foreign poor drop from 14.5 percent to 13.9 percent.
Most other states saw sharp increases in the poverty rates of immigrants, most dramatically in South Dakota, where the level jumped from about 13 percent to 31 percent. Immigrant poverty more than doubled in Minnesota over this period.
The disparity between national and regional immigrant poverty has a plausible, if uncertain, explanation: The growth of immigrant labor in rural towns in the district, and the boom in construction in areas like Sioux Falls, S.D., and the Twin Cities has been largely powered by immigrants. This can explain why the rise of immigrant poverty in Minnesota and South Dakota was absent in Montana and North Dakota—the total immigrant populations of those states were practically unchanged from 2000 to 2005.
In contrast, South Dakota saw a 34 percent increase in its foreign-born population in these five years, and more than two-thirds of that went to the Sioux Falls area. A similar trend occurred in Minnesota. Apparently, when immigrants move to North Dakota and Montana for work, they leave when the job is done, or if they can't find work.
But growing concentrations of immigrants in Sioux Falls and the Twin Cities (as well as in Michigan and Wisconsin) appear to convince new arrivals to stay, and this helps explain higher poverty rates among the foreign born in these places because new arrivals have lower measured incomes than the existing population of foreigners.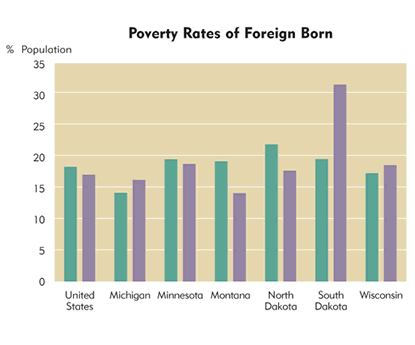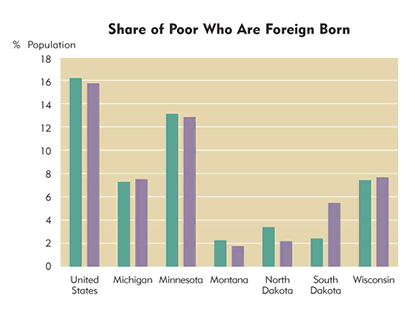 * Decennial Census
** Current Population Survey
Source: U.S. Census Bureau
Editor's note: All comparisons over the period 1990-2005 use two U.S. Census Bureau surveys that are not directly equal, but offer the best available information over the period investigated. Data from 1990 and 2000 are from the decennial census and are the most reliable. Data after 2000 come from the American Community Survey, an annual Census Bureau survey that uses sample data. Research has shown that ACS data have a tendency to be biased slightly higher than decennial figures.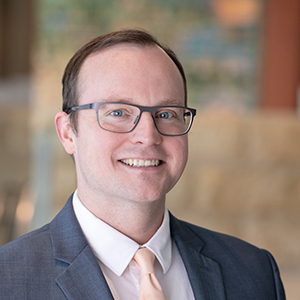 Request as a speaker
Joe Mahon
Director, Regional Outreach
Joe Mahon is a Minneapolis Fed regional outreach director. Joe's primary responsibilities involve tracking several sectors of the Ninth District economy, including agriculture, manufacturing, energy, and mining.