Since the spread of American Indian casinos and other forms of gambling across the nation, the public perception of reservation life has shifted from one of desperate poverty to windfall riches. That perception is deeply flawed. While gambling has brought substantial wealth to the members of some tribes, they remain in the minority. The fedgazette's March 2003 analysis of 42 district reservations found that the richest five tribes accounted for 54 percent of casino revenue but less than 6 percent of population. (See map of Ninth District Indian Reservations.)
"There's a myth that casinos are this big panacea for economic woes in Indian Country, and that's just not the case," said David Glass of the American Indian Economic Development Fund in St. Paul, Minn. "It's been a nice economic engine for maybe 10 percent of the total Indian tribal nations in the country, but the vast majority of Indian reservations are in such remote rural areas that they either don't have gaming or the gaming they do have becomes a job program. ... In terms of providing the revenue source for tribal entities to build infrastructure and to address other economic development pieces, it just doesn't do it."
So what is the reality? Standards of living have improved for American Indians in the district over recent years. Incomes have climbed, and employment and education are improving. Nonetheless, poverty remains widespread, unemployment levels are far above the American norm, incomes are well below and barriers of many sorts continue to impede future progress.
The following recounts a variety of statistical trends among the district's Indian population, with particular focus on Indians living on district reservations.
A growing population
There were over 252,000 American Indians in Ninth District states (including all of Wisconsin but excluding Michigan) according to the 2000 census. (This includes only those who identified themselves as American Indian only. Adding those who said they were part Indian and part another race brings the number to over 320,000.) That represented 2 percent of the total population in those states, about twice the national figure, but in South Dakota, Montana and North Dakota, Indians were a far higher proportion of total population: 8 percent, 6 percent and 5 percent, respectively.
From 1990 to 2000, the Indian population grew faster than the population as a whole in district states, 18 percent versus 10 percent. This growth difference was especially marked in North Dakota, South Dakota and Wisconsin. In North Dakota, for instance, the general population grew just 1 percent over the decade, whereas the Indian population jumped 21 percent. Even in Wisconsin, the Indian growth rate was twice that of the general population (20 percent versus 10 percent). In Minnesota, on the other hand, the general population growth rate of 12 percent was a bit higher than the Indian growth rate of 10 percent.
Many live in cities, but most in rural areas
The country as a whole is largely urban, with nearly 80 percent of the population living in what the U.S. Census Bureau defines as urban areas. The majority of American Indians, 61 percent, also live in urban settings, belying the notion that most Indians live on reservations.
In district states, however, these proportions are reversed, with nearly 60 percent of Indians living in rural areas. True, the district's general population is itself more rural than the nation's, but far less so than its Indian population. This varies widely by state, though. Montana's Indian population mirrors the district's urban/rural split, with 42 percent living in urban areas and 58 percent in rural regions. In the Dakotas, rural areas account for over 70 percent of the states' Indian populations. But in Minnesota and Wisconsin, a majority of Indians, 56 percent and 53 percent, respectively, live in urban areas. Among U.S. cities of 100,000 or more population, Minneapolis is the seventh highest in percentage of Indian population, at 2.2 percent.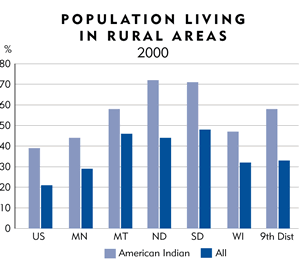 Source: U.S. Census Bureau
Back to the reservation?
Quite a few reservations, including some of the district's largest, have large non-Indian populations. On Flathead, Lake Traverse and Leech Lake reservations, all with over 10,000 total people, over half the population is non-Indian. Nonetheless, the populations of 29 of the district's 45 reservations are over 70 percent Indian; the district's second largest, Pine Ridge, is 92 percent Indian, and the fourth largest, Rosebud, is 84 percent Indian.
Comparison of 1990 and 2000 census data indicates that the Indian population on reservations within the district is climbing more rapidly than the Indian population in general, suggesting both higher birth rates and in-migration. In 1990, 35 percent of the district's Indian population lived on reservations; by 2000, 39 percent lived on reservations. The population growth rate for Indians on reservations was twice that for the reservation population as a whole, 28 percent versus 14 percent, and while Indians represented 55 percent of district reservation population in 1990, their majority climbed to 61 percent by 2000.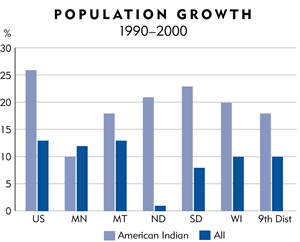 Source: U.S. Census Bureau
These growth rates and proportions vary greatly by reservation. The Indian population on some of the larger reservations, such as Fort Peck Reservation in Montana, grew slowly on a percentage basis while some small reservations, like Prairie Island Community, grew enormously. This growth is partly a statistical artifact because of how percentages are calculated, but it also represents real change: Prairie Island grew because its casinos offered jobs and income. Still, several large reservations also grew rapidly. The Indian population on Pine Ridge Reservation (the district's second largest), for instance, grew by 30 percent, from almost 11,000 to over 14,000.
Poorer than average
American Indians living on reservations within the district are much poorer than the general population, and even poorer than reservation Indians elsewhere in the country. Per capita income in 1999 for Indians on district reservations was $7,869, compared to the national per capita income figure for all races of $21,587, and well below the $12,893 per capita income for reservation Indians nationally. (These income figures are averages, not medians.) There is a wide range in the district, with per capita income on Shakopee Mdewakanton Sioux Community in Minnesota above $110,000 (due to generous "per cap" payments from the tribe's casinos) and a bit over $4,000 on the Crow Creek Reservation in South Dakota.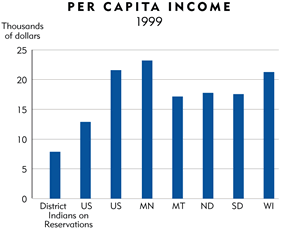 Source: U.S. Census Bureau
American Indians on Reservations: A Databook,
J. B. Taylor and J.P. Kalt, Harvard Project on American Economic Development, 2005
At the family level, Indian poverty on reservations is also quite high. Nearly 38 percent of Indian families living on reservations within the district were poor in 2000, according to federal guidelines, compared to 9 percent of U.S. families of all races, and ranging from 5.1 percent in Minnesota to 10.5 percent in Montana. On Pine Ridge, Lower Brule and Rosebud reservations, roughly half of Indian families are poor. On Crow Creek Reservation, 61 percent fit the definition.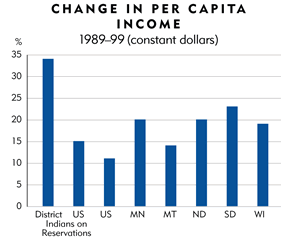 Source: U.S. Census Bureau
American Indians on Reservations: A Databook,
J. B. Taylor and J.P. Kalt, Harvard Project on American Economic Development, 2005
The pattern is even starker for children, with 48 percent of Indians under 18 years old on district reservations in poverty; the national figure for all races is 13.6 percent, while in the district, child poverty rates for all races ranged from 7.6 percent in Minnesota to 16.4 percent in Montana.
High unemployment; many government jobs; low education
The poverty rates seen among Indians on reservations in the district are reflective of the high levels of unemployment. The official U.S. Census figure for unemployment among Indians living on district reservations was 23 percent, compared to 3.7 percent nationally, with as high as 37 percent unemployment for Indians on the Pine Ridge Reservation. Many consider these figures underestimates of true unemployment because the lack of jobs on reservations discourages many from looking for work, thus lowering labor force participation.
Over a third of jobs on district Indian reservations are government jobs, compared to about 15 percent in the country as a whole, with the private sector accounting for 44 percent of district reservation jobs versus nearly 80 percent for the nation. There is a substantial correlation between Indian per capita income on district reservations and the proportion of workers with private-sector jobs.
Education levels are considerably lower among Indians living on district reservations than among the general population. About 16 percent of Indians on district reservations had college degrees or higher in 2000, and another 31 percent had high school degrees or the equivalent. This compares to 24 percent of the general U.S. population with college degrees and 56 percent with high school degrees. In the district, for all races, the college graduate figures range by state from 22 percent to 27 percent; the high school graduate figures range from 61 percent to 63 percent.
But better than before
The income, employment and education data for Indians living on reservations mark them as among the most disadvantaged in the district and the nation. Nonetheless, these figures represent solid improvement from a decade previous.
Per capita income for Indians living on district reservations climbed 34 percent from 1990 to 2000, after adjustment for inflation. Of course, it climbed more for some than others. Indians living on the Forest County Potawatomi Reservation saw their per capita income soar more than 560 percent, but those on Crow Creek saw theirs drop by 20 percent.
Similarly, the percentage of poor Indian families on reservations declined 24 percent over the decade, and the percentage of Indian children in poverty dropped 21 percent. Still, on Crow Creek, Northern Cheyenne, Rosebud and Fort Peck, child poverty rates increased.
Unemployment also declined among Indians on district reservations, dropping 21 percent over the decade. While unemployment rates actually increased on seven reservations, the vast majority of reservation Indians had an easier time finding work in 2000 than in 1990. Labor force participation also increased a bit over the decade, from 54 percent in 1990 to 57 percent in 2000, compared to a U.S. rate of 64 percent for all races. And the private sector rose in importance, increasing its share of jobs by 10 percent.
More recent data aren't available for reservation populations, but a county-level comparison of average unemployment rates in September 2000 to those in September 2005 shows a bigger increase in unemployment in district counties without reservations (from 3.07 percent to 3.54 percent) than in counties with reservations (from 5.04 percent to 5.26 percent), suggesting that the economic downturn didn't affect reservation counties as much as one might think.
Educational attainment improved somewhat over the decade for Indians on district reservations, with the percentage of adults over 25 with either college or high school degrees increasing from 41 percent to 47 percent.
And the future?
What do these changes mean for the future? To some degree, they indicate promise: Improvements in education, income and employment suggest promising trends in coming years. But the high levels of poverty and joblessness indicate that substantial challenges remain.
Some observers are pessimistic. Economist Ralph Brown of the University of South Dakota, Vermillion, documented substantial gains for the populations, both Indian and non-Indian, on South Dakota Indian reservations during the 1990s. "A number of reservations actually grew faster in terms of per capita income and employment than did the South Dakota economy," he remarked. The gains were due largely to casino growth, he believes. "The problem, of course, is that takes them to a new higher [income] level, but still the gap is very wide, and I don't see casinos themselves as a source of sustained growth. ... I'm trying to get away from being bleak, but I guess I can't do it."
Others agree that there are substantial obstacles, but leave more room for hope. "It's an issue of overcoming some of the impediments, and some of that's societal, some of it's structural and some of it's governmental," said Clint Waara, community development officer and assistant vice president with Wells Fargo in Sioux Falls, S.D. "There is a movement towards more and more small businesses on the reservation. I think that's what it's going to take." Right now, tribal governments "tend to be a little bit stifling for small business," said Waara, an enrolled member of the Cheyenne River Sioux Tribe.
Banks also have been reluctant to do business in Indian country. "But I think you're seeing that go by the wayside. People are becoming more and more comfortable with doing business on the reservation," he said. "What it's going to take is a kind of critical mass of entrepreneurs and small-business people to actually start turning the ship around. ... We need to create more opportunities in the private sector."
See related articles in March 2003 fedgazette.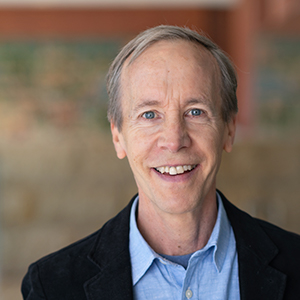 Douglas Clement
Editor, The Region
Douglas Clement was a managing editor at the Minneapolis Fed, where he wrote about research conducted by economists and other scholars associated with the Minneapolis Fed and interviewed prominent economists.