2005 revisions define new CRA-eligible geographic areas
In 1977, Congress passed the Community Reinvestment Act (CRA) to encourage federally regulated depository institutions to help meet the credit needs of the communities in which they operate, including low- and moderate-income neighborhoods, consistent with safe and sound banking operations.1/ The regulations that implement the CRA established a framework and criteria for federal banking regulators to use when assessing an institution's community reinvestment record. The regulations are geography-based; that is, they define specific geographic areas in which activities can qualify for consideration under the CRA.
Federal banking regulators have revised the regulations several times since the CRA's enactment. In 2005, regulators made several important changes in an attempt to reduce the regulatory burden on community banks and make CRA evaluations more effective in encouraging banks to meet community development needs outside of metropolitan areas.
One of the changes federal regulators made to the CRA regulations was to broaden the definition of the geographic areas in which activities can qualify as community development. Regulators added designated disaster areas to the definition of CRA-eligible geographies. They also defined two new types of CRA-eligible rural geographies: distressed and underserved. In defining these rural geographies, they sought to further recognize and encourage community development outside the nation's metropolitan regions. This article examines how the inclusion of distressed or underserved areas could influence the geographic scope of CRA-eligible community development investment in rural parts of the Ninth Federal Reserve District.2/ The analysis finds that the CRA landscape in the District has changed greatly and that investments routinely made in large portions of the region may now count as CRA-qualified activities under the revised regulation.
CRA fundamentals
The original intent of the CRA was to address community groups' and policymakers' concerns that financial institutions were systematically disregarding sound banking opportunities in some neighborhoods located within their traditional service areas. Some argued that the result was to hasten the economic decline of particular areas and neighborhoods. Policymakers designed the CRA to address this concern. Consequently, the law requires financial institutions to meet the convenience and needs of communities in their service areas, including the need for both credit and deposit services. The law further states that financial institutions have a continuing and affirmative obligation to help meet the credit needs of the local communities where they are chartered.
Under the CRA, each covered financial institution is required to delineate its service area, or assessment area, which regulators use to evaluate the institution's record of helping to meet the credit needs of its community. Assessment areas typically include entire metropolitan regions or one or more contiguous political subdivisions, such as counties, cities or towns. By law, they cannot arbitrarily exclude low- and moderate-income geographies.3/ Bank regulators review and approve of assessment area boundaries for all institutions. Regulators then use an array of CRA performance tests and standards to evaluate how well an institution serves its assessment area. The specific tests and standards depend on the institution's asset size. For example, institutions with up to $258 million in assets are defined as small and must meet different performance tests than large banks, which are defined as having $1.033 billion or more in assets. (For more on CRA performance tests, see "CRA exam basics and Ninth District breakdown.")
After the completion of an evaluation, the regulator assigns the institution an overall CRA rating (Outstanding, Satisfactory, Needs to Improve, or Substantial Noncompliance). An institution's CRA evaluation and rating are important, since regulators consider CRA performance when an institution submits an application to merge with or acquire another banking institution. Also, community groups can use poor CRA performance as the basis for challenging an institution's application. Financial institutions occasionally use their CRA ratings, too, as symbols of their commitment to community reinvestment—especially if they receive Outstanding ratings.
Defining community development
The CRA's implementing regulations set out a specific definition of what constitutes community development under the law. Prior to the 2005 changes, the regulations defined community development to include the following activities:
Affordable housing,
Community services,
Economic development by financing small businesses and farms that meet federal size and revenue eligibility requirements, and
Activities that revitalize or stabilize geographic areas.
Financial institutions can engage in these activities through a variety of means, such as loans, direct investments in community development projects or organizations, community development grants or the purchase of certain state and local government bonds.
CRA-eligible activities must satisfy additional criteria related to benefiting specific individuals and geographies. Prior to 2005, federal regulators relied on income data from the decennial census to designate CRA geographies. Using median family income data from Census 2000, federal regulators identified four tract income-level categories: low, moderate, middle or upper. Tract income-level categories are sorted using the following methodology, where tracts with median family income:
Less than 50 percent of their area's median income are identified as low,
Between 50 and 80 percent of their area's median are identified as moderate,
Between 80 and 120 percent of their area's median are identified as middle, and
Greater than 120 percent of their area's median are identified as upper.
Under the pre-2005 CRA regulations, investment activities made by financial institutions in middle- and upper-income geographies were not eligible for consideration. Only investment and activities in low- and moderate-income geographies were eligible. However, the 2005 CRA revisions have expanded the geographic areas where CRA-eligible activities can occur, with the addition of disaster areas and rural middle-income areas designated as distressed or underserved.
2005 revisions
After a four-year review of existing CRA regulations, federal regulators implemented several important changes in September 2005. The changes included adjusting the two existing asset categories (small and large banks), the creation of a new financial institution asset category (intermediate small bank), revising examination procedures and standards, and discontinuing data reporting requirements for financial institutions of a specific asset size.4/
The new rules also expanded the definition and geographic scope of CRA-eligible community development by creating two new categories of CRA-eligible activities and/or geographies. The first new category includes activities that either revitalize or stabilize state and federally designated disaster areas during the official disaster period. The second includes activities that either revitalize or stabilize middle-income distressed or underserved areas that are located in rural areas. For the CRA, rural areas are those census tracts located outside the boundaries of the nation's metropolitan statistical areas, or MSAs.5/ By adding these distressed or underserved rural areas to the rural census tracts already designated as low- or moderate-income, federal regulators expect to increase the number of rural areas in which activities are eligible for community development consideration under the CRA.
One reason why regulators expanded the definition of community development for rural areas is that a low percentage of rural census tracts is designated as low- or moderate-income (LMI). Typically, tracts in rural areas are designated as middle-income, because the census-based rural state median family income estimate, not the overall state median, is used in the calculation to identify rural LMI tracts.6/ This fact is important, since rural median incomes are typically much lower than the overall state median. Based on the argument that rural areas with appropriately low median family incomes had been excluded in the previous methodology, regulators opted for a multifaceted approach to identify additional rural areas. First, using the old methodology, they identified middle-income tracts in rural areas. Second, they further classified these middle-income tracts according to whether they did or did not exhibit qualities that made them distressed and/or underserved.
According to the 2005 CRA revisions, distressed geographies are located in counties with one or more of the following conditions:
An unemployment rate of at least 1.5 times the national average,
A poverty rate of 20 percent or more, or
A population loss of 10 percent or more between the previous and most recent decennial census or a net migration loss of 5 percent or more over the five-year period preceding the most recent census.7/
Regulators identified underserved geographies through a different methodology. Underserved refers to the fact that the area's "population is sufficiently small, thin, and distant" and may have trouble financing the fixed costs of essential community needs.8/ The type of eligible community development activities in this geography differ from those that qualify in traditional or distressed areas. Specifically, in underserved areas, bank financing for construction, expansion, improvement, maintenance, or operation of essential infrastructure or facilities for health services, education, public safety, public services, industrial parks, or affordable housing generally will be considered to meet essential community needs, so long as the infrastructure or facility serves low- and moderate-income individuals.9/
Regulators will annually review the status of CRA-eligible areas. Since some of the data used to identify distressed or underserved tracts will change from year to year (e.g., unemployment rates), regulators plan to update the list of tracts annually.10/ A census tract can be eligible for both designations, depending on the conditions within that tract.
The broadening of the community development definition under the revised CRA regulations has far-reaching implications for rural areas. An analysis of census tracts based on 2003 data found that 31.1 percent of urban census tracts and 14.6 percent of rural census tracts were CRA-eligible. When the broadened geographic definitions of the revised CRA are applied, the percentage of CRA-eligible rural tracts increases to a level of proportional parity with the percentage of qualified urban tracts.11/ Under the revised CRA, financial institutions arguably have expanded options for the number and types of rural areas where investments, loans and other activities could receive CRA consideration. This expansion is visible when the old and new community development definitions are compared for the Ninth Federal Reserve District.
Ninth District analysis
The analysis that follows examines the impact of the changes in nonmetropolitan, or rural, portions of the District. In 2000, the nonmetropolitan portion of the Ninth Federal Reserve District had 1,171 census tracts with a total population of roughly 3.5 million people, of which 8 percent were minorities (those identified as not White alone according to the U.S. Census Bureau) and 12 percent were living below the poverty line.
Under the LMI criteria, CRA-eligible areas in rural parts of the District included 15 percent of all tracts, or 175 tracts. These LMI tracts made up one-fifth of the rural area of the District and held 10 percent of the District's rural population. These LMI tracts contained almost half of the District's rural non-White population and almost one-quarter of the rural population with incomes below the poverty line in 2000. Spatially, many of these rural LMI tracts are located within or adjacent to the American Indian reservations located in the District. For example, all of the rural low-income tracts in South Dakota are located within the boundaries of five reservations (Pine Ridge, Rosebud, Crow Creek, Cheyenne River and Standing Rock). Montana and South Dakota have larger portions of their rural areas classified as LMI than other parts of the District. These states, along with North Dakota, also have higher concentrations of minorities and persons in poverty in their rural LMI tracts than other parts of the District.
The new distressed and underserved geographies considerably expand the areas and population covered by the CRA.12/ (Compare the maps below). Added together, distressed or underserved areas and rural LMI areas cover more than 600 census tracts containing over three-quarters of the Ninth District's rural land area and over 40 percent of the total rural population. The geographies defined under the revised CRA regulations include approximately 70 percent of the rural region's non-White population and close to 55 percent of the population living below the poverty line in 2000. Rural areas in the Dakotas and Montana are most affected by the changes, as close to 85 percent of the rural square miles of each state are now considered CRA-eligible. Due to the changes in these three states, larger portions of the rural minority population and the population in poverty are included in CRA-eligible tracts.
However, it is important to remember that underserved areas differ from distressed areas and traditional LMI areas with regard to the eligible investment activities that may occur there. Upon further examination, regulators designated close to 80 percent of the newly eligible rural tracts as distressed, mostly due to population loss that occurred in those areas. (See the table below). Regulators identified two-thirds of the tracts as underserved. Approximately 40 percent of the newly eligible tracts received a dual designation of distressed and underserved. (These tracts are colored blue in the second map below.)
Options and benefits
Under the revised CRA, the investment landscape of the District and many other areas across the nation has changed dramatically. In our region, CRA-eligible tracts now cover three-quarters of the rural land area and include 42 percent of the District's rural population. As a result, financial institutions can receive more recognition for their community development activities and have more options for investing in rural areas. Also, community development projects in previously excluded areas are likely to benefit from the new status of their geographic areas as they use this eligibility to attract new investment.
Underserved and Distressed* Census Tracts in the Ninth Federal Reserve District
Ninth District State
Tracts Designated as Distressed
Tracts Designated as Underserved
Tracts Designated as Both Distressed and Underserved
Unduplicated Total
Upper Michigan

19

13

9

23

Minnesota

88

45

29

104

Montana

69

70

41

87

North Dakota

80

68

49

93

South Dakota

53

54

33

67

Northwestern Wisconsin

21

36

10

47

Total

330

286

171

421

* CRA-eligible distressed and underserved census tracts for 2006. Sources: Census 2000, Federal Financial Institutions Examination Council.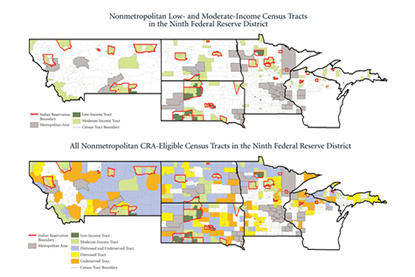 Click maps to enlarge.
---
1/ Regulation BB (Community Reinvestment Act), Code of Federal Regulations, Title 12, §228.11. The text of the regulation is available online at www.gpoaccess.gov.
2/ An earlier version of this article that focused on North Dakota appears in a Policy Brief for Iowa State's North Central Regional Center for Rural Development at www.ncrcrd.iastate.edu/publications_papers/policybriefs.html.
3/ Regulation BB, §228.41.
4/ See "Final Draft Rules for the Community Reinvestment Act," The Federal Reserve Board, July 19, 2005, www.federalreserve.gov/BoardDocs/Press/bcreg/2005/20050719/default.htm.
5/ Metropolitan statistical areas, or MSAs, are composed of an aggregation of counties from one or more states. For a list of current MSAs, visit www.whitehouse.gov/omb/inforeg/statpolicy.html.
6/ Robert Avery, Glenn Canner, Shannon Mok, and Dan Sokolov, "Community Banks and Rural Development: Research Relating to Proposals to Revise the Regulations That Implement the Community Reinvestment Act," Federal Reserve Bulletin, Spring 2005, p. 218.
7/ Final Draft Rules for the Community Reinvestment Act, 12.
8/ Population data collected by the U.S. Census Bureau and "urban influence codes" maintained by the United States Department of Agriculture Economic Research Service are used to identify underserved areas.
9/ Final Draft Rules for the Community Reinvestment Act, 13.
10/ An annually updated list of the census tracts identified as distressed or underserved can be found on the Federal Financial Institutions Examination Council's (FFIEC) Web site at www.ffiec.gov/cra/default.htm.
11/ Robert Avery et al., p. 224.
12/ Separately, the inclusion of designated disaster areas also expands the areas and population covered by the CRA. Disaster designation is temporary and may apply to rural or metropolitan areas. For a list of disaster areas in the U.S., visit www.fema.gov.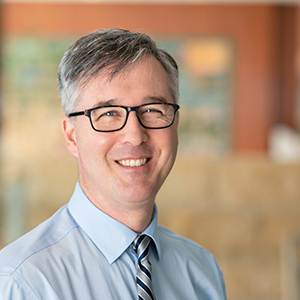 Michael Grover
Assistant Vice President, Community Development and Engagement
Michael leads our efforts to promote the economic resilience and mobility of low- to moderate-income individuals and communities across the Ninth Federal Reserve District. He has conducted research and published articles on affordable housing, community development corporations, homeownership disparities, and foreclosure patterns and mitigation efforts.