Agricultural finances strong
Bankers are upbeat about their agricultural customers, according to the Minneapolis Fed's second-quarter (July 2007) agricultural credit conditions survey. Respondents indicated that second quarter income, household spending and capital investment have increased, leading to stable borrowing and repayment. Land prices increased, and interest rates were level. The outlook for the third quarter is positive—lenders expect agricultural customers' financial picture to improve.
Farm income, household spending and capital investment
Across the Ninth District, lenders reported strong profits for their agricultural customers during the second quarter. "Crop appears excellent, and a good portion of our customers have the crop priced at good levels," said a respondent from South Dakota. Many lenders agreed with this upbeat outlook; responses from all district states were generally positive. Strong market conditions for dairy contributed to the optimism, with 78 percent of Wisconsin respondents seeing increased income for dairy producers. The least strong response came from Montana, with 15 percent reporting decreased income levels, primarily due to higher feed costs.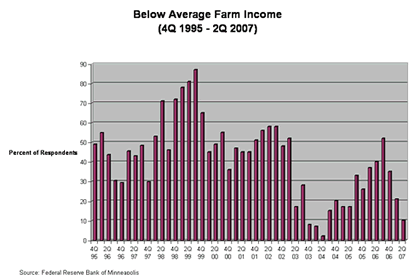 The increase in profits spurred additional capital investment and household spending. All parts of the district had strong growth in capital investment. Minnesota led the way, with 60 percent reporting increased levels, followed by Wisconsin with 56 percent. Household spending also increased, with about half of the Minnesota and Montana lenders reporting increases.
Loan repayments and renewals
Loan repayments and loan extensions were stable. The majority of respondents indicated no change in their agricultural customers' payment patterns. This response varied somewhat by location. About a quarter of the respondents from Montana and South Dakota indicated higher levels of renewals, while about a quarter of the respondents from Minnesota and Wisconsin reported higher loan repayments. Only about 2 percent said their customers have severe repayment problems that would likely result in loan losses and/or require forced sales of borrowers' real assets.
Demand for loans, required collateral and interest rates
About half of the respondents indicated no change in loan demand, but 37 percent reported an increase. Some potential borrowers may be having difficulty getting loans, as lenders reported that 19 percent of their customers have borrowed up to their limit. Only 8 percent of lenders reported increased collateral requirements, with the balance reporting no change. And only 1 percent of respondents indicated that loans were refused due to a shortage of funds. Both fixed and variable interest rates were little changed in the second quarter compared with the first quarter.
Land values
Land values and sales increased. Based on the responses from agricultural lenders, average nonirrigated farmland and ranchland values increased 17 percent and 16 percent, respectively, from a year ago. A Montana lender noted "more sales to hunting and recreation purposes than for traditional ag production purposes." In addition, 18 percent of the lenders reported increases in the number of sales, while less than 1 percent noted decreases. "Farm real estate sales are common all year long, where they used to be more in the fall and springtime," said a South Dakota lender. (Land prices can vary significantly, not only from state to state, but also from parcel to parcel. For more detailed information on agricultural prices, see the Minnesota Land Economics Web site.
Outlook
The outlook for third-quarter financial conditions is healthier than second-quarter performance. Lenders expect their agricultural customers' income, capital purchases and household spending to increase. "Crops are in good shape and are actually ahead of schedule, but we will need moisture to sustain them to maturity. We used all of our subsoil moisture last year, so moisture reserve is low. With corn and bean prices, our farmers could have a great year if we receive adequate moisture," a Minnesota lender said.
Appendices:
State Fact Sheet
|
State Fact Sheet-Outlook