Agriculture bounces back in fourth quarter 2006
Better-than-expected yields and higher prices lifted the financial conditions of many farmers and ranchers from a tough third quarter, according to the Minneapolis Fed's fourth-quarter (January 2007) agricultural credit conditions survey. Farm income and household spending stabilized, and loan repayments and renewals held steady across most of the district. North Dakota lenders were the most pessimistic. "We had no rain last year," said one. The outlook for the first quarter of 2007 is decent, with farmers expecting profits to pick up.
Farm income, household spending and capital investment
Overall agricultural profits were flat in the fourth quarter; however, the profit picture was mixed across the district. "A very good crop and strong prices during harvest increased fall selling," a lender from Minnesota commented. Sixty-one percent of the Minnesota lenders reported that farm customers had higher farm income. "Ethanol plants have produced significant off-farm income for some farmers," said a South Dakota agricultural lender. In contrast, about half of the North Dakota and Montana lenders reported that their agricultural customers had decreased profits. "Our producers need a disaster relief payment ASAP," said a North Dakota lender, commenting on dry conditions.
Overall capital investment fell, and household spending increased slightly. A third of the respondents saw lower capital spending, while 26 percent reported increases. The strongest growth in capital spending was indicated by lenders from Minnesota, with 41 percent reporting increases. The weakest capital spending was in Wisconsin, with 64 percent of bankers there reporting decreases. Nearly 30 percent of all respondents reported increased farm household spending versus 17 percent reporting decreased levels. Minnesota lenders reported the strongest household spending; Montana, the weakest.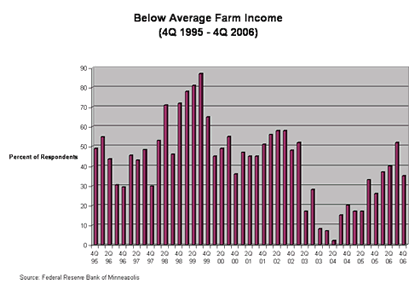 Loan repayments and renewals
The overall rate of loan repayments and renewals changed little. Sixty percent of the respondents saw no change in the rate of loan repayments. However, in North Dakota, 37 percent of lenders reported decreased repayments, and only 7 percent reported increased repayments. "A drop in calf prices coupled with local drought, which required some borrowers to purchase hay, has put several customers in a weakened repayment position," a Montana lender said. In Minnesota, 36 percent of respondents saw increased repayments and only 7 percent saw decreases. Overall, 72 percent of respondents reported no change in loan renewals and extensions.
Demand for loans, required collateral and interest rates
Demand for loans was relatively stable during the fourth quarter, with 53 percent of the respondents reporting no change. Increased demand for loans was reported by 22 percent of the lenders and decreased demand by 25 percent. Loan demand was strong in South Dakota, with 36 percent of lenders there reporting higher demand.
Interest rates were mixed. Rates for variable loans decreased and rates for fixed loans increased during the fourth quarter relative to the third quarter. Variable interest rates decreased by about 10 basis points and 30 basis points for operating loans and machinery loans, respectively. Fixed interest rates increased by about 10 basis points and 20 basis points for operating loans and machinery loans, respectively. Only 8 percent of lenders reported increased collateral requirements, with the balance reporting no change. No respondents indicated that loans were refused due to a shortage of funds.
Land values
A Minnesota lender reported that a farmer bought a parcel for $4,075 per acre. Although this does not represent the average cost of agricultural land, it does reflect higher land prices during the fourth quarter. Based on the responses from agricultural lenders, average prices for nonirrigated farmland and ranchland increased 11 percent and 10 percent, respectively, from a year ago. According to some respondents, favorable tax laws for exchanging land are in part driving the land price increases. (Land prices can vary significantly, not only from state to state, but also from parcel to parcel. For more detailed information on agricultural land prices, see the Minnesota Land Economics Web site.)
Outlook
The outlook for first quarter profits is somewhat upbeat, with 37 percent of the lenders expecting increased income and 29 percent expecting decreased income. However, respondents from Montana and North Dakota are more pessimistic and expect decreased profits. Overall household and capital spending are expected to increase, especially in Minnesota. Demand for loans is expected to increase across the district, as are loan renewals and extensions.
Appendices: State Fact Sheet | State Fact Sheet-Outlook