News flash: Small-market papers prosper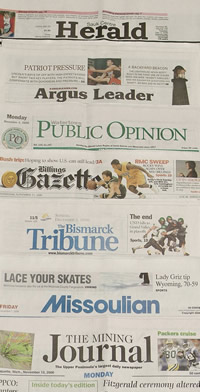 The sale of Knight-Ridder last year was widely seen as yet another indication that the newspaper industry is sick, and getting sicker. Daily circulation at the Pioneer Press in St. Paul, the Philadelphia Inquirer and other large, urban papers the company owned nationwide had fallen dramatically in the past decade. The chain was still turning a profit, but its revenue grew less than 1 percent in its last year of business, prompting shareholders fed up with low stock performance to push for a sale. McClatchy Co. acquired Knight-Ridder in March—and promptly sold several under-performing papers, including the Pioneer Press, whose circulation has fallen more than 12 percent in the past 10 years.
While this drama was playing out, Lee Enterprises was quietly going about its business of making money from newspapers. The Iowa-based holding company specializes in mid-size and small-market papers, including the Billings Gazette, Bismarck Tribune and nine others in the district. In the third quarter of 2006, when most companies were reporting slumping circulation and revenue, Lee saw circulation increase at 37 of its 51 dailies. Lee's revenue grew about 38 percent in the past year, helping the company post a 20 percent average operating profit (more than 5 percentage points higher than the industry average) over the past five years.
There's been a lot of ink spilled over falling newspaper readership in this country, and the decline of major metro dailies with it. But Lee's experience illustrates another story that hasn't had as much play: If they're smart and in tune with their market, publishers in smaller cities and towns can thrive, bucking the trends of declining readership and a fragmented advertising base that have hurt newspapers in the Twin Cities and in big cities nationwide. All over the district, hometown newspapers are holding onto and even increasing their readership, both in print and on the Web. And in many communities, advertising revenue remains strong.
The chief basis for the success of small-town newspapers is simple: market penetration. Less competition in smaller communities for readers and advertising dollars means that newspapers still dominate their markets to a degree that metro dailies cannot. The technologies that have plagued the big-city papers, primarily cable television and Web news, might eventually have dire consequences for their small-town cousins, but so far they have been sheltered.
"We're really the big fish in the small pond," said Dan Hayes, vice president of communications for Lee Enterprises. "In small towns, [we] have exceedingly high penetration and readership, and that is very important, even more important than the fact that we have a very close relationship with our readers and advertisers."
In the newspaper business today, it's better to be small than good. If you're both, you can prosper.
Big vs. small markets
Advertising is crucial to the success of a newspaper business. Advertisers are a newspaper's primary customers; at most papers, advertising makes up about 70 percent of total revenue. The value of ad space is in turn driven by the number of readers who will see it. So circulation is a key factor underlying other measures of a newspaper's success, like profitability.
In many markets across the country, newspapers are not measuring up to other media as forums for advertising. That has a lot to do with slumping circulation decreasing the value of newspapers to advertisers, who particularly in large cities have plenty of other options.
Daily newspapers have been hemorrhaging readers for more than 20 years. According to the Newspaper Association of America (NAA), an industry trade group, national daily newspaper circulation fell about 8 percent from 1994 to 2004, the latest year for which figures are available. Major metropolitan newspapers have fared worse; in the past 10 years, the circulations of the five largest metro dailies fell 11 percent, according to the Audit Bureau of Circulations. An ABC survey of 77 major newspapers shows a 2.8 percent average decline in circulation year-over-year for the six months ended Sept. 30, 2006, with a 3.4 percent drop in more-lucrative Sunday circulation.
Owing largely to rate hikes, advertising revenue for many newspapers has continued to climb, allowing them to continue turning a profit. Over the period that circulation fell 8 percent, total national advertising expenditures increased 37 percent.
But that revenue growth is anemic compared to results from other media. Radio advertising, a chief rival to print, grew 86 percent. Ad spending on broadcast TV grew 48 percent, while cable TV ad revenue grew an astonishing 600 percent.
And there's evidence that newspaper ad revenue is beginning to slip as falling circulations make high rates unsustainable. For a number of newspaper conglomerates, ad revenue dropped in the first nine months of the year. At McClatchy, owners of the Minneapolis Star Tribune and one of the better-performing newspaper chains, ad revenue fell almost 1 percent from the same period last year. McClatchy CEO Gary Pruitt said he expects ad revenue to fall in the fourth quarter as well.
As major metro dailies struggle to remain relevant, newspapers in smaller markets are faring much better in the pursuit of readers and advertisers. This is particularly true of "community" newspapers that publish weekly and serve towns or metro suburbs.
Consider the Sauk Centre Herald, a weekly paper in the small central Minnesota city. Since publisher Dave Simpkins purchased the paper in 1988, circulation has surged 33 percent and annual revenue has increased fivefold to $1.25 million. The Herald's profit margin is 12 percent, actually on the low end for weekly newspapers. Simpkins also owns custom printing and specialty publications, but "the newspaper would be just fine by itself," he said.
The Herald's growth isn't exceptional among its peers; since 1965, as almost 300 daily newspapers went out of business, the number of community newspapers increased 29 percent to about 8,400, according to Brian Steffens, executive director of the National Newspaper Association (NNA). Total weekly circulation for these publications more than doubled to 66 million.
A number of small-market dailies in the district are also increasing their circulation and ad revenues, or at least holding their own. For example, circulation at the Bozeman City Chronicle, buoyed by an influx of affluent residents in the western Montana city, has risen more than 25 percent in the past decade.
Live by retail ...
There's no question that some smaller newspapers have benefited from their location in vibrant, growing cities. While papers in economically struggling communities, such as Hibbing, Minn., and Menominee, Mich., have lost circulation or ceased publication in recent years, those in booming areas have generally prospered. While the circulation of the Argus Leader in Sioux Falls, S.D., hasn't kept pace with the metro area's 60 percent population growth since 1990, it has grown a respectable 12 percent over the same period. The Missoulian in Missoula, Mont., is another example of a paper that has grown along with its community.
Burgeoning retail in these cities is more important than population growth, because retail advertising is the bread and butter of news publishers. In deciding to purchase or start up a newspaper in a city, "the first thing you want to look for is whether retail is growing or shrinking," Steffens said. The Sauk Centre Herald, the Watertown Public Opinion in South Dakota and The Bemidji Pioneer in northern Minnesota have each benefited from their hometown's role as a regional shopping center, albeit a small one.
But population and retail growth don't explain why newspapers such as the Argus Leader and Sauk Centre Herald have outperformed many big-city publications. The Twin Cities' population also grew over the same period, but the Pioneer Press and neighboring Star Tribune both lost circulation—and thereby standing with advertisers.
Nor can the relative success of smaller newspapers be explained by lower operating costs. Certainly the costs of running a newspaper have risen significantly in the past decade. Newsprint has increased in price by 10 to 15 percent per year, and higher labor, printing and distribution costs have also squeezed margins. But most of those costs are no higher, and in some cases are lower, for big metro papers. The one exception is labor costs; newsroom and advertising employees at smaller papers don't typically belong to unions (which tend to command higher wages), and automation has thinned the ranks of unionized printing, typesetting and other production staff.
The local angle
When optometrist John Webb relocated his eye-care practice from the Flint, Mich., area to Marquette in the Upper Peninsula, one of the first things he did was take out advertising, first on TV and then in the daily Mining Journal. The newspaper ad drew local customers more effectively than the TV spot, Webb said. "It was a pretty easy pick to be able to know, if you advertise [in the Journal], that you're going to at least hit the majority of households in the neighborhood and in the surrounding area, because it has such a wide readership and it's the one everyone refers to," he said.
Webb's experience illustrates the advantage that small-city papers enjoy over their big-city counterparts. If you're a business trying to get the word out, or a resident interested in community affairs, where else are you going to go? "Small towns' dailies in particular are somewhat more insulated from the forces that are having a negative impact on larger-market newspapers, primarily because there's just less competition in smaller towns," said John Morton, a newspaper industry analyst.
A well-run newspaper in a small city or rural community has a virtual lock on advertisers because it has few or no print competitors and high readership by virtue of its strong local news coverage. In many communities, more than 60 percent of households subscribe to the newspaper, compared with 30 percent to 40 percent in large cities. High market penetration in a small geographic area makes newspaper advertising a good buy for local businesses, Morton said. Often the few alternative media that exist—one or two radio stations and perhaps a local network TV affiliate—serve an area so large that it doesn't make sense for small, local merchants to advertise with them.
Just about everyone in the industry agrees that covering local news like a blanket is essential for smaller newspapers. When it comes to national headline news, small newspapers can't compete with the metro dailies, news magazines, CNN and other major news outlets. But they excel at reporting local news, the lifeblood of readership. Surveys of newspaper reading habits have shown that residents of smaller communities value local news—community events, human interest features, high school sports, city and county government, business happenings—above all other kinds of coverage.
Small-market papers dominate local coverage to a much greater degree than big metro papers do in their larger, media-saturated markets. Community radio stations often have a limited broadcast range and lack the staff to cover local events in any depth. TV stations located in a regional center 30 miles away tend to overlook the human interest, governance and business stories targeted at the town level that hometown newspapers specialize in.
"We like to call ourselves 'intensely local,'" said Mining Journal publisher Jim Reeves, who believes, as do many publishers of smaller papers, that his readers care more about local news than readers in big cities.
The Mining Journal makes a good case study of the importance of local coverage, because it has paid off in tough circumstances for a newspaper. In contrast to booming cities like Sioux Falls, the Marquette area has lost about an eighth of its population since the Sawyer Air Force Base closed in the mid-1990s. (See an update on the Sawyer closing.) After the closure, the Journal was forced to cut back operations and lay off staff. But in the past decade, the Journal has managed to hold onto its circulation by increasing market penetration to an astonishing 97 percent.
The key, Reeves said, was concentrating on local news. In some issues, more than half the news is local rather than state and national. "It's a different kind of attitude here; people really take ownership in their community," he said. Thanks to the city's continuing status as a regional shopping center, the Journal also sells enough advertising to earn a profit.
One area the Journal is still working on is its online local coverage. At the moment, the paper's Web site simply reproduces selected content in the print edition, but Reeves said he wants to add Web-only and multimedia content. Capitalizing on the Internet, however, presents special challenges for smaller newspapers.
A tangled Web
The rise of the Web has had a profound impact on the newspaper industry, for good and ill. Its positive effects include broadening the geographic reach of newsprint and increasing newspapers' appeal through the use of multimedia content. But the Web has also wounded newspapers by stealing away readers—especially valuable young readers—with free and diverse content and taking advertisers who want to reach those readers.
For the most part, smaller newspapers have reaped the benefits of the online revolution while avoiding much of the fallout that big metro publications have suffered. First of all, high-speed Internet access came much later to small cities and towns, giving newspapers time to adapt to an invasion of global, 24/7 content. In some communities, newspaper publishers launched a lucrative second line of business, becoming Internet service providers.
More important, advertisers in small markets find the Internet less appealing, because the regional and national focus of Web media is too broad for their target audience. And online services like craigslist, slayers of classified sections in big-city newspapers, don't extend their reach into small towns.
In the past few years, the Web has become a new, rapidly growing source of ad revenue for newspapers, including those in small markets. While Web ad revenue still accounts for less than 6 percent of total ad sales nationwide, it has grown more than 25 percent annually since 2002, according to the NNA.
Because electronic ads are less expensive to produce than print ads, their profit margin is much wider. "We've estimated that about 40 cents of Internet advertising revenue will produce a little more profit than a dollar in a newspaper," Morton said.
At many smaller newspapers, online content has actually increased overall readership. A recent NAA survey showed that 29 percent of all Web users visit a newspaper Web site at least once a week. The Watertown Public Opinion has a daily circulation of about 13,000, but Web site visits boost daily readership to about 31,000.
Increasingly, publishers are experimenting with multimedia content, such as blogs, streaming video and podcasts. Simpkins of the Sauk Centre Herald is particularly innovative in this regard. One of his favorite online features is video clips of interviews with, for example, high school coaches.
One challenge that newspapers of all sizes face is a widespread expectation that Web content should cost nothing. If online news is free, why subscribe to the print edition? The Watertown Public Opinion charges for additional, Web-only content and makes the whole paper available electronically for a fee. Other newspapers post some print content online, but require readers to buy the paper for the rest. Most publishers realize that putting everything online cannibalizes circulation, but are still groping toward a winning formula on the Web.
"My kids' generation thinks everything should be free," said Mark Roby, publisher of the Public Opinion. "Getting the right mix of free content and paid subscription is the key. I haven't figured that out yet."
Your local forecast
The same factors that make some smaller markets good places to do business—light competition from other media and the opportunity to increase circulation—make successful papers in those markets attractive acquisition targets. National and regional newspaper chains are buying newspapers in the district, and analysts foresee even greater concentration of ownership in the future.
According to Dirks, Van Essen and Murray, a merger and acquisition firm that specializes in newspapers, 2006 was the second-busiest year on record in the industry, with much of the activity focused on smaller papers. Papers changing hands in the district include the Rhinelander Daily News and the Shawano Leader in northern Wisconsin. Such papers are a bargain compared with those in larger markets, Steffens said. "If you're not one of the top-dog, big-time companies like Gannett or McClatchy, you can't afford the big dailies. There just aren't that many metro papers worth gobbling up anymore."
Also driving consolidation is the strategy of newspaper chains "clustering" their operations to reduce costs. The idea is to buy several papers in proximity, then serve all of them from a central business office and printing plant. Consolidation can also bring efficiency gains in advertising, allowing newspaper chains to offer national advertisers "package" deals: ads not just in a single metro paper, but also in a dozen weeklies in nearby towns, for example. "That's better than calling 18 different papers" to place an ad, Steffens observed.
Another strategy being pursued in smaller markets—by both chains and independents—is the production of specialty publications for a wider audience. Industry newspapers, sports magazines, travel guides and
other periodic or one-time publications bring in additional, premium ad revenue for many small publishers. In Sauk Centre, Simpkins publishes a twice-monthly Dairy Star for dairy farmers in the region, an antiques newspaper and MN Trails, a color, glossy mountain bike magazine. These statewide, niche publications command higher ad prices than the Herald, he said.
Carving out new niches is important for small-town papers, since the competitive advantages they enjoy in those markets might not last forever. The same trends roiling major metro papers could bring new entrants to smaller markets to snatch up readers and advertisers.
For example, it's already possible for retailers to advertise with regional cable television providers, allowing them to reach a targeted local audience without the overshoot that goes along with broadcast TV ads. The ever-expanding reach of broadband also makes it possible for residents of smaller communities to access a whole world of news, not just text but video and interactive as well.
Amid all this change, staying close to community roots will remain a vital survival strategy for newspaper publishers in smaller markets. That means focusing on local coverage, including what Steffens calls "refrigerator news"—items about local residents likely to be posted prominently in the home.
Simpkins attests to the appeal of such personal, immediate stories. "I have as a goal to get a photo of every member of the community in the paper once a year, even if it's just a picture from a parade," he said. He posts the pictures online for sale to readers.
At the Mining Journal, Reeves demonstrates his commitment to Marquette's civic life by sponsoring community events, such as the Michigan 200 dogsled race. "When you are a newspaper in a city this size, you have to be involved in just about everything," he said.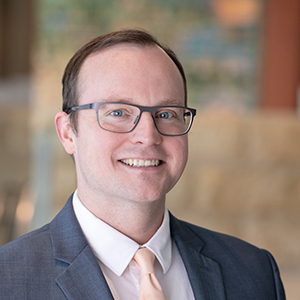 Request as a speaker
Joe Mahon
Director, Regional Outreach
Joe Mahon is a Minneapolis Fed regional outreach director. Joe's primary responsibilities involve tracking several sectors of the Ninth District economy, including agriculture, manufacturing, energy, and mining.