A few miles west of Rhinelander, Wis., houses are going up in a stand of tall Norway pines. Plum Creek Timber Co. of Seattle, a timber management firm that in the past four years has bought hundreds of thousands of acres of forestland in Wisconsin, carved the property into 23 two-acre lots and sold them to speculative developers and families who planned to build their own homes on the sandy banks of Jennie Creek. As a result of the development, called Jennie Creek Pines, woodland once open to the public is now a private preserve. Rooftops and driveways break up the formerly seamless forest canopy.
Plum Creek acquired the 47 acres of Jennie Creek Pines land—a tiny slice of a 309,000-acre tract in northern Wisconsin and the Upper Peninsula of Michigan—from multinational papermaker Stora Enso in 2002. Since then, other large lumber and paper companies have sold extensive tracts of district timberland (forestland available for commercial harvest): Last year Escanaba Timber sold 650,000 acres in the U.P. to Plum Creek, and in 2004 Boise Cascade sold over 300,000 acres in northern Minnesota to Forest Capital Partners, a Boston-based land investment firm. Another Boston investment concern recently took ownership of 444,000 acres of U.P. timberland formerly owned by International Paper.
Conservation groups and state forestry officials worry that scores of Jennie Creeks will sprout on former industrial timberland in the district in coming years as land once owned by lumber and paper manufacturers is acquired by companies such as Plum Creek and Forest Capital that are focused on maximizing their shareholders' investments in timberland rather than manufacturing wood products. The old business model for managing forests—milling firms growing and harvesting trees for their own consumption—is giving way to a new one in which timberland is valued not only as a source of wood fiber but also for its investment potential, primarily as real estate.
Inevitably, said Paul DeLong, head of the Wisconsin Department of Natural Resources' forestry division, some of that land will be sold to real estate developers and individuals for houses, cabins, resorts and other nontimber uses. Over time, 1,000-acre tracts of timberland will be subdivided into 80-acre, 40-acre and even smaller plots—"a death by a thousand cuts"—leading to more development and fragmentation of the forest. DeLong foresees less recreational access and a more hostile environment for deep-forest plants and animals. "We derive incredible benefits from our forests," he said. "When some of those benefits are compromised or lost, that's a concern."
The forest products industry has also fretted over the potential breakup of large swaths of timberland once controlled by milling companies. Loggers who cut and transport trees on contract, and other mills that rely on former industrial timberland to supplement their wood supplies, fear loss of access and choked off timber supplies.
But how earthshaking is the great sell-off of industrial timberland in the district, really? A close look at what's going on in the woods suggests that worrying about rural sprawl and reduced timber supplies is premature. There's scant evidence that the new owners of timberland are selling off their lands wholesale, or intend to in the future, threatening the timber and tourism industries and tearing the ecological fabric of woodlands. Moreover, limited, selective development of commercial forests has an economic upside: a broader tax base and higher seasonal or year-round spending on goods and services in rural communities. Such development can be particularly beneficial in sparsely populated areas of the district that have long depended on extractive industries for jobs and tax revenue.
How REIT it is
For most of the 20th century big, vertically integrated wood-products manufacturers held sway over vast expanses of timberland in the district. In the 1980s industrial forests covered 5.6 million acres in Montana, Minnesota, Wisconsin and the U.P., according to U.S. Forest Service surveys. In the Upper Midwest, industrial timber was cut primarily to make paper, cardboard and particleboard; in western Montana, sawmills turned it into dimensional lumber, plywood and other construction materials.
In the past 10 years, however, the travails of the timber industry, abetted by tax policy, have resulted in the sale of much of this land to a new breed of company whose chief source of revenue is the timberland itself, not the wood products made from it.
Paper and lumber producers in the district have struggled to turn a profit since the late 1990s, for different reasons. Stagnant domestic demand for some types of paper and packaging, strong competition from abroad and, most recently, skyrocketing energy prices have hurt pulp and paper manufacturers. In Wisconsin, for example, the value of forest industry shipments has leveled off since 2001, and employment has fallen. Lumber mills have been undercut by cheap softwood imported from Canada and constrained by a sharp drop-off in harvests from national forests. Some sawmills in Montana grappling with limited supply have closed, or axed product lines.
A need to generate income and returns for shareholders has driven milling firms to sell unprofitable business lines—and timberland that provided wood for those businesses and mills.
At the same time, the tax advantages enjoyed by real estate investment trusts (REITs) and other types of timber investment entities have given wood-products firms a powerful incentive to sell their timberlands to them—or to join them by shedding their milling operations. REITs, for example, don't pay corporate income taxes on earnings from land holdings, and their dividends are taxed at a lower rate. That makes them attractive investment vehicles, because a lighter tax burden means higher returns. "You've got a pool of capital that is willing to buy timberlands just for their cash-flow attributes," said Steven Chercover, a senior analyst at D.A. Davidson & Co., a brokerage company based in Great Falls, Mont.
Investment firms that expect to reap not only tax benefits but also revenues from the sale of timber and land have paid paper and lumber companies handsomely for their timber assets. International Paper reportedly received $5 billion for 4.2 million acres of timberland it sold last spring, including its lands in the U.P.
Virtually all of the district timberland divested by wood-products manufacturers in the past decade has ended up in the hands of REITs and their close cousins, timberland investment management organizations (TIMOs). As a rule, neither type of organization owns manufacturing facilities, although Plum Creek owns sawmills in Montana, and Potlatch Corp., which became a REIT last year after shedding much of its milling capacity, still operates lumber mills through a fully taxable subsidiary. Instead, they concentrate on selling timber, both through long-term supply agreements with milling companies (including those that sold their timberlands) and on the open market.
"The paradigm has shifted," said Tom Murn, regional resource manager for Potlatch, based in Spokane, Wash. "The timberland asset itself is the business vehicle. We certainly still own manufacturing, but the focus is on owning and growing the timberland business." Timber cut on 319,000 acres of company timberland in northern Minnesota feeds plants owned by Sappi, Stora Enso and other wood-products manufacturers in addition to Potlatch sawmills in Bemidji, Minn., and Gwinn, Mich.
Many conservation groups, logging firms, outdoor recreation associations and other stakeholders in commercial timberlands believe that the new paradigm of timberland management involves not only cutting and marketing timber, but also selling large tracts of land to the highest bidder, including real estate developers. They fear that such sales will lead to further subdivision, shutting out the public, driving out wildlife and increasing the cost and hassles of logging.The Minnesota Forest Resources Council, a state advisory board that reflects the views of milling companies, conservationists and other forest constituencies, has identified the parcelization and development of private timberland, particularly corporate timberland, as the greatest threat to sustainable forest management in the state.
Call of the woods
There's no doubt that former industrial timberland is being carved up and developed in the district, and in some states, such as Wisconsin and Montana, the process has been going on for years. Increasing demand for forestland for residential and recreational use creates an almost irresistible sales opportunity for milling companies and timber investment firms. In Wisconsin, the average price per acre of forestland sold for nontimber uses more than doubled to $3,452 between 2000 and 2005, according to the state Department of Revenue.
Rising property taxes on timber holdings in resort areas and on the fringes of expanding cities gives large landowners another strong incentive to sell land for "higher and better uses"—subdivisions, golf courses, weekend cabins.
But compared with the total acreage of commercial timberland in the district, only modest amounts have been sold off and developed so far. And the magnitude and pace of this activity varies greatly from one area of the district to another. How much timberland has been—and will be—subdivided and sold to real estate developers and private individuals depends to a large degree on the development potential of the land, and who controls it.
Drawing a statistical bead on the phenomenon is difficult because little districtwide data exist on the sales and development of commercial timberland over time. Forest Service surveys of acreage in different ownership classes are infrequent and subject to sampling error. However, some data are available for Wisconsin and Minnesota, offering a snapshot of how market forces have played out on the ground in those states.
In northern Wisconsin, corporate owners sold 37,000 acres of timberland to small private landowners between 2003 and 2005, according to a Revenue Department analysis of land transfers in the state's Managed Forest Law program. Forestland owners enrolled in the program get a break on their property taxes in return for following sound timber management practices, keeping a large proportion of their land open to the public and not building on it.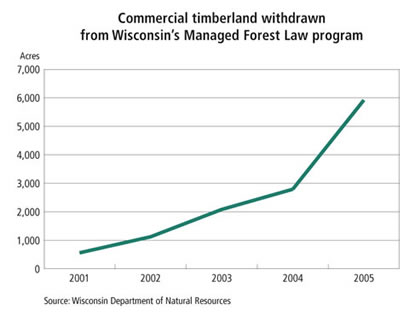 The analysis also showed that since 2001, an increasing amount of commercial timberland has been pulled out of the program, despite stiff penalties—repayment of all forgiven taxes, plus interest—for doing so. Property owners elected to withdraw over 12,600 acres, including almost 6,000 acres last year—a strong indication, say Department of Natural Resources officials, that the land is destined for development (see chart on page 10). The DNR attributes the bulk of the withdrawals to sales by Plum Creek and other large timberland owners in recent years. Sales of commercial timberland, especially in areas that are magnets for vacationers and retirees, "have been occurring for awhile," DeLong said. "It's the pace that's escalated pretty dramatically."
Much less land has been sold for apparent development in northern Minnesota, possibly because sizable transfers of woodland to timber investors, such as the Boise Cascade sale, have occurred more recently. According to unpublished research by Michael Kilgore, a forestry professor at the University of Minnesota, fewer than 14,000 acres of commercial timberland—whether owned by logging companies, investment firms or wood-products manufacturers—has been sold in the past 10 years.
The pace of timberland sales has accelerated, however; over 7,800 acres were sold in 2004 and 2005 (Kilgore's data exclude the Boise Cascade sale, because of supply agreements and other strings attached to the transaction.) And most of the buyers were individuals, Kilgore said, buying plots of 20 to 200 acres apiece for nontimber uses. "They're buying for a place to hunt, to ski, to hike, to build a cabin, a place to build a residence for retirement," Kilgore said.
Only fragmentary, anecdotal information is available for sales of commercial timberland to small landowners in Montana and the U.P. Plum Creek has not divested any of its recently acquired timberland in the U.P., but the company has sold some of its 1.3 million acres of land in western Montana for development. In the 1990s, in one of the state's largest real estate deals up to that time, Plum Creek sold thousands of acres of timberland for the Yellowstone Club, a private golf and ski community near the Big Sky resort in Madison County.
What the sales statistics don't reveal is how much commercial timberland will be parceled off in the future, and whether those sales pose a genuine threat to the economic and ecological health of the district's forests. To put things in perspective, those 37,000 acres of former industrial timberland acquired by small landowners in Wisconsin represent less than 4 percent of the 1.1 million acres of timberland owned by corporations in the state in 2004. And to broaden the picture even further, those 1.1 million acres account for less than 7 percent of all the timberland in the state. In Minnesota and Montana, commercial timberland makes up no more than 8 percent of total forestland (see charts).
Selective development
Ask large timberland owners about their plans, and they insist that they intend to grow and harvest timber on most of their land, not sell it. "Our core business is managing for timber; the vast majority of that land is going to stay productive timberland," said Eva Greger, managing partner of GMO Renewable Resources, the Boston-based TIMO that bought timberlands in the U.P. from International Paper. She said that GMO is committed to a business model that treats timber as a long-term investment, to be harvested at maturity and sold for maximum return. The company, like Potlatch, Plum Creek and Forest Capital, also must honor supply contracts for pulpwood and sawtimber. To do so, it must retain and properly manage timberlands.
Greger, Murn of Potlatch and a spokeswoman for Plum Creek all described land sales as an ancillary activity, focused on the small percentage of property that, because of either its location or its aesthetic qualities, is more valuable as real estate than timberland. In addition to auctioning off low-lying, less productive timberland in northern Minnesota for recreational use, Potlatch has sold land within the city limits of Baxter for commercial and residential development. Property values and taxes in the rapidly growing resort town next door to Brainerd have risen too high to justify keeping timberland that has an obvious higher and better use, Murn said.
Plum Creek hews to a similar philosophy, although it is more aggressive than Potlatch, engaging in what the company calls "horizontal development"—platting property for home builders and securing necessary zoning approvals. In Wisconsin and Montana, Plum Creek has developed choice parcels of timberland near popular vacation and retirement communities. In the case of Jennie Creek Pines, said company spokeswoman Kathy Budinick via e-mail, "Plum Creek believed this land was more valuable than managing it for timber due to its proximity to roads, utilities, services and to Rhinelander and Tomahawk." The firm's Montana projects include three upscale housing developments covering 1,100 scenic acres in the Flathead Valley near Kalispell.
Chercover of D.A. Davidson said that Plum Creek and other timber investment firms are likely to remain highly selective in selling land for real estate development, mineral exploration and other nontimber uses, leaving vast tracts of working forest intact. "There's no need to convert all 60 million acres of industrial timber [in the United States] into four-season resorts," he said. Selective forestland development can be an economic boon for rural communities, a fact that's often lost in discussions of the ramifications of the breakup and sale of former industrial timberlands. Converting raw timberland into homes, cabins and even private hunting land creates jobs, supports local merchants, fosters spinoff development and pumps money into schools and public amenities.
Public officials in already developed areas such as Baxter, Minn., and the Flathead Valley could argue that further development puts additional strain on already stretched government services and degrades the environment. But the benefits of converting timberland into real estate probably outweigh the costs in other thickly wooded areas of the district, such as far northern Minnesota, the U.P. and sparsely populated counties in western Montana.
The Yellowstone Club has contributed mightily to the tax base of Madison County, home to only 7,000 people and in the bottom half of Montana's per capita income rankings. Sheep and cattle grazed on the 13,400-acre property before owner Tim Blixseth bought it from Plum Creek and the Forest Service; today dozens of multimillion-dollar vacation homes dot its pastures and woods, with many more to follow. "The taxable value in that area has gone up considerably from when it was undeveloped timberland," said County Commissioner C. Ted Coffman.
How much has it risen? The assessed value of the Yellowstone property today is over $727 million, according to county tax records. That's 80 times the parcel's approximate taxable value if it had remained timberland.
It's probably unrealistic to expect developments like the Yellowstone Club to crop up on former commercial timberland in the U.P. But Russell Harding, senior environmental policy analyst for the Mackinac Center for Public Policy, a think tank in Midland, Mich., believes that the region's economy could benefit if Plum Creek, GMO Resources and other timberland owners sell some of their newly acquired property for residential and recreational development.
"[Such development] does provide economic activity in an area like the U.P. where's there's generally high unemployment and even declining population," he said. "If some of these higher value or marketable properties are sold ... people are going to live there or visit there and conduct business there, and they're going to spend money in nearby communities."
No timber shortage
There's a flip side to the economic benefits of timberland parcelization and development, of course: potential harm to forest industries, public recreation and the environment. Quantifying those effects is exceedingly difficult; virtually no reliable information exists on how much former industrial timberland now in the hands of real estate developers and private individuals has been cleared of trees or withdrawn from the commercial timberland base—or how much will be cleared or declared off limits to loggers and outdoor enthusiasts in the future. But the repercussions of incremental transfers of timberland to non-industrial owners may not be that severe.
Wood-products companies worry that the breakup of even a small amount of commercial timberland will drive up prices and reduce their global competitiveness. "If you take some of the most productive lands in the state and chop them up into little parcels so the wood isn't available anymore, you're clearly going to have an adverse impact on wood availability and price," said Dave Zumeta, executive director of the Minnesota Forest Resources Council.
It's true that the sale and development of some commercial timberland will increase the cost of doing business for logging and milling firms that have depended on access to that land. It's easier to negotiate with one landowner rather than several, and felling and hauling trees on 20- or 40-acre plots is less efficient than harvesting 1,000-acre tracts.
But local forest industries—whose biggest problem right now is lack of demand for wood products due to the housing slump, not a shortage of logs—would probably survive, even in the unlikely event that commercial timberland acreage were significantly reduced over time. There are plenty of trees on private, noncommercial land, which in most district states accounts for by far the largest chunk of timberland (see charts). In Wisconsin 60 percent of timberland is in the hands of families and individuals; in Minnesota the figure is 39 percent. This timberland, much of which still comprises sizable tracts, makes a significant contribution to the total timber harvest in each state. Over half of the timber cut each year in Minnesota comes from private, noncommercial timberlands. And Forest Service surveys have found that the majority of private landowners are not averse to commercial logging.
Pyramid Mountain Lumber Co. in Seeley Lake, Mont., acquires about 80 percent of the 40 million board feet of logs it needs annually to feed its sawmill from private or tribal landowners in the area. Resource Manager Gordy Sanders said that dealing with over 300 landowners is time consuming, requiring a lot of "kicking over rocks," phone calls and on-site visits, but key to the company's profitability in an era when most milling companies in Montana keep timber for themselves, and national forest harvests have fallen drastically. "We've worked very hard to develop long-term relationships with private landowners," he said.
It's conceivable that other savvy, rock-kicking companies in the district could gain access to more timber, at least in the short term, if subdivision of timberland results in more ground being cleared for homes, golf courses and other development.
As for big pulp and paper mills in the Upper Midwest, their production is unlikely to be crimped even if noncommercial harvests decline. Imported softwood from neighboring states and western Canada has supplemented homegrown supply for companies such as Potlatch and UPM Blandin for more than 15 years. In Minnesota, according to the Forest Service, pulpwood imports from Wisconsin, Michigan and Canada have more than tripled since 1999 to make up for increasing demand and a slight drop-off in harvest from private lands.
For the common good
Beyond the impact on wood-products firms, the parceling off of commercial timberland exacts a toll on society—a loss of public access and an erosion of the ecological benefits of intact forests. DeLong of the Wisconsin DNR calls these losses a "tragedy of the common good," echoing a well-known essay about the degradation of public lands due to self-interest.
The paper and lumber companies that once owned the land usually permitted public access for hunting, snowmobiling, hiking and other outdoor pursuits; small landowners, in contrast, tend to restrict public access. According to a 1997 Forest Service survey of 3,000 private timberland owners in Wisconsin, only 20 percent of all individual owners make their land available for public recreation, and the smaller the tract, the less amenable the owner is to public use. If recreating on nearby public land isn't an option—because either no suitable public forestland exists or certain activities such as all-terrain-vehicle riding are prohibited—loss of access may also result in economic loss for campgrounds, restaurants, bait shops and other outdoor-oriented businesses.
When choice plots are cleared for development, the immediate forest neighborhood loses out as well. More rooftops, lawns and roads increase polluted runoff into lakes and streams and tear the forest canopy, creating habitat for invasive species such as crows and raccoons at the expense of wildlife that thrives in large tracts of unbroken forest.
However, there are ways to preserve the common good, even in the face of development forces that seem inexorable in places such as the Flathead Valley.
Government agencies or private organizations such as the Nature Conservancy can buy commercial timberland, converting it to public ownership. Last year the Forest Service paid $10 million for 11,300 acres near the Blackfoot River in Montana formerly owned by Plum Creek.
Another, less expensive method of preserving forests is the conservation easement, which keeps property in private hands but prohibits certain uses, such as logging or development, in perpetuity. The owner receives compensation for giving up a portion of his or her property rights. Harding said such arrangements are a "good market solution" that protects public access and the environment while minimizing the cost to the public. Recently negotiated easement pacts have banned timberland development in Minnesota, Wisconsin and Montana.
"Working forest" easements allow landowners to continue logging—thus ensuring future timber revenue as well as the preservation of recreational access and wildlife habitat. Last summer Forest Capital Partners signed such an agreement with The Trust for Public Land, a national conservation group. The deal, which leverages federal, state and private funds, prohibits development on 50,000 acres of timberland in parts of Itasca and Koochiching counties in northern Minnesota.
Another timberland conservation strategy being explored is enhanced tax breaks for landowners who eschew development and keep their land in timber. In Minnesota, concerned about low enrollment in a state program that pays landowners to actively manage their timberland, an independent task force is considering recommending possible changes to the program in 2007, including higher payments and streamlined compliance regulations.
Surely as leaves turn in the fall, the pattern of commercial timberland ownership and usage in the district has irrevocably changed. No longer is such land valued solely as raw material for paper, particleboard, two-by-fours and other wood products. In the hands of investment firms, a portion of timberland—although probably not as much as some fear—inevitably will end up as housing or recreational property. Rural economies have much to gain from the carving up and selective development of commercial timberland. The trade-off is reduced public access, environmental damage in some areas and possible hardship for wood-products companies that fail to adapt to the new paradigm.
The challenge for society is to capitalize on the economic benefits of increased timberland development while taking steps to preserve the often less-tangible benefits that accrue from leaving the forest to the trees.