The fact that the owner-occupied housing market in the nation and parts of the Ninth District has cooled after years of torrid growth has been the subject of extensive economic analysis and media coverage. Less understood is how the boom in home sales and construction—and recent market correction—has affected the rental market.
Nationally, the picture is very clear. Vacancy rates peaked in early 2004 at a little more than 7 percent, but have since dropped below 6 percent, according to REIS Inc., a New York City investment research firm that tracks national rental markets. As vacancy rates have fallen, rents have risen—a boon for landlords but not for renters. Data from the U.S. Bureau of Labor Statistics show that rents in 2006 increased faster nationwide than overall prices for goods and services.
The statistics paint a picture of migration from owner-occupied housing to apartment living. People have two basic dwelling options: own or rent. Earlier in the decade, a surge in purchases of single-family homes, townhouses and condominiums led to reduced demand for apartments. Vacancy rates rose, and rents stagnated. Now that home-buying has slowed—and foreclosure rates are creeping up—many former and prospective homeowners are opting to rent instead, reducing vacancy rates and driving up rents.
Does this scenario explain what's going on in rental markets in the Ninth District? Partly, but not entirely. Rent and vacancy data from around the region indicate that rental markets in some district cities mirror the national pattern, while others diverge from it. In the Twin Cities, for example, rising demand for apartments has cut vacancy rates by 2 percentage points since 2004. But in Fargo-Moorhead, the high vacancy rate has barely budged in the past three years. And in Missoula, Mont., apartment vacancy rates are low despite continued strong home sales.
The substitution theory that has so much explanatory power nationally and in the Twin Cities doesn't necessarily hold everywhere. In real-world housing markets, trends such as falling vacancy rates have multiple drivers, some difficult to tease out of the available data.
Whatever the underlying drivers, an overall picture emerges from this survey of rental markets in the district: With a few exceptions, rental markets are tighter than they were a few years ago, with dropping vacancy rates and rising rents.
Good news for landlords
In the Twin Cities, there's little doubt that a slowdown in home sales has dramatically affected the rental market. Market reaction to a drop in home sales—metrowide sales through mid-2007 were down 15 percent from the same period last year—has been more pronounced than for U.S. metro areas as a group. Rental vacancy has declined steeply from its high point in early 2004, and by the end of last year it had fallen below 5 percent, even lower than the aggregate for all metro areas (see chart).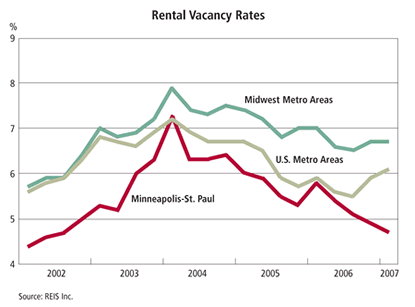 The numbers support the idea that the Twin Cities metro is becoming a landlord's market; former homeowners and new apartment dwellers are bidding up rents. While the total inventory of metro-area apartments grew slightly from 2003 through 2006, the number of occupied apartments grew at four times that rate, according to REIS. Lease rates that were stagnant a few years back have risen as well.
"Every market has its own structural vacancy rate at which we expect to see asking and effective rents accelerate," said Sam Chandan, chief economist at REIS. Average effective rents (what tenants actually paid) in the Twin Cities have increased more than 3 percent in the past year, outstripping growth rates in the Midwest and nationwide (see chart).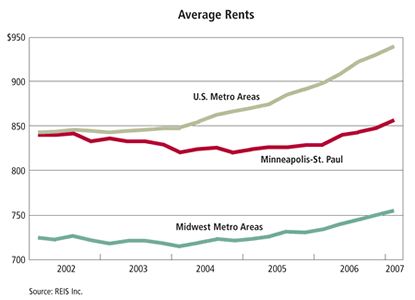 Sioux Falls, S.D., is another district market where landlords are reaping the rewards of heightened demand for apartments. Vacancy rates in Sioux Falls have fallen sharply from their peak in 2004, even as apartment construction has picked up. From 2003 to 2006, the number of multifamily construction permits issued in the Sioux Falls metro area increased 13 percent, yet the vacancy rate fell 20 percent.
That indicates strong demand, probably not because of flight from homeownership—sales of owner-occupied housing in the metro area have declined only slightly since 2006—but because many new residents are choosing to rent rather than own, at least for the time being. Sioux Falls is one of the fastest growing metros in the Midwest; its population has increased 14 percent since 2000.
So much for that theory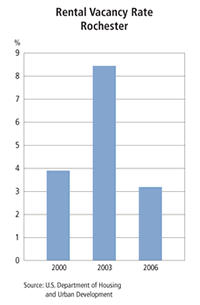 In other district communities, vacancy rates are falling and rents rising, but not necessarily because of a shift in demand from owner-occupied housing to rentals. Several other factors, including fluctuations in supply and increasing population, can influence vacancy levels and prices. The national and Twin Cities scenario of people trading homeownership for apartment living may be logical, but in many instances it doesn't explain what's going on in local markets.
In Rochester, Minn., for example, homes sales fell nearly 6 percent between 2005 and 2006. But the metro area's 8.4 percent vacancy rate in 2003 and subsequent drop to 3 percent by last year (data aren't available for the intervening years) probably have more to do with a flurry of apartment building in the late 1990s than with the softening market for owner-occupied housing. Since then fewer apartments have been built, bringing rental supply in line with demand.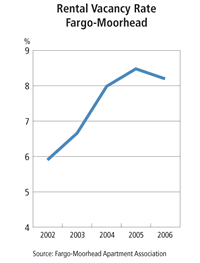 Similarly, supply shifts partly explain the state of the rental market in Fargo-Moorhead, where the vacancy rate has fallen only slightly from its peak of 8.5 percent in 2005. The presence of three 4-year colleges has kept demand for rental housing fairly steady over the years. The metro area's stubbornly high vacancy rate is likely a legacy of a surge in apartment construction after 2001; through 2004, the number of rental units on the market increased about 6 percent annually. Local real estate agents noted that absorbing those new units will take time.
In western Montana cities such as Bozeman and Missoula, demand for owner-occupied housing remains robust, with median home prices over $240,000 and brisk sales to arrivals from out of state. Yet demand for rental space is also strong, reflected in low vacancy rates. The vacancy rate in Missoula was about 3 percent last spring, according to the Missoula Organization of Realtors. Although year-to-year data on vacancy rates and rents in the region aren't available, sources in Billings and Bozeman also reported low vacancy rates and rising rents.
Rapid population growth is behind western Montana's strength in both the owner-occupied and rental markets. Area real estate agents said that buying a house is a challenge for low- and moderate-income people, and many new, seasonal residents rent by choice instead of necessity.
No single explanation
| | |
| --- | --- |
| Across the district, landlords are benefiting from a general rise in rents, the result of increased competition for apartment space (although there are exceptions, such as Grand Forks, N.D., where the vacancy rate has increased in the past year). | In the Twin Cities and Sioux Falls, as in metro areas around the country, rebounding rental markets can be linked to a falloff in demand for owner-occupied housing; if current market conditions discourage homeownership, more people will opt to rent. |
But in a number of district cities, rising rents and falling vacancies can't be attributed to a slowdown in home sales. The substitution theory is a useful concept, but inadequate as an overarching explanation for recent trends in district rental markets. Some markets haven't suffered a slump in home sales, so there has been no exodus of residents from subdivisions and condos to apartment complexes. In other communities, changing rental supply, demographics and other factors difficult to divine from vacancy and rent statistics have played major roles in tightening rental markets.
It's tempting to project a national trend onto markets close to home, but doing so can obscure rather than shed light on the dynamics of local rental markets.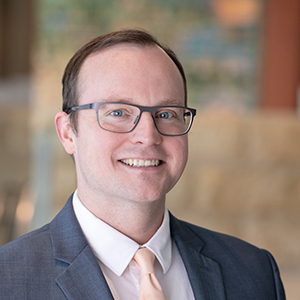 Request as a speaker
Joe Mahon
Director, Regional Outreach
Joe Mahon is a Minneapolis Fed regional outreach director. Joe's primary responsibilities involve tracking several sectors of the Ninth District economy, including agriculture, manufacturing, energy, and mining.