Achieving economies of scale through strategic restructuring: The case of Sparc
The U.S. economy experienced a surge in corporate mergers in the 1980s and 1990s, including mega-mergers such as Time Warner-AOL and Citicorp-Travelers Group. Typically, the mergers were driven by efficiency considerations—such as the need to cut costs and seek synergies—and other factors, including the need to strengthen market positions, expand into new or emerging markets, and gain or maintain a competitive edge in an increasingly globalized economy.
In the nonprofit world, things were a little different. The industry had witnessed the mergers of some large nonprofits, but the field did not generally view itself in "bottom-line" or competitive terms; consequently, the merger issue did not appear to have much bearing. For instance, in the community development field, the belief in "one neighborhood, one community development corporation" was widespread at the time. However, as the funding environment has changed in the 2000s, that conviction has quickly lost support. As government and philanthropic funding for community development is cut back, more community development corporations (CDCs) are resorting to strategic partnerships in order to continue their work.
A CDC merger in the Twin Cities is one example of the trend. In 2003, two well-established CDCs in St. Paul, Minn., responded to funding pressures by merging to form a new entity called Sparc. After a few years of organization building and transition, Sparc now has the momentum to accomplish more as one organization than its two predecessors could accomplish combined. The merger demonstrates how strategic restructuring in the nonprofit world can be a tool for achieving economies of scale.1/
Paving the way for a merger
Sparc's predecessor organizations were North End Area Revitalization, Inc. (NEAR), and Hamline-Midway Area Rehabilitation Corporation (H-MARC). NEAR was incorporated in May 1984 to improve St. Paul's North End neighborhood through community and economic development efforts. In the mid-1990s it broadened its focus to include the renovation and development of affordable housing. H-MARC was incorporated in 1990 and provided home improvement lending and home construction and rehabilitation in St. Paul's Hamline-Midway neighborhood. In the areas NEAR and H-MARC served, over 60 percent of households have incomes lower than the area median income.2/
An arrangement to share staff resources marked the beginning of a formal partnership between NEAR and H-MARC. In the late 1990s, NEAR did not have enough housing-related projects in the works to justify hiring a full-time construction specialist, so it partnered with H-MARC to share one. The construction specialist worked on projects that were located in both organizations' service areas. Production volume grew significantly, which gave the two organizations access to competitive rates and better services. In addition, the arrangement enabled NEAR and H-MARC to save on overhead expenses.
"Staff sharing produced many benefits we didn't initially anticipate, including better prices from contractors and the ability to get discounts on large-volume purchases," recalls Jonathan Sage-Martinson, former executive director of NEAR and current executive director of Sparc. The staff-sharing relationship built trust and a close partnership between the two organizations that paved the way for a merger in 2003.
The impetus for the merger occurred in 2001, when Twin Cities Local Initiatives Support Corporation (LISC), a major funder of H-MARC, informed the organization about some new criteria for the next funding cycle. The changes would require H-MARC to scale up its operations.
"H-MARC needed to augment the number of projects in its pipeline in order to compete well with the other LISC grantees," explains Barb Jeanetta, senior program officer at Twin Cities LISC.
H-MARC's board appointed a committee to assess the organization's financial health and recent accomplishments. The findings were not surprising: H-MARC had limited financial and human resources and a tight funding environment. These conditions—a set of narrowly focused programs within one neighborhood and increased pressure from a major donor to scale up operations, combined with limited human capital—set the stage for a comprehensive strategic restructuring.
The merger process
In February 2002, staff members of H-MARC and NEAR began discussing the possibility of a merger. When they approached their boards of directors to discuss merger prospects, they found both boards were favorably disposed. By June, both organizations agreed to enter formal merger negotiations.
To prepare for the merger process, H-MARC and NEAR decided to purchase a guidebook for nonprofit organizations undergoing mergers and other forms of strategic restructuring.3/ The board members and staff of each organization agreed to read the workbook cover to cover. They also agreed to hold regular meetings to hash out the big issues and lay out expectations.
"We had to leave our personal agendas at the door, be positive, and have faith and trust that in the long run, the process would benefit our constituents," recalls Dennis Prchal, a founding member of NEAR who now serves on the Sparc board.
In March 2002, board members and lead staff members from both organizations formed a joint committee to manage the merger. They hired a consulting firm, Wilder Research, to ensure that a checklist of matters would be addressed during the process, including staffing, facilities, programs and services, media relations, grant contracts, mission statements, relationships with funding communities, and relationships with state and local governments.
Jeanetta of Twin Cities LISC praises the way NEAR and H-MARC conducted their merger negotiations.
"The consultant, board members, and staff used a very thoughtful and respectful process that paid attention to neighborhood context and the need for community identity."
The most difficult issue of the merger involved reducing the size of the new organization's board of directors. To show appreciation for all the board members, the merger committee originally decided to combine the 12-member board of H-MARC with the 14-member board of NEAR. When it became apparent that a 26-member board would be unworkable, members agreed to a board-reduction plan. The agreement stipulated that at each annual meeting, three board seats would be voted for elimination until only 15 seats remained.
"This was the hardest thing we've had to deal with, since many of the members were founders of the two organizations," says Sage-Martinson.
Fortunately, one of the toughest problems a merger places at the doorsteps of negotiators—the choice of an executive to lead the combined organizations—was easily resolved. H-MARC's executive director, Beth Hyser, had recently resigned for family reasons. Her position was still vacant, so Sage-Martinson of NEAR was the obvious choice to head the new organization.
Delivering more to the community
The effective date of the merger was June 1, 2003. The newly formed entity, Sparc, continues the work of NEAR and H-MARC to revitalize the North End, Hamline-Midway, and South Como neighborhoods of St. Paul. The organization supports the development of retail and residential properties by providing technical assistance, store-front improvement grants, low-interest business loans, and loans and grants for improving neighborhood housing stock.
Sparc has outperformed NEAR and H-MARC in some respects. For example, the total value of housing grants Sparc made in 2006 was $469,893, far surpassing the $326,706 in total grants NEAR and H-MARC made in the year prior to the merger. On the other hand, the total number of clients served dropped significantly after the merger year and has only recently begun to increase. In addition, there was some loss in continuity of donors after the merger. Although competition for funding was one of the motivators for the merger, the restructuring did not immediately result in better funding for Sparc. Some donors with strong connections to either NEAR or H-MARC were a little apprehensive, perhaps waiting to see if the merger would be successful. Also, during the subsequent Twin Cities LISC funding cycle, the dollars allocated to Sparc came to less than the total dollars NEAR and H-MARC were receiving prior to the merger.
Overall, however, Sparc's staff and remaining board members believe the merger was beneficial. It resulted in a single organization with one audit, one executive director, one fundraising task, and a broader line of products to serve the needs of the targeted geographic communities. For instance, H-MARC did not have the capacity or the resources to offer commercial lending to Hamline-Midway residents. Sparc is now offering these services to residents. By increasing organizational efficiency and capacity, the merger provided Sparc with momentum to achieve growth and economies of scale. In the four-year period following the merger, Sparc has positioned itself to be a major contributor to local economic development efforts.
Kate Barr, executive director of Nonprofits Assistance Fund, a Minneapolis-based community development financial institution, offers this summary of Sparc's accomplishments:
"I'm so impressed by the way Sparc has scaled up compared to the predecessor organizations. I see how well Sparc has used the available programs to create and deliver a variety of housing and business financing products. By serving a larger geographic area and having more staff and resources, Sparc appears to be delivering so much more to the community."
Verging on merging? Eleven questions to consider
David La Piana, founder and president of La Piana Associates, Inc., a consulting firm specializing in solutions to the strategic issues that nonprofit organizations and their funders face, encourages organizations to consider the following questions before moving ahead with any plans for a merger.
What is motivating your desire to merge? Is it just to improve your organization's finances, or to access a larger set of skills and enhance the pursuit of the organization's mission?
What do you expect from a merger? (Specify the anticipated outcomes.)
Can you keep a focus on your mission?
Do you have a unity of strategic purpose?
Can your leaders speak with one voice?
How solid are board-management relationships?
Are you currently in a crisis?
Do you have a history of risk taking?
Are you growth-oriented?
Is either executive position vacant?
Do you know of other successful mergers?
Questions are adapted from The Nonprofit Mergers Workbook: The Leader's Guide to Considering, Negotiating, and Executing a Merger, La Piana Associates, Inc., 2000.
---
1/ In general, the term "economies of scale" refers to changes in average unit costs that are related to changes in scale or size of an organization. Due to economies of scale, large organizations have greater access to markets and can operate with broader geographic reach than small organizations.
2/ U.S. Census Bureau, 1999.
3/ The Nonprofit Mergers Workbook: The Leader's Guide to Considering, Negotiating, and Executing a Merger, La Piana Associates, Inc., 2000.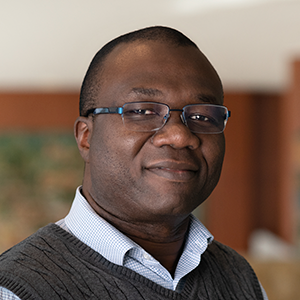 Michou Kokodoko
Project Director, Community Development and Engagement
Michou Kokodoko is a project director in the Minneapolis Fed's Community Development and Engagement department. He leads the Bank's efforts to promote effective community-bank partnerships by increasing awareness of community development trends and investment opportunities, especially those related to the Community Reinvestment Act.