District manufactured exports post solid growth in 2007
District manufactured exports increased about 10 percent in 2007, about the same rate as the nation. While 2007 growth was slower than the preceding year's 13 percent increase, it exceeded the district's historical 7 percent annual average increase since 1997. Solid economic growth abroad and changes in exchange rates helped a wide range of district industries post export growth last year.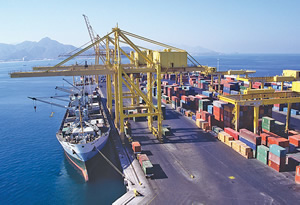 Growth and exchange rates
Developed and developing countries around the world posted positive economic growth. For example, China grew 11.5 percent, India 8.9 percent and Russia 7 percent. While the European Union grew a more modest 3 percent, the area's 2007 growth rate exceeded rates of the past few years. Overall, the world economy grew 5.2 percent in 2007.
Combined with solid economic growth among trading partners, the weaker dollar made U.S. manufactured exports less expensive abroad during 2007. The dollar has declined against the currencies of several major trading partners, including the Canadian dollar, euro and Japanese yen.
After China held the yuan/U.S. dollar exchange rate at 8.27 from September 1998 to July 2005, the country's central bank allowed the value of the yuan to trade within a particular range relative to a trade-weighted basket of currencies. By the end of 2007, the yuan/U.S. dollar exchange rate was at 7.30. The policy change has helped boost U.S. exports to China and make Chinese goods more expensive in the United States, thus helping to mitigate the U.S.-China trade imbalance.
While economic growth abroad and a declining dollar tend to have a positive impact on exports, they aren't the only factors at play. Transportation and communication costs, productive capacity at home, trade barriers (such as tariffs and quotas) and competition from producers in other countries impact export growth. Nevertheless, an increase in district manufactured exports to Canada, China, Europe and Mexico during 2007 was accompanied by economic growth in these areas or a decrease in the value of the dollar relative to their currencies or both (see chart). However, manufactured exports to Japan decreased despite economic growth in the country and a decrease in the value of the dollar relative to the yen.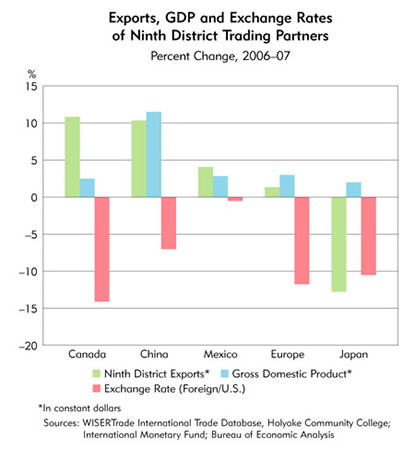 Trade balance
Meanwhile, strong exports and slowing imports have recently helped shrink the national deficit for traded goods. As mentioned earlier with China, just as a weaker U.S. dollar makes exports less expensive abroad, it makes imports more expensive at home. Moreover, a slowing U.S. economy in 2007 reduced growth in the demand for imports.
The net trade balance—the difference between the value of imported goods and exported goods—narrowed slightly from $838 billion in 2006 to $815 billion in 2007. While the value of goods exported on a balance-of-payments basis increased 12 percent in 2007, the value of imports grew only 6 percent.
While a declining trade deficit is usually reported as "good" news, it's unclear that a growing trade deficit necessarily spells "bad" news for the economy. The balance of payments simply measures the inflows and outflows of goods and services and inflows and outflows of capital.
The economic conditions that create a surplus or deficit in the trade balance are likely more important than the trade balance itself. For example, with the recent narrower trade deficit attributed in part to the recent slowing U.S. economy, the more "favorable" trade balance is associated with "bad" economic news.
Some economists argue that total trade, exports plus imports, is a more meaningful measure as it relates to economic conditions at home than the trade balance. With higher trade volumes, domestic companies have access to more markets abroad and domestic consumers have more consumer goods to choose from at generally lower prices.
Noteworthy trends
Manufactured exports in almost all district states grew faster in 2007 than their historical annual averages from 1997 to 2007. The exception was Minnesota, which grew at the same pace as its historical average.
Behind the aggregate export data by geographic area, trends by country are particularly interesting. For example, Minnesota's exports to Ireland increased 21 percent annually from 1997 to 2007. After a drop in 2006, exports rebounded 9 percent, led by miscellaneous manufactured commodities. This export strength correlates with Ireland's strong economic growth and, in particular, strong demand for medical, office and consumption goods.
South Dakota's largest manufactured export industry was computer and electronic products in 2007; the sector is perennially the state's largest or second-largest export industry. South Dakota sent $408 million in computer and electronic products abroad in 2007 compared with $64 million for Montana and North Dakota combined. Notably, Thailand quadrupled its purchases of computer and electronic products from South Dakota during 2007.
North Dakota manufactured exports were primarily sold in Europe and Canada during 2007, followed by the former Soviet Republics. Two of these countries, Russia and Ukraine, ranked fourth and fifth, respectively, in machinery purchases from North Dakota.
Range of export industries
All district manufactured export industries showed growth in 2007, except for computer and electronic products (due to decreases in Minnesota and Wisconsin) and apparel and accessories. However, the latter is the district's smallest export industry.
Machinery exports, the district's largest export industry, grew twice as fast in 2007 as its annual average growth rate from 1997 to 2007. Meanwhile, the district's fourth-largest export industry, food and kindred products, grew 37 percent in 2007. The value of this industry grew not only due to strong demand in other countries, but also because of increases in world food prices. The combination of healthy demand and higher prices also contributed to substantial increases in exports of primary metal manufacturing (see chart).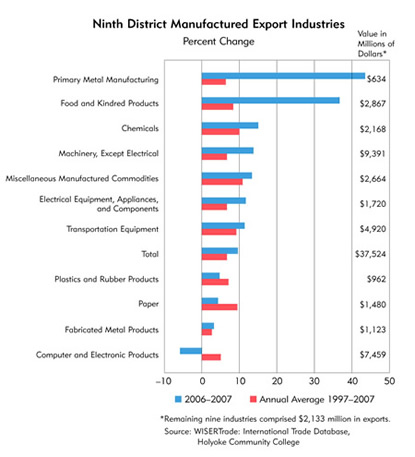 District exports of chemicals have posted solid gains since 1997 and did so again in 2007. Chemical exports increased 46 percent in North Dakota and 24 percent in Montana; chemicals is Montana's largest export industry. In contrast, exports of computer and electronic products, the district's second-largest export industry, decreased 6 percent in Minnesota and Wisconsin, but increased in South Dakota.
See more detailed data on district manufactured exports.