You'd think that a slowdown in the retail real estate market would bother someone who makes a living selling shopping space. But not Ned Rukavina. The Minneapolis commercial real estate agent says that he welcomes a breather from the frenetic deal-making of recent years, when retail construction boomed and space in shopping centers was tight. "Yes, it has slowed down, but it has been crazy for so long," he said.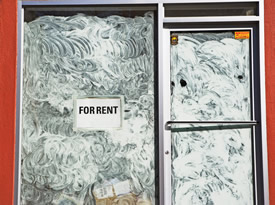 Other retail agents and brokers in the Ninth District may not be ready to take it easy. But they agree with Rukavina that the retail sector has cooled as available space has outstripped demand.
Both nationally and in the region, retail vacancies have been on the rise. From the end of 2005 to the end of last year, the vacancy rate among major cities nationwide grew by 1 percentage point, according to data compiled by REIS Inc., a real estate research firm based in New York City (see chart). Retail vacancy in Minneapolis-St. Paul at the end of 2007 was lower than the overall figure for large Midwest metropolitan areas, but the Twin Cities rate has increased faster than the national aggregate—from less than 6 percent in the fourth quarter of 2005 to 7.5 percent two years later.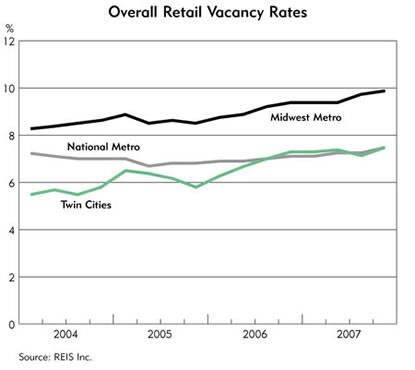 Some observers worry that climbing retail vacancy rates are a harbinger of greater troubles to come. The concern is that retail space is going begging because consumers are spending less—raising the specter of closed stores, layoffs and deeper economic malaise.
But such fears are probably unjustified. For one thing, the overall rise in retail vacancy in the district isn't severe (although the trend is more pronounced in strip malls). For another, higher vacancies don't appear to be caused by a significant drop-off in demand for space from retailers. Instead, they're a predictable outcome from the surge of new retail construction that followed the last recession.
The outlook for the next few years suggests that vacancy rates will gradually decline as the market absorbs existing retail capacity.
This space for rent
The fallout from an intense period of retail construction is evident in Minneapolis-St. Paul, the largest retail market by far in the Ninth District. When greater capacity isn't absorbed quickly enough, vacancy rates inevitably rise.
Retail inventory in the Twin Cities grew an average of nearly 4 percent annually over the past three years, the fastest metro growth rate in the nation, according to REIS. In the aftermath of this rapid development, as demand for new retail space leveled off, the metro vacancy rate has risen by a third since 2005.
All indications are that the same phenomenon—a spate of retail building followed by a market adjustment—has driven up vacancy rates in other district markets. "There's certainly more vacancy out there," said Neal Eriksmoen, a commercial appraiser in Fargo, N.D.
The commercial real estate franchise NAI Global tracks market trends in cities around the world, including the district communities of Fargo, Sioux Falls, S.D., and Billings and Missoula in Montana. The NAI data show that in the past year, retail vacancy has increased or stayed flat in all of these cities (see chart).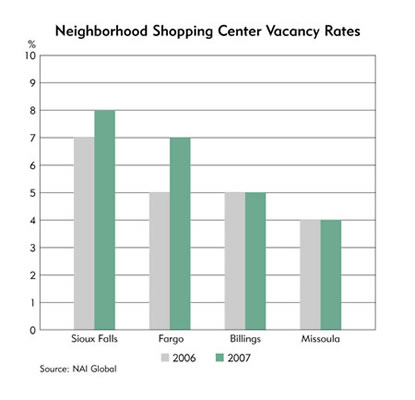 In Sioux Falls, a regional retail hub, the vacancy rate for "neighborhood shopping centers" (strip malls) rose 1 percentage point between 2006 and 2007. Local commercial real estate broker Michael Bender said that the vacancy rate in the southwestern commercial corridor along Interstate 29 was even higher—about 14 percent for all types of retail properties.
A major factor contributing to the run-up in vacancy rates in Sioux Falls is robust expansion of retail space in the recent past. According to the city planning office, the value of retail construction surged about 60 percent between 2004 and 2005, and 20 percent in 2006. While the value of new construction fell last year, space was still added at a moderate pace in line with trends earlier in the decade.
It's a similar story in Fargo, where neighborhood shopping center vacancy increased 2 percentage points in the past year, spurred largely by new development hitting the market.
NAI doesn't track retail vacancy in Eau Claire, Wis., and Rochester and Duluth in Minnesota, but commercial real estate agents in those cities have also seen a rise in vacancies. Eau Claire's downtown retail vacancy rate increased almost 10 percent in 2007, and a massive new mixed retail/office development is expected to drive that rate still higher. Mac Hamilton, a commercial broker in Rochester, said that the city's retail base "has become overbuilt, and I think we're seeing an increasing number of vacant storefronts."
There are exceptions to the general rise in vacancies. According to NAI, vacancy rates for strip malls in Missoula stayed locked from 2006 to 2007, despite a considerable amount of retail development. Dennis Hardin, a commercial real estate agent in Bozeman who handles store leasing and sales throughout western Montana, said the region's strong economic growth has insulated it from the national rise in vacancy. "It's like we're in a different universe out here," he said.
Official vacancy statistics are not available for Grand Forks, N.D., and Rapid City, S.D. But vacancy rates there are also low and fairly stable, according to sources who credit a moderate pace of retail development in those communities in recent years. "People here generally don't overbuild," said Grand Forks City Assessor Mel Carsen.
No room at the big box
Developers who specialize in building shopping centers anchored by "big box" stores like Wal-Mart and Home Depot probably aren't too worried about rising vacancy rates in the region. That's because vacancies haven't been as pronounced in that market segment. Around the district, commercial agents and brokers are saying that the properties hurting for tenants are strip malls, not big box stores. "We clearly have an overabundance of supply and not enough demand in that sector," Bender said.
The data clearly show this vacancy gap between strip malls and big box stores. According to REIS, the vacancy rate for strip malls in the Twin Cities was running almost 3 percentage points higher than the rate for "community shopping centers" (big box stores) in 2007, and it has grown much faster. In fact, the big box vacancy rate actually fell slightly from 2006 to 2007, so the overall increase in retail vacancy was entirely due to escalating strip mall vacancy.
The same gap shows up elsewhere in the district. Strip mall vacancy rates in Fargo rose 2 percentage points in 2007, and were flat in Billings. But vacancy at big box centers remained extremely low in both cities. NAI reported virtually zero vacancy at Billings community shopping centers over the past two years, and in Fargo the story was the same (see charts).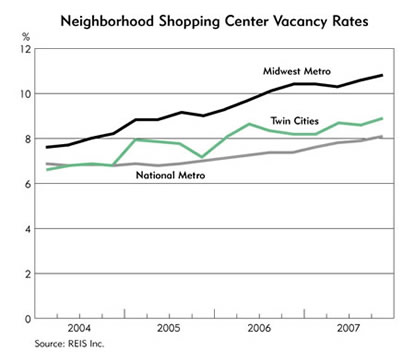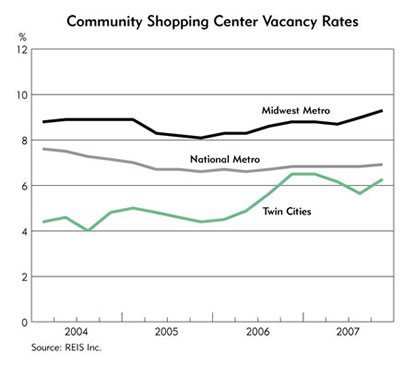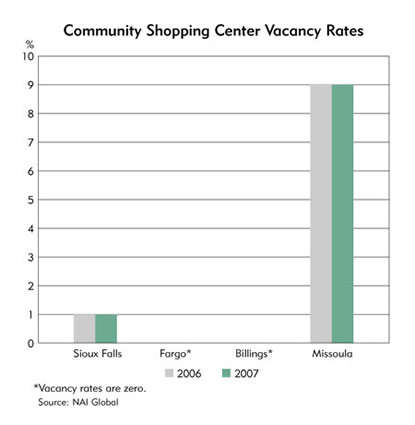 Missoula again bucks the district norm; last year the vacancy rate for the city's big box stores was much higher than the rate for strip malls.
It's unclear why vacancies have climbed higher at strip malls than at community shopping centers, although brokers offer their own theories. Rukavina said that recent big box developments offer fewer opportunities for vacancies, because they're often stand-alone stores such as Wal-Mart and Menards. Hamilton pointed to a shift in grocery sales from traditional super markets that often anchor strip malls to big box "super centers" selling both food and merchandise.
Vacancy rates at indoor shopping malls—"power centers" in retail parlance—don't follow a discernible pattern in the district. Nationally and in the Twin Cities, mall vacancy has trended upward, but that doesn't appear to be the case elsewhere in the district.
Has the tide turned?
The decline in retail occupancy has some investors worried that housing woes are spreading to the retail sector. But the evidence suggests that higher vacancies in district markets have more to do with an abundant supply of retail space than weakening demand.
Today the tide of construction that swept over the market a few years ago has mostly receded, allowing existing retail space to be absorbed. In the Twin Cities, inventory grew by less than 2 percent during 2007, and REIS anticipates modest growth for the foreseeable future.
Another positive sign: The price of retail space has continued to increase in metro areas nationwide. In the Twin Cities, lease rates have risen more than 3 percent in the past year. If landlords anticipated lower demand for retail space, they would likely be dropping their rates.
For these reasons, the outlook for the retail sector in the district isn't as dour as some observers fear. While the rapid development of a few years ago is unlikely to return anytime soon, it's also unlikely that vacancies will soar. In fact, vacancy rates may have already peaked. The REIS forecast calls for vacancies in the Twin Cities, the Midwest and the nation to drop slowly over the next four years.
In the meantime, some people see vacant storefronts not as wasted space, but as a chance to make a deal. "There are opportunities for new people to move in," Rukavina said. "As a broker, change is good."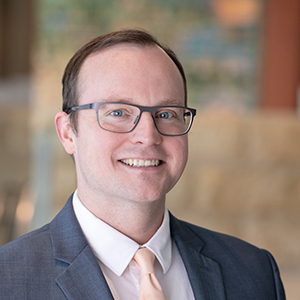 Request as a speaker
Joe Mahon
Director, Regional Outreach
Joe Mahon is a Minneapolis Fed regional outreach director. Joe's primary responsibilities involve tracking several sectors of the Ninth District economy, including agriculture, manufacturing, energy, and mining.