Following a solid 2008, district manufactured exports expected to slow in 2009
While the district economy slowed in 2008, manufactured exports continued to grow. Manufactured exports increased in all district states at or above 11-year historical average growth rates. However, growth in exports slowed during the last few months of 2008, and growth is likely to drop in 2009.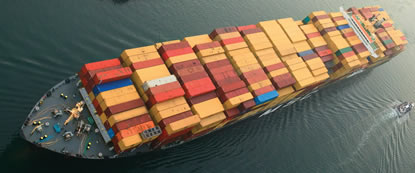 Gains to most destinations in 2008
Exports grew from district states to most destinations. Growth to the district's primary export destination, Canada, was higher than historical averages in all states except South Dakota, where growth decreased by 4 percent, primarily due to decreases in exports of food and kindred products. Manufactured exports to Europe, the district's second-largest destination, were relatively strong in South Dakota and Wisconsin, but were flat in Minnesota and decreased in Montana and North Dakota. The decrease in North Dakota exports was largely due to a drop in the value of goods shipped to Belgium and Italy.
Manufactured exports to Mexico posted some of the largest gains in 2008. For example, North Dakota's south-of-the-border exports rose by 105 percent, largely because of substantial gains in exports of food and kindred products. Exports to Mexico from Minnesota increased almost 30 percent, primarily due to increases in machinery and food and kindred products. Wisconsin's 18 percent increase to Mexico came mostly from higher shipments of transportation equipment.
After averaging 24 percent annual growth since 1997, manufactured exports to China rose by a modest 8 percent in 2008. Exports from Wisconsin to China, which totaled over $1 billion during the past two years, grew only 2 percent in 2008. Decreases in Wisconsin's shipments of machinery and computer and electronic products were primarily attributed to the overall languid performance. Meanwhile, exports to China from Montana and the Dakotas made strong gains in 2008.
Almost as many district manufactured exports were shipped to South America as were shipped to China. Last year exports to South America grew 29 percent in Wisconsin, primarily from increases in exports of machinery to Chile and Brazil. Other notable trends include a 44 percent gain in Montana exports to all Asian destinations, mostly concentrated in chemicals and machinery. Exports to North Dakota's third-largest destination, the former Soviet Republics, increased 65 percent due to increases in machinery exports. Finally, as the petroleum industry boomed in Montana and North Dakota, exports of petroleum and coal products increased to Canada, although exports of these products represent a modest share of total exports.
Top export industries continue to improve
Exports of machinery, the district's largest export industry, account for just over 25 percent of manufactured exports. This category increased 15 percent during 2008, primarily to Canada and Europe. The next two largest industries, computer and electronic products and transportation equipment, posted more modest gains. Meanwhile, exports of food and kindred products and chemicals increased 13 percent. In Montana exports of chemicals increased 35 percent during 2008, largely attributed to gains in shipments to Canada, Taiwan and Singapore. Chemicals are Montana's top export industry.
Will growth continue in 2009?
While district manufactured exports were relatively strong in 2008, they did slow substantially during the fourth quarter (see Chart 1). Will the slow fourth quarter bleed into 2009?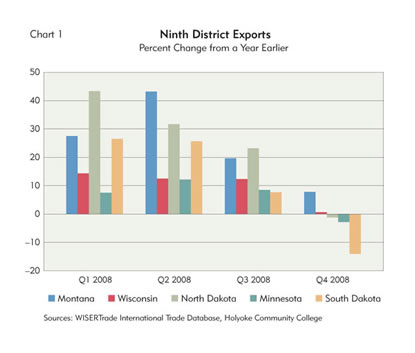 Despite the slowing U.S. economy during 2008, manufactured exports continued to grow in part due to global economic growth and a weaker dollar, which made U.S. manufactured exports less expensive in other countries. According to the International Monetary Fund (IMF), the global economy increased 3.4 percent in 2008, which was the slowest growth since 2002, but not far below the previous 10-year average. Regarding exchange rates, the U.S. and Canadian dollars traded close to parity for much of the year, and relative to historical trends, the U.S. dollar was weak compared with the euro and Japanese yen.
However, global growth is expected to be flat in 2009, and exchange rates have started the year unfavorably for exports. The IMF predicts global growth to slow to a 0.5 percent increase in 2009, which will erode demand for district exports. Furthermore, the U.S. dollar strengthened against the Canadian dollar and the euro during the first few months of 2009. An exception is the Japanese yen, which strengthened relative to the U.S. dollar early in 2009.
Other signs of weakness are apparent in the district's manufacturing sector. Growth in exports during 2008 served as a buffer to the weakening manufacturing sector. That is, foreign demand helped soften a decrease in domestic demand, but not enough to keep the manufacturing sector overall from contracting during 2008.
According to results of Creighton University's Mid-America Business Conditions Index, which is based on a survey of supply managers in nine Mid-American states, manufacturing activity contracted for most of 2008 in Minnesota and decreased in South Dakota during the last two months of 2008 (see Chart 2).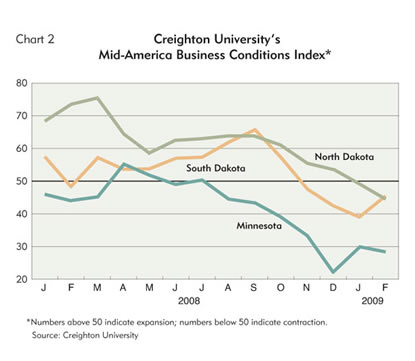 Meanwhile, manufacturing activity expanded in North Dakota for all of 2008, but showed signs of slowing toward the end of the year. As manufacturing activity slowed, manufacturing employment decreased in all district states in 2008, and more so than total nonfarm employment
(see Chart 3).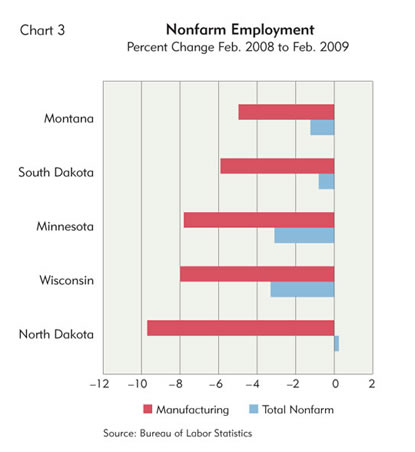 During the first two months of 2009, Creighton University's survey shows a contracting manufacturing sector in Minnesota and the Dakotas. At the same time, manufacturing employment continued to contract in all district states. While export data for states were not available for the beginning months of 2009, U.S. data show that manufactured exports in January were down more than 20 percent compared with a year earlier.
Slow global growth, unfavorable exchange rates and signs of slowness in the manufacturing sector and U.S. exports all point to likely decreases in 2009 manufactured exports in district states, at least during the first part of the year. If the global economy picks up in the second half of 2009, some recovery in district exports could be garnered.