Manufacturing sliding into 2009
Manufacturing activity decreased slightly in 2008 across much of the Ninth District. Unfortunately, manufacturers' outlook for their operations in 2009 is faltering, as are their expectations for their state economies, according to the November survey of manufacturers conducted by the Federal Reserve Bank of Minneapolis and the Minnesota Department of Employment and Economic Development. Responses were largely similar across states, with the exception of North Dakota, where manufacturers expressed more optimism.
Manufacturers noted a slowdown in 2008: Production was flat, but the number of new orders decreased slightly. "Our customers are retailers and distributors who are buying less due to slow sales," commented a mid-size Montana manufacturer. Employment and capital investment decreased slightly due to weakened orders.
On the bright side, exports increased in 2008. The 2008 overall results were similar across the district, except in North Dakota, where respondents reported that 2008 manufacturing exceeded 2007 indicators.
Manufacturers are experiencing tighter credit, but apparently not to the same extent as other sectors. Only one in five manufacturing firms said their access to credit had declined in the previous three months, and for large manufacturers, it was just 13 percent. This compares to 30 to 35 percent of firms across the Ninth District, based on other surveys by the Minneapolis Fed (see cover article).
Manufacturers across the district expect the 2008 slowdown to continue into 2009 (see chart below). Expectations for profits and orders are down, although exports are projected to remain relatively stable. In response to lower anticipated demand, manufacturers expect to lower both production and employment levels. Investment is also projected to decline. Several respondents attributed their investment and expansion concerns to increased uncertainty related to credit conditions and the president-elect's agenda. Conversely, manufacturers expect productivity to increase over the next 12 months. The 2009 outlook was largely shared throughout the district with two notable exceptions. Montana manufacturers responded more pessimistically than the rest of the district, while in North Dakota expectations were positive.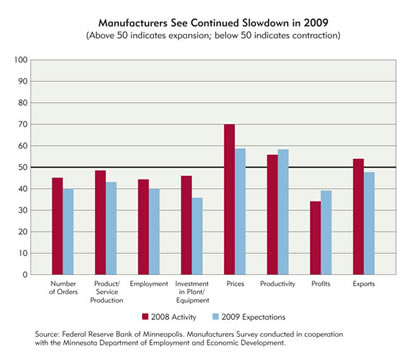 Larger Image
When asked specifically about their state economies, over 68 percent of respondents said they expect lower economic growth in 2009. A similar proportion of respondents expect declines in employment, investment and corporate profits, and 79 percent expect decreased consumer spending. In addition, over half of respondents indicated that they expect inflation to increase. Again, these results were robust across district states with the exception of North Dakota, which expects to fare better than the rest of the district.
Manufacutring Suvery Data [xls]