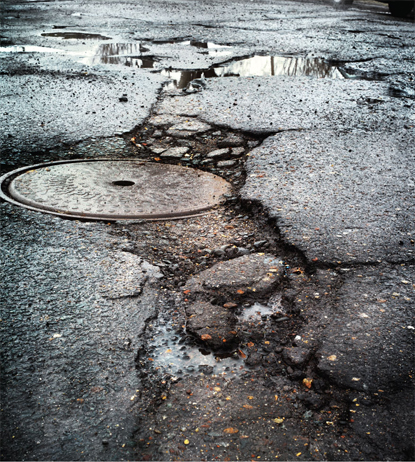 Photography by Joe Paczkowski
Motorists in Stutsman County, N.D., will eat more dust on the drive into town if county officials go forward with their plan to cut road maintenance costs—returning stretches of paved road to gravel.
Roads in the farm county astride Interstate 94 are in bad shape and getting worse due to lack of funding. The county budgets about $750,000 annually to maintain about 530 miles of roads. But reconstructing paved roads—needed in many instances to restore roads that take a daily pounding from heavy trucks and farm equipment—costs over $500,000 per mile. "You can see that's a problem," said Highway Superintendent Mike Zimmerman. "We do not have the money to rebuild the roads." Instead the county patches cracks and potholes and performs other basic repair work.
In recent years, county property tax collections and federal and state aid have failed to keep pace with rising construction costs. In 2008, the County Commission tried to raise property taxes to pay for a $21 million road restoration project, but county voters defeated the measure.
Faced with few options, the commission was pushing ahead last winter with plans to convert at least 100 miles of paved road to gravel over the next five to 10 years. County residents have protested, but continued deterioration of the roads "has forced us into a position where it could become a safety issue," Zimmerman said. Gravel roads don't develop cracks and potholes, and they are less expensive to maintain than asphalt.
Throughout the Ninth District, state and local governments are struggling to maintain and improve their highway infrastructure. Despite an overall improvement in bridge conditions since 2000, most district states have huge backlogs of road and bridge work. The overall condition of roads in the district has deteriorated during the past decade, with marked declines in Minnesota and North Dakota, according to federal statistics and surveys.
The passage of time, sagging funding and escalating construction costs have taken a toll on the district's roads and bridges. But state departments of transportation and local public works departments are less able to cope than in the past; in recent years, the flow of fuel tax and other revenues has slowed due to more fuel-efficient vehicles and the recession, while construction costs have trended sharply upward. In particular, many local governments find themselves stuck between a rock and a hard place, unable to raise property taxes to compensate for rising costs and stagnant state and federal aid.
Government wields its taxing authority to provide freeways, highways and bridges that serve the public good. By facilitating the movement of goods and people, transportation infrastructure promotes economic growth. Failure to maintain or improve highways exacts societal costs, including lower business productivity and less personal mobility.
Yet government at every level, from the county courthouse to the Capitol in Washington, D.C., has found raising more money for highway infrastructure a hard road. The funding mechanism for roads and bridges is "dysfunctional," said Robert Noland, director of the Voorhees Transportation Center at Rutgers University. "There seems to be a disconnect between government services that are provided and the need to actually provide some funding for them."
The funding mechanism for roads and bridges is "dysfunctional. ...There seems to be a disconnect between government services that are provided and the need to actually provide some funding for them."

—Robert Noland, Rutgers University
People have become accustomed to paying less and less in real dollars for the use of roads and bridges. The federal gasoline tax has stayed constant since 1993, and with the exception of Minnesota, district states haven't increased fuel taxes for years. As a result, road use is underpriced, contributing to traffic congestion in cities and deteriorating roadways in rural areas.
Something has to give. If raising gas taxes and vehicle registration fees won't fly with voters, society must find other ways to sustain and grow the highway network—or else lower its expectations for system performance. In that case, personal mobility must be redefined in ways that either require less investment or offer better likelihood of public (and therefore political) support.
Kicking the can down the road
There was a time in the district, and in the nation, when motorists zipped down roadways of freshly laid asphalt and over newly erected bridges. In the decades after World War II, federal and state government invested heavily in highway infrastructure. The Federal-Aid Highway Act of 1956 appropriated $25 billion for the construction of 41,000 miles of interstate highways over a 20-year period—the largest public works project ever undertaken up to that time. Billions more were spent on upgrading state highways, county roads and city streets laid out decades earlier.
As the economies of district states grew, their spreading road networks became conduits for further job creation, income growth and business expansion. Farmers relied on county roads to deliver their crops to the nearest elevator; manufacturers and wholesalers trucked their goods to distant cities via interstate and trunk highways; suburbanites commuted on urban freeways and connectors to their jobs in the city.
But now that infrastructure is showing its age and buckling in places from heavy use and neglect. In Minnesota, most interstate highways and about one-third of state highway bridges are over 40 years old. In the Dakotas, many county roads weren't built to carry modern farm implements and semitrailer trucks that weigh 10 times as much as an SUV. "Our equipment's bigger, our trucks are bigger and the demand on our roads is just growing every year," said Bob Wilcox, executive director of the South Dakota Association of County Commissioners.
Nationally and in the district, much construction and maintenance work isn't being done due to lack of funding. A big chunk of the to-do list consists of a backlog created by years of putting off bridge repairs, highway expansions, repaving and other projects.
A commission formed by Congress in 2007 to assess the condition of the transportation system estimated that an additional annual investment of $89 billion was necessary over the next 25 years to improve the country's roads and bridges. Assessments of surface transportation needs in district states also run into the billions. Last year, the Minnesota Department of Transportation (MnDOT) pegged needed investment in state-owned highways and bridges through 2028 at $62 billion—far in excess of anticipated revenues of $15 billion over that period. In Wisconsin, the Legislative Fiscal Bureau has recommended an additional $400 million per year for state highway construction and maintenance.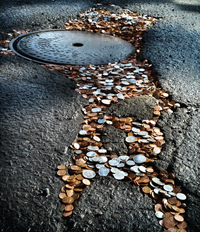 Estimates of "unmet needs" like these should be viewed cautiously, because they include increased capacity—new highways, additional freeway lanes, bigger bridges. It's fair to ask whether the benefits of building extra capacity outweigh the costs, especially in urban areas where more mobility options exist for people to get where they need to go, whether via bicycle, bus, train or on foot. For example, 63 percent of the spending called for in MnDOT's 20-year investment plan is for state highway expansion in the Twin Cities to relieve traffic congestion. Only about $16 billion, or roughly one-quarter of the recommended investment, is for preserving existing road and bridge infrastructure—arguably work that yields a greater return on investment.
Nevertheless, $16 billion still amounts to more than the total highway revenue MnDOT anticipates over the 20-year period. Presumably, some maintenance and rebuilding work in Minnesota will be left by the wayside.
Likewise, North Dakota has its work cut out keeping its citizens moving, given projected funding levels. A 2008 study by researchers at North Dakota State University (NDSU) found that an additional $254 million a year was needed just to maintain existing roads and bridges in the state, with no increases in capacity. More than half of that figure was for county, township and city roads.
Look out for potholes
The district's primary surface transportation network is hardly on the verge of collapse. For the most part, roads and bridges in the district are in reasonable shape, according to data compiled by the Federal Highway Administration (FHWA). These data cover interstates, state highways and main county roads.
FHWA uses a "roughness index" to gauge the ride quality of pavement. In the district as a whole, excluding the Upper Peninsula of Michigan, only 14 percent of pavements were rated in poor or mediocre (less than fair) condition in 2007. The rest were in fair, good or very good condition.
Moreover, the serviceability of the district's bridges improved during the past decade. According to FHWA's National Bridge Inventory, every district state saw a drop in the number of structurally deficient and functionally obsolete bridges between 2000 and 2008 (see Chart 1). These bridges need repair, have reduced load-carrying capacity or are too narrow for modern trucks. The figures don't include further improvements made last year in response to the collapse of the I-35W bridge in Minneapolis in 2007.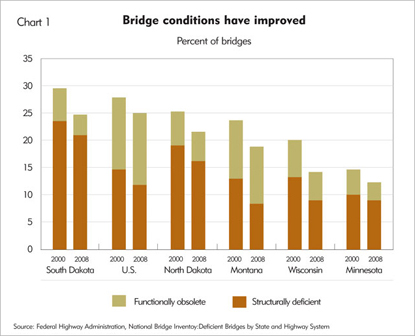 However, decay continues to gnaw at the district's highway infrastructure. A multitude of bridges in district states remain substandard. In 2008, South Dakota had more than 1,400 structurally deficient and functionally obsolete bridges—a quarter of the state's water crossings. In North Dakota, 22 percent of bridges were rated deficient or obsolete that year (the national average was 25 percent).
And the overall condition of district roads declined from 2002 to 2007, with Minnesota suffering the worst falloff in ride quality during that period (see Chart 2). The percentage of the state's roads in poor or mediocre condition more than doubled, while the proportion of miles in good or very good condition dropped from 57 percent to 42 percent. Road quality also went south in Wisconsin and in North Dakota.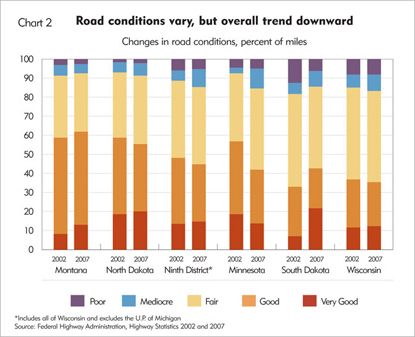 Comprehensive data on the condition of local roads and bridges in the district is scant (the FHWA data don't include minor county and township roads), but there's evidence that they're in worse shape than state-owned highways and heading downhill. Despite relatively light use—while local routes account for the vast majority of miles in district states, they handle a fraction of the traffic—transport infrastructure in many rural areas is falling apart from age and pummeling by heavy equipment.
A 2008 survey of Minnesota county highway engineers gave a downbeat assessment of road and bridge quality; nearly three-quarters of the engineers said the facilities they oversee had deteriorated over the past 10 years.
In North Dakota, about one-third of county and township roads were in poor condition in 2008, according to the NDSU study of road investment needs in the state. Conditions appear to have deteriorated since the last survey in 2000, coinciding with the overall decline in the ride quality of the state's roads.
Skin deep and a mile wide
In some district states, road conditions have actually taken a turn for the better in recent years. In Montana—the regional leader in pavement smoothness, according to FHWA statistics—the percentage of roads in good or very good condition rose from 2002 to 2007, while the share of roads in subpar condition fell. The overall condition of roads in South Dakota improved as well.
But fewer cracks, ruts and potholes doesn't necessarily equate to a healthy, growing road system. Because of tight funding and spiraling construction costs, in some cases construction activity—building or rebuilding roads—has taken a back seat to less costly efforts aimed at preserving existing pavement.
"We're trying to stretch the money out as far as we can by doing a lot of resurfacing—overlays, chip seals—to hold everything together," said Dave Leftwich, interim director of transportation programs for the North Dakota Department of Transportation. "What we aren't doing as much of—because it's very costly—is regrading the roads, widening them, putting wider shoulders on, that sort of thing."
By emphasizing maintenance, the North Dakota DOT has improved ride quality on the state trunk highway system in recent years even as the overall condition of the state's roads fell, according to state DOT figures. The South Dakota DOT has also stressed pavement preservation. (In contrast, MnDOT has devoted a larger share of resources to new construction over the past decade—one reason for a decline in the condition of state highways as well as overall road quality in Minnesota.)
Prolonging the life of existing pavement is also job one at many local road departments in the district. In North Dakota, county road departments are "very much in a preservation mode," said Terry Traynor, assistant director of the North Dakota Association of Counties. "They're trying to preserve the quality of the roads that they have."
But this skin-deep strategy may make for a bumpier ride down the road. Resurfacing and patching cannot keep roads in good shape indefinitely; eventually they must be rebuilt from the ground up to restore their structural strength, enhance safety and—in areas where the population and economy are growing—accommodate more traffic.
The South Dakota DOT has warned the state Legislature that gains in pavement quality will be lost if more resources aren't allocated to reconstruction. Extrapolating from current funding and cost trends, the department forecasts a sixfold increase in the mileage of highways in poor condition over the next decade.
In Wisconsin, a similar decline in the condition of county roads seems likely without additional funds for new construction and rebuilding. "You can only maintain things for so long," said Daniel Fedderly, executive director of the Wisconsin County Highway Association, a government group that supports county road operations. "After a few years, you get a declining return on your investment. ... [T]he counties are at the point where continued long-term maintenance is not the most viable option."
Running low on gas
Public agencies responsible for building and maintaining roads and bridges are caught in a tightening financial vise: Federal and state funding is shrinking as costs are climbing.
Motor fuel consumption has leveled off in the past five years because average fuel efficiency has increased, and economic forces—high pump prices followed by the recession—have reduced commuting, shopping and other trips. In 2008, miles driven on U.S. roads fell for the first time since the 1970s and as of last fall had not rebounded to previous levels. Lower fuel consumption means less revenue generated by federal and state excise taxes on gasoline and diesel fuel.
A drop in federal fuel tax receipts required Congress to inject general fund revenue into the Federal Highway Trust Fund to keep transportation programs running. Recent legislation pumped $19.5 billion into the depleted fund, ensuring federal funding for highway construction through year's end. But the fund is expected to again run dry without further intervention.
State dollars make up a significant proportion of funding flowing to state DOTs, ranging from roughly one-third in North Dakota to 60 percent in Wisconsin. (Federal dollars, requiring state matches for new construction and other uses, account for most of the balance in these and all district states.)
Transportation departments have felt the impact of slumping revenues from state fuel taxes, the largest single source of state revenues for transportation. Adjusted for inflation, collections from gasoline and diesel taxes have either stayed flat or declined since 2003 in every district state (see Chart 3). In addition, receipts from state vehicle registration fees, taxes on auto sales and other auto-related revenues have been under siege since the recession began at the end of 2007. Wisconsin hiked its auto registration fee by more than a third in 2008, but last year a drop in vehicle registrations contributed to a $49 million shortfall in the state's transportation fund.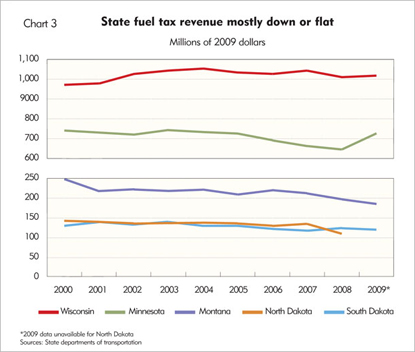 "I think you're seeing the same issues in every state," said South Dakota Rep. Shantel Krebs, who has proposed legislation to increase state taxes and fees that support roads. "People are driving less, they're driving more efficient vehicles, and therefore the revenue coming into their states is declining because that's how their roads are funded."
The drop-off in state road taxes and fees trickles down to local public works departments, which in most district states receive state aid to build and maintain roads and bridges. In Minnesota, state highway user tax revenue distributed to counties and cities declined in constant dollars from 2003 to 2009.
As funding for roads and bridges has faltered in district states over the past five years, construction costs have ballooned because of increased worldwide demand for asphalt, concrete, steel and other commodities used to build and maintain highways. Materials prices have increased at a much faster pace than general consumer prices; the North Dakota DOT estimates that the highway construction costs in the state rose about 75 percent between 2004 and 2009. Much of that jump was due to higher oil prices, which increased transportation expenses, Leftwich said. "North Dakota is a long ways from anyplace. Everything we use gets trucked in here, and [prices] keep going up."
Other district states have seen less dramatic price hikes, and there are signs that the recession cooled construction inflation; MnDOT's construction cost index fell slightly in fiscal 2009 compared with the previous year (see Chart 4). But nobody's sure how much costs will moderate in the future, especially in North Dakota, where oilfield development in the Williston Basin has sustained high demand for construction materials and labor.
Taxes: Stuck in the slow lane
To make ends meet, road agencies have had to borrow money or cut back operations. In 2008, in response to the I-35W bridge disaster, the Minnesota Legislature authorized $1.8 billion in bonding over the next decade to finance bridge repair, new highway interchanges and road resurfacing. The South Dakota DOT slashed its 2008–2009 operating budget by 25 percent, forgoing equipment purchases, putting off building repairs and suspending a $15 million program that allows local governments to build roads faster and more cheaply by swapping federal funds for state funds.
The obvious solution to the funding crunch is to raise more revenue to cover rising materials costs and work down the list of slated road and bridge projects. Traditionally, government has compelled the users of highway infrastructure—motorists—to foot the bill for construction and repairs by imposing motor fuel taxes, vehicle registration fees and other auto-related charges. In addition, many local governments levy taxes on property and general sales to support roads and bridges, on the grounds that freedom of movement benefits all residents. In Montana, about 42 percent of road and bridge spending by local government in 2007 came from property taxes and special assessments.
But over the past 15 years, government—at all levels, in the district and nationwide—has struggled to increase taxes and fees to pay for highway construction and maintenance. While highway spending has risen—between 1995 and 2007 annual inflation-adjusted disbursements for all U.S. roads increased 37 percent, according to FHWA statistics—motor vehicle tax rates and fees have failed to keep up with construction inflation and demands caused by heavy, sustained use of the system.
Congress last increased the 18.4 cents-per-gallon federal gasoline tax in 1993; as a result, its buying power has fallen by half since then. Prospects for raising the tax anytime soon appear dim, with key lawmakers and President Barack Obama opposed to raising the fuel tax during a period of high unemployment.
While some district states have raised fuel taxes in recent years—Minnesota last raised its levy in 2008, as part of legislation that included the bond issue for roads and bridges—other district states haven't increased them for years (see table below). South Dakota's taxes on gasoline and diesel fuel were last increased in 1999. Montana's fuel taxes haven't risen since the Ford administration.
Fuel tax rates, U.S. and district states

Fuel tax rates, U.S. and district states

Cents per gallon

Gasoline
Diesel Fuel
Last increased
U.S.
18.4
24.4
1993
MN
27

(27.5 July 1)

27

(27.5 July 1)

2008
WI
30.9
30.9
2006*
MI
19
15
1997
ND
23
23
2005
SD
22
22
1999
MT
27
27.75
1974

*Last CPI indexing adjustment. Wisconsin no longer indexes its fuel tax to inflation.
Proposed legislation in South Dakota intended to address an estimated $240 million annual shortfall in revenue for roads and bridges would boost the state gasoline tax by a dime a gallon within two years, generating an extra $75 million per year for state highway construction and repair. The bill would also increase annual vehicle registration fees—giving local road departments over $30 million per year in additional funding by 2012—and raise the state auto sales tax. But legislators focused on economic recovery were expected to give the measure short shrift.
"Even though people see the need, because they can see the potholes, the disrepair in our roads, this is a tough year to do anything when it comes to fee increases," said Krebs, the bill's sponsor and chair of the Legislature's Joint Transportation Committee.
In a number of district states, including Wisconsin, Minnesota and North Dakota, lawmakers have imposed restrictions on local tax levies for public services. City, county or township residents must approve property tax increases beyond a specified mill limit, or new property or sales taxes dedicated to roads and bridges. That's no problem for local governments in areas with robust economies; increases in valuation generate sufficient revenue to cover needed road work, even as construction costs escalate.
But it's a different story in areas with stagnant or declining property values; when county commissions or town boards go to voters to try to increase taxes for roads, they are usually rebuffed. Traynor, of the North Dakota Association of Counties, couldn't recall a single instance in the past 10 years of a county enacting a property tax increase for roads or bridges.
The Stutsman County Commission's failed bid to raise property taxes in 2008 marked the fourth time since 1972 that county voters have rejected higher taxation for road maintenance. They also defeated a proposal to introduce a one cent general sales tax to pay for road work.
Explanations abound for public resistance to increased spending on highway infrastructure. Taxing auto travel hits the politically potent middle class. Compared to new ribbons of concrete and steel, maintenance of existing roads and bridges is boring. Siphoning off fuel tax revenue to fill holes in the general budget—as Congress did in the early 1990s—breeds resentment of auto-related taxes and fees. "A big part of it is that people see it as a tax, not a user-based fee," Krebs said.
Whatever the reasons for the pushback against higher taxes or user fees, the consequence is that in many parts of the district and nation, those who benefit from roads and bridges aren't bearing their full cost. Road taxes and fees don't cover what it costs to build and maintain highway infrastructure, much less cover the total cost of driving, which includes social costs such as air pollution and lost productivity due to traffic congestion.
When access to the highway system is underpriced, rural roads deteriorate from lack of maintenance, and traffic clogs urban freeways and thoroughfares. In the Twin Cities, freeway congestion has abated since 2004, although it spiked after the I-35 bridge collapse. MnDOT credits a drop in traffic to high gas prices and the recession, and the completion of several big construction projects. However, the agency projects congestion growing over the long term as demand for lane space again outstrips supply.
When access to the highway system is underpriced, rural roads deteriorate from lack of maintenance, and traffic clogs urban freeways and thoroughfares.
At some point in the future—not tomorrow or next year, but probably within the next decade—the district's highway system will come to a fork in the road. For the network to stay in working order and expand to accommodate a rising population and resurgent economy, funding must increase. That means motorists and others beneficiaries of roads and bridges will have to pay more for their use. Alternatively—the other path forward—the cost of operating the system has to fall to match lower levels of investment.
Faced with continued public resistance to increases in fuel taxes and other familiar levies and fees for roads, government may be able to tap other forms of revenue, such as road tolls and assessments on developed land (see related article "Think of it as a user fee, not a tax," also in this issue of the fedgazette). "There are a lot of solutions to [the funding] problem," said David Levinson, a professor at the University of Minnesota who specializes in transportation technology and policy. "The question is, do politicians see the decline in transportation revenue as a serious problem? To the extent that they do, then they'll address it."
If significantly increasing funding proves a nonstarter, policymakers could instead try to hold the line on costs by limiting use of roads. Slowing or even reversing traffic growth would reduce the need for new construction and maintenance.
One way to curb road use is to put a price on congestion—a sure sign of overuse. Faced with a charge for using busy roads at peak travel times, some drivers will opt to take a different route, carpool or ride mass transit. A number of big cities worldwide have instituted congestion pricing on crowded highways. In the Twin Cities, rush-hour commuters driving alone on I-394 and I-35W pay a toll to access reserved lanes, and this fall MnDOT plans to open toll lanes on busy Highway 62 as part of a reconstruction project.
Investing more in public transport—buses, dial-a-ride services and trains such as the new Northstar Commuter Rail line between Minneapolis and Big Lake, Minn.—and encouraging telecommuting could also curb road use in cities and towns.
Congestion tolls and public transit aren't going to save rural roads from ruin; on vast stretches of open road in the district, the main problem is insufficient maintenance, not overuse. State DOTs and local road departments can strive for greater efficiency—collaborating on maintenance, for example, or employing innovative, less expensive construction techniques. But the ultimate consequence of chronic funding shortfalls is reduced road quality and safety.
Most people in rural areas would rather avoid the course that Stutsman County has mapped out. Converting pavement to gravel—or fixing fewer potholes and rickety bridges—risks diminishing the economic prospects of communities served by the road network. Deficient roads raise costs for businesses and deepen the isolation of residents.
But downgrading or abandoning lightly traveled routes may be the only option for local governments in the district with limited means to maintain them. "If the people are not willing to pay for the cost of maintaining the road, then the road is not worth it," Levinson said.
Noland of Rutgers acknowledges that "defunding" roads could cause pain and loss in rural areas. Some advocate boosting aid for local roads. But such a policy would merely shift costs from local to state or federal taxpayers—and is unlikely to address society's arguably unrealistic expectations of the transportation system and apparent unwillingness to pay for it.
"The bottom line is that any kind of transportation decision is political," he said. "We tend to hide these political judgments as to what we should fund and what we shouldn't. What I would argue is that you want to make these judgments—and what the potential consequences are—explicit. That's what the public needs to know.
What about that stimulus money?
Federal economic recovery legislation last year pumped hundreds of millions of dollars into roads and bridges in the Ninth District. Meant to spur employment in highway construction and related industries, the stimulus spending was welcomed by financially strapped state DOTs, local public works departments and construction firms. Minnesota received $474 million for highway construction and repair under the American Recovery and Reinvestment Act; North Dakota received $170 million, $13 million of which was passed along to county governments. State highways and local roads in northwestern Wisconsin received $28 million as part of the state's stimulus allocation.
The stimulus funding helped address pressing needs such as the repair or replacement of 43 deficient bridges in Minnesota and $150 million worth of construction and maintenance projects in North Dakota that would otherwise have been delayed. But it was a stopgap, not a permanent fix for the district's infrastructure troubles; most of the recovery money has already been spent on "shovel-ready" projects that were included in 2009 or 2010 budgets. Next year, it's back to business as usual for state DOTs and local road departments—relying on motor fuel taxes, vehicle registration fees and other standard revenue sources to pay for overdue and ongoing road and bridge work.
Testifying before the South Dakota Legislature last summer, state Transportation Secretary Darin Bergquist observed that some have viewed the stimulus funding as "manna from heaven" that would solve the state's highway funding problems. "It didn't do that," he said. "What it did do was provide us a two-year, short-term boost or Band-Aid to help carry us forward and help a little bit with some of the highway construction needs in the state."
In March, Congress dispensed another Band-Aid—an $18 billion jobs bill that includes a modest expansion of an initiative that helps state and local governments finance infrastructure projects. But how much money for roads and bridges the district would net from subsequent stimulus measures was unclear; other bills designed to boost employment were in play on Capitol Hill.