Businesses see expansion over the next four quarters
Businesses in the Ninth District appear to be bucking some of the gloomy economic sentiment seen across the country, according to an inaugural midyear outlook poll by the Federal Reserve Bank of Minneapolis. Business contacts experienced solid activity over the past 12 months and expect this to continue over the next year. They also reported somewhat better access to credit and predict that their state economies will expand, but that optimism is tempered by inflation concerns.
More sales led the way
Despite signs of sluggishness in the national economy, district businesses reported improved conditions over the past 12 months. Sales revenue, profits, productivity and employment all saw expansion (above 50 on a diffusion index, see chart).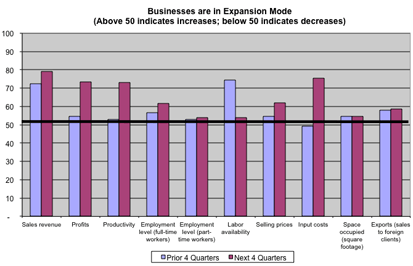 Over half of the respondents reported increased sales, while only 7 percent noted decreased sales. The increase in sales was mainly due to higher volume rather than higher selling prices, as only 15 percent reported raising prices and 6 percent dropping prices. Part of the sales increase was due to higher exports; 18 percent reported increased exports, and only 3 percent reported decreased exports. "Lower dollar has boosted exports to Europe and Canada," commented a Minnesota manufacturer.
To handle increased sales, firms relied on a mix of modest increases in space occupied, employment and output per worker. While most companies didn't change their usage of space, 15 percent reported increased space usage and 6 percent decreased space usage. Productivity increased slightly, as 19 percent saw higher productivity and 13 percent lower productivity. "Productivity has risen due to increased work load—less nonproductive time," commented a Minnesota manufacturer. Both full- and part-time employment increased slightly at firms. Companies had plenty of workers to choose from; 55 percent said labor availability was up, and only 6 percent said labor availability was down. Worker pay increased an average of 2 percent, while benefit increases averaged 1.9 percent.
Unfortunately, positive trends in sales, productivity and labor availability, coupled with flat input costs, generated only modestly higher profits; 30 percent of respondents reported increases in their bottom lines, while 22 percent noted decreased profitability.
A small share of firms also had somewhat better access to credit over the past three months. Fifteen percent reported easier access to credit, while 11 percent saw increased difficulty. According to the respondents who noticed changes in access to bank credit, it is having an effect on capital investment (62 percent), company expansion (53 percent), employment (31 percent) and inventory levels (22 percent).
Anticipate a banner year
The good news is that businesses expect the next 12 months to be even better than the previous year (see summary table). Nearly two-thirds expect sales revenue to increase, with 18 percent expecting increased exports and 39 percent expecting to raise selling prices. "We can raise our prices, and that generally does not affect the consumption of our product," according to an electricity cooperative. The downside is that over half of the respondents expect input costs to increase, while only 3 percent expect declines. "We have noticed a tremendous uptick in input costs, often going up 10 to 30 percent," commented another Minnesota manufacturer.
Even with the cost increases, 58 percent of respondents expect higher profits—most likely because they also project selling prices and productivity to be higher during the next 12 months.
That optimism should be good for workers. Firms plan to increase hiring, especially of full-time employees. Thirty percent of respondents expect increased full-time employment, and 18 percent expect increased part-time employment. In turn, respondents believe labor conditions will tighten modestly, leading to average wage and benefit increases of 2 percent (each) over the next 12 months.
State economies improving
Businesses expect their state economies to pick up as well. Nearly half of the respondents expect higher consumer spending in their state, while just 12 percent expect lower levels. Businesses had virtually identical sentiment toward future corporate profits and were even more positive regarding overall employment.
However, a whopping 76 percent expect inflation to heat up over the next 12 months. "I see inflation as the biggest issue facing us going forward," commented a manufacturer from Minnesota.
Methodology
Of the approximately 8,000 Ninth District business contacts, a random sample of 1,200 emails was drawn from the population. An email was sent to each on May 26, which contained a link to an online survey. Of the 1,200 emails sent, 309 were returned with an undeliverable message. The number of surveys received by the end of May was 151, for a response rate of 17 percent. Results are subject to errors introduced by other factors, such as the wording of questions and differences between survey respondents and nonrespondents.
Business Poll Results [xls]
---