Delinquencies and foreclosures in rural areas: A snapshot of the recent performance of mortgages in Michigan's Upper Peninsula
Many urban regions and neighborhoods have been hit hard by the recent poor performance of a large number of residential mortgages. In the Ninth Federal Reserve District, poorly performing mortgages have mostly been concentrated in the Twin Cities region. In particular, the central cities and suburban neighborhoods of the seven-county Twin Cities metropolitan area have experienced elevated levels of foreclosures over several years. Since 2004, the Minneapolis Fed has been involved in a number of research efforts to identify these foreclosure "hot spots" and the characteristics of the loans originated in them.*/
Thanks to the recent acquisition of an innovative data source, the Minneapolis Fed has expanded its ability to provide baseline information on mortgage performance trends in nonmetropolitan and rural areas in the Ninth District that may also be adversely affected by poorly performing mortgages. State and regional profiles that use this information can be found on the Minneapolis Fed's Foreclosure Resource Center web page at www.minneapolisfed.org.
The data source, called the LPS [Loan Processing Services] Applied Analytics Residential Mortgage Servicing Database (or LPS, for short) is made up mainly of the servicing portfolios of the largest residential mortgage servicers in the United States. All told, it covers about two-thirds of installment-type loans in the residential mortgage servicing market. By year-end 2010, the database contained some 37 million active loans. The LPS contains loans purchased by government-sponsored enterprises, such as Fannie Mae, along with private securitized and portfolio loans. LPS data include a wide variety of loan types, including subprime, near prime (alt-A), and prime loans.
The LPS is a useful tool for tracking the aggregate performance of residential mortgages. Specifically, the database tracks whether a loan is current, delinquent, or in foreclosure. In the past, this sort of baseline information has proven helpful to community leaders and policymakers as they seek to understand foreclosure trends, develop intervention programs, and target their foreclosure mitigation strategies.
A snapshot of mortgage performance in the U.P.
Using LPS data to examine one rural part of the District, namely the Upper Peninsula of Michigan (the U.P.), reveals that the aggregate performance of loans there generally followed trends found in other parts of the country. However, riskier or "subprime" mortgages were less prevalent in the U.P. as compared to other parts of the country. This was especially true when comparing the U.P. to regions of the U.S. that experienced dramatic housing price appreciation in the run-up to the recent recession.
The number of delinquent or foreclosed mortgages in the U.P. started increasing significantly in 2006, jumped dramatically in late 2007 and early 2008, peaked in late 2009, and has held steady since early 2010. See the figure below. This finding suggests that the recent performance of U.P. mortgages followed a trajectory similar to that of mortgages in the state of Michigan and the nation, albeit at a much lower volume.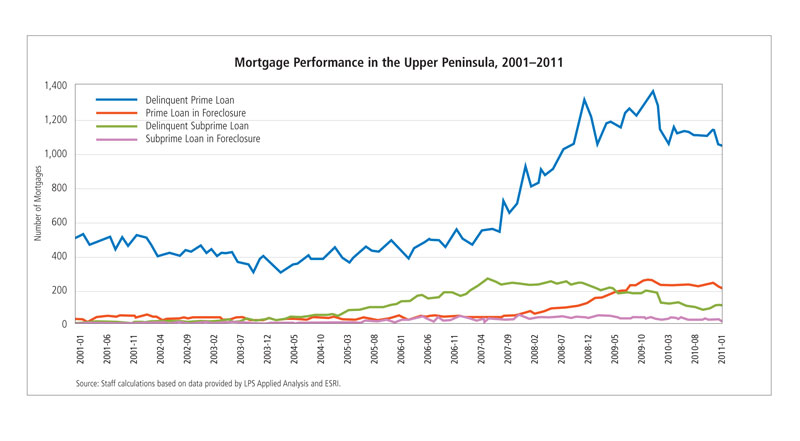 Click on graph to view larger image
The LPS data show that while subprime mortgages generally had higher rates of delinquency or foreclosure in the U.P. than prime loans, it was prime loans that constituted the majority of poorly performing mortgages. Subprime loans only accounted for 6 percent of all loans in 2006 and currently account for less than 2 percent. The state of Michigan as a whole had a slightly higher proportion of subprime loans, and the proportion was even higher in urban areas of the state, including Detroit and Wayne County, where 12 percent of loans during the same period were subprime.
Where in the U.P. are poorly performing mortgages concentrated? In February 2011, LPS tracked 20,000 active mortgages in the U.P. Of these, 5.7 percent of mortgages were delinquent and 1.1 percent were classified as being in foreclosure. A geographic analysis reveals that more than half of these poorly performing mortgages were located in some of the area's most populous counties, specifically Chippewa, Delta, Marquette, and Menominee counties. See the map below.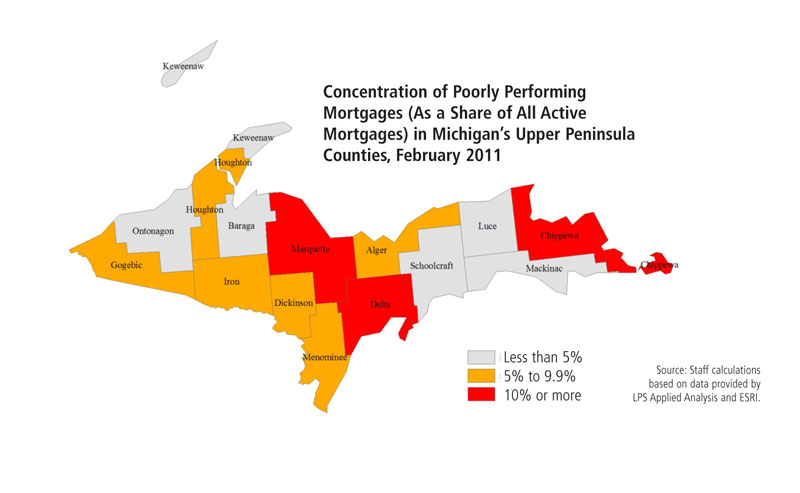 Click on map to view larger image
Targeting mitigation
An LPS-based data snapshot of poorly performing mortgages suggests that the economic downturn and subsequent elevated levels of unemployment likely had a greater effect on the U.P.'s residential housing market than did the housing boom and bust seen in other parts of the country. Overall, the U.P. region generally fared better than other parts of Michigan, especially large urban areas in the state's Lower Peninsula. In tracking these trends from now on using our LPS-based state and regional profiles, the Minneapolis Fed hopes to assist the Ninth District's public, private, and nonprofit housing stakeholders in better targeting foreclosure mitigation strategies, including outreach to at-risk borrowers and redevelopment of vacant properties.
---
*/ See Targeting Foreclosure Interventions: An Analysis of Neighborhood Characteristics Associated with High Foreclosure Rates in Two Minnesota Counties, Federal Reserve Bank of Minneapolis Community Affairs Report, 2007; and "New data analysis helps identify future foreclosure trouble spots," Community Dividend Issue 2, 2008, Federal Reserve Bank of Minneapolis.