Hospitals pay more for free care
While the nationwide debate over health care policy continues, many hospitals in the Ninth District are dealing with rising expenses for care given to low-income patients.
Not every state tracks charity expenses at hospitals, but in Minnesota and Wisconsin the cost of providing free or discounted health services has been increasing for years and compounded by the recession (see Chart 1). In Minnesota, charity care expenses at over 130 community hospitals rose by 31 percent (inflation-adjusted) from 2007 to 2009. Wisconsin hospitals, which incur about twice the level of charity care as those in Minnesota, saw charity care rise by about 28 percent in real terms between 2005 and 2009, according to the Wisconsin Hospital Association.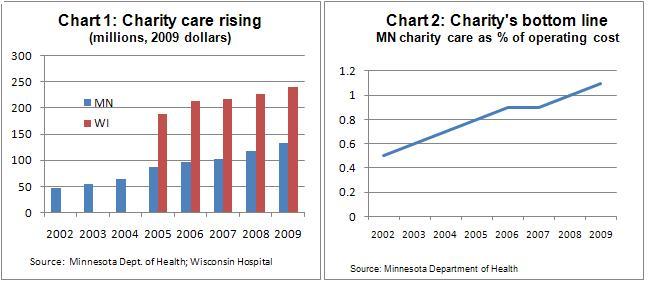 The impact of charity expenses on the bottom line of district hospitals is small—between 1 percent and 3 percent of total operating expenses. But in Minnesota charity care as a share of operating expenses more than doubled from 2002 to 2009 (Chart 2, above). Wisconsin's charity care rate is consistently higher (1.6 percent in 2009), which explains much of the disparity in charity care expenses between the two states. But the rate has risen less over this period in the Badger State.
The increase in charity care likely stems from the recession, in which many workers lost their health benefits along with their jobs, as well as steadily rising costs for health coverage. Some of the cost increases may be due to hospitals adopting looser eligibility rules based on household income, access to public assistance and other factors.
Data on charity care costs for 2010 aren't available. However, there is anecdotal evidence that such spending has leveled off. At Avera Health, a nonprofit network of hospitals and clinics in eastern South Dakota and surrounding states, charity care costs rose to $17.8 million in 2009, a 31 percent increase in constant dollars since 2007. But charity expenses fell last year to $16.2 million.