In the wake of disaster, an export opportunity
The earthquake and tsunami that struck Japan in March was a calamity that killed over 20,000 people and inflicted billions of dollars in property damage. But for Ninth District exporters, Japan's misfortune represents an opportunity to expand sales as the country moves into full recovery mode.
It's unclear which district states stand to gain the most from the rebuilding effort; some states may see shipments shrink because their chief exports are not those most needed to restore Japan's shattered northeast coastline. But a fedgazette analysis of trade statistics shows that some states have a larger stake in Japan's recovery than others.
Minnesota and Wisconsin have by far the district's biggest state economies, so it's not surprising that these states are the region's biggest exporters to Japan, measured by the value of the five largest exporting industries. Minnesota sales to Japan—primarily computer and electronic products, manufactured commodities and non-electrical machinery—totaled $930 million last year. Wisconsin wasn't far behind on the strength of large shipments of food, chemicals and transportation equipment (see Chart 1).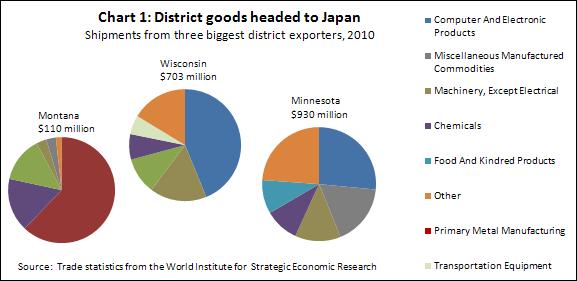 In contrast, exports to Japan from other district states were relatively paltry: North Dakota companies shipped just $9 million in goods—mostly non-electrical machinery and food products.
However, when you look at Japan's share of total manufactured exports from each state (Chart 2), Montana is the district leader, with almost 10 percent of exports going to the island nation. In other states shipments to Japan accounted for less than 6 percent of overall manufactured exports.
Trade figures for past years show that Montana's exports to Japan have grown at an average annual pace of almost 9 percent since the 1990s—a surge that state trade officials attribute to a shift in focus from commodities to value-added products such as breakfast cereals, pasta, precious metals and polysilicon (used to make solar panels).
The value of exports from district states varies widely from year to year, based on factors such as currency exchange rates and demand from specific industries. Last year was a good one for exports to Japan—districtwide shipments rose 16 percent from 2009 to 2010, partly because the yen gained strength against the U.S. dollar. For more on trends in Ninth District exports, see the July issue of fedgazette.
Associate Economist Rob Grunewald and Research Assistant Brian Holte contributed to this report.