Manufactured exports bounce back in 2010
District manufactured exports increased 17 percent during 2010, thanks to strong economic growth abroad and a moderate depreciation of the U.S. dollar relative to other currencies. While good news, that rise was unable to offset an 18 percent decline in 2009, and total exports remain lower than their 2008 peak.
Global recovery benefits manufacturing
While the U.S. economy improved during 2010, the manufacturing sector may have benefited more from economic growth abroad than at home. During 2010, U.S. real gross domestic product (GDP) grew at about 2.5 percent, but several large trading partners had stronger growth levels (see Chart 1). China gained more than 10 percent, Mexico grew 5.5 percent, and Canada and Japan grew more than 3 percent. As economies abroad gained strength, so did demand for district manufactured exports.
The exception was Europe, where economic growth was lower than 2 percent. While district manufactured exports to Europe also grew during 2010, the pace was much slower than export growth to other major trading partners. Countries facing government debt issues contributed to slow district manufactured exports to Europe. For example, district exports to Ireland decreased 48 percent, while exports to Greece dropped 37 percent. Both Ireland and Greece faced difficulty with government debt levels and decreases in economic output during 2010 (GDP dropped 1 percent and 4.5 percent, respectively).
Not only did economic growth pick up around the globe, but the U.S. dollar weakened relative to several other currencies, which decreased the cost of U.S. exports abroad. The value of the U.S. dollar declined 5 percent relative to the Canadian dollar and peso, and 9 percent relative to the yen. The exception was Europe, where the U.S. dollar gained 7 percent in value relative to the euro, which also contributed to the smaller gains in exports to the area.
Exports buoyed the manufacturing industry during 2010, as they represent more than half of manufacturing GDP nationally and in the district range from 28 percent of manufacturing GDP in South Dakota to 54 percent of manufacturing GDP in North Dakota (see Chart 2). According to a survey of purchasing managers by Creighton University (Omaha, Neb.), manufacturing activity increased every month during 2010 in Minnesota and South Dakota, and for most of the year in North Dakota.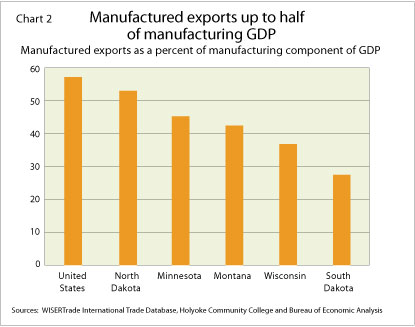 Machinery top export industry
Machinery, computer and electronic equipment, and transportation were the three largest manufactured export industries in the district during 2010. Machinery comprised 24 percent of total manufactured exports and grew 14 percent in 2010. The third largest industry, transportation, posted the strongest increase among the larger export industries at 28 percent.
Since the start of the economic recovery, a number of businesses in mining and oil drilling have expanded production, and export growth has followed suit. The value of petroleum and coal shipments increased 138 percent last year, and primary metal manufacturing grew 38 percent. However, the two sectors combined represent less than 3 percent of district manufacturing exports.
Japan's impact on exports
The effects of the earthquake and tsunami that struck Japan on March 11 rippled around the world. In the district, a number of businesses noted supply disruptions due to the events in Japan. While the flow of goods from Japan to the United States was affected, questions remain about how future exports will trend.
Exports to Japan represent a relatively modest share of district manufactured exports, ranging from 0.5 percent of manufactured exports in North Dakota to 9.5 percent in Montana. Major district goods shipped to Japan include computer and electronic products, machinery, and food and kindred products.
District manufactured exports to Japan increased more than 16 percent during 2010, reaching a near record $1.8 billion. However, since 1997, export growth to Japan has been relatively flat, the slowest growth among major export destinations. All told, a change in exports to Japan will not drastically change the district's export picture.
It's also unclear how exports to Japan will be affected by the earthquake. On the one hand, the need for rebuilding will increase demand for a number of construction-related manufacturing goods. On the other hand, the impact of the earthquake may reduce economic growth more broadly, which would reduce demand for district goods. During the first quarter of 2011, the Japanese economy shrank 3.7 percent at an annual rate, which included a drop in consumer spending.
March manufactured export data for Japan don't indicate any sudden changes from trend, increasing 10 percent nationally compared with a year ago. District manufactured exports to Japan decreased 12 percent in March from a year ago, but that figure is coming off a strong gain in March 2010. Only time will tell how a natural disaster on the other side of the world will affect district exporters.
---