Primary care doctors thin on the ground
Alarmed by a "critical public policy problem"—a scarcity of primary care physicians—the Obama administration recently announced a plan to deploy "mystery shoppers" to phone doctors' offices to see how difficult it is to get an appointment. Health system officials reasoned that increased medical coverage under health care legislation enacted last year will worsen a shortage of primary care doctors in many parts of the country.
The covert survey plan was nixed after complaints from doctors, but the initiative raises a question about how Ninth District states compare with the nation as a whole in per capita numbers of primary care physicians—medical doctors such as family practitioners, internists and pediatricians who initially see people in need of medical care.
It turns out that primary care physicians are thinner on the ground in every district state compared with the national average, according to 2010 occupational data compiled by the Bureau of Labor Statistics (see chart). Nationwide, there are about 12 primary care physicians for every 10,000 people. Minnesota, a state with a reputation for excellent medical care, has close to 10 primary care doctors for the same population, tops in the district. North Dakota has the lowest concentration, with fewer than four.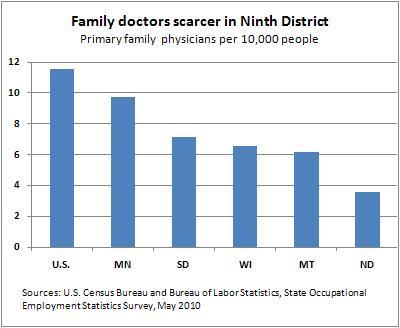 Why do people in district states on average have relatively fewer primary care physicians at their service than the typical U.S. resident? The distribution of Health Professional Shortage Areas (HPSAs) gives a clue. These are federally designated areas or population groups in which there are at least 3,500 people for every primary practitioner.
The correlation of HPSAs—areas considered medically underserved by the Health Resources and Services Administration—with rural areas is striking; North Dakota has a number of HPSAs, the vast majority of which lie outside metro areas. (Go here to create HPSA maps for any district state.)
The inference? Few doctors find it profitable professionally or personally to work in rural areas, which dominate the Ninth District landscape. Whether this amounts to a physician "shortage" in an economic sense is uncertain. Rural residents would certainly prefer to have greater access to physicians. But a low physician-population ratio suggests that rural communities and their residents have been unable or unwilling (depending on the household) to pay the fees necessary to attract more frontline doctors to town.