The Pagami Creek fire in northeastern Minnesota is one of the biggest forest fires in state history. Spawned by a lightning strike in the Boundary Waters Canoe Area Wilderness (BWCA) near Ely, the fire has burned for almost two months, scorching about 150 square miles. The U.S. Forest Service mobilized a small army of nearly 900 firefighters to battle the blaze, which was still not fully contained as of mid-October.
The cost of fighting the fire, borne by U.S. taxpayers, was considerable, according to Forest Service figures. As of early October, federal and state agencies had racked up about $21 million in firefighting expenses.
Based on a Forest Service breakdown of costs as of late September (see chart, below), labor accounted for the biggest chunk of total spending so far: roughly $12 million to pay fire crews (including elite "hotshot" units brought in from western states) and other personnel, such as fire commanders and contractors. Aviation was the next biggest expense—over $4 million to dispatch airplanes and helicopters on water bombing and reconnaissance missions. Other expenses included equipment and camp support—buses, mobile showers, portable toilets and other items needed to maintain crews in the field.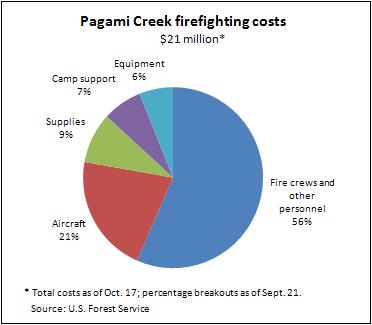 But these firefighting expenses are only a small portion of the full costs of the Pagami Creek fire, which will keep rising long after the last ember is extinguished. Estimates by wildfire experts of the total cost of large, out-of-control forest fires range from five to 50 times the cost of suppressing them. Short- and long-term costs not tallied by the Forest Service include burned timber, damage to roads and private property, lost business revenues, degraded recreational value, destruction of wildlife habitat, and ongoing repair and rehabilitation expenses. The "all-in" cost of a big wildfire can run into hundreds of millions of dollars.
However, the Pagami Creek fire probably won't exact as high a toll as the Ham Lake fire, a 2007 blaze in northern Minnesota that destroyed nearly 150 buildings. The Pagami fire mostly burned within the BWCA, only briefly threatening structures near the southern edge of the wilderness. Homes and businesses in the path of a wildfire are expensive to protect and even more costly to replace if firefighting efforts fail.
For more discussion on the costs of wildfire in the Ninth District, see "Money to burn," in the July 2010 fedgazette.