Less affluent students face mounting college debt challenges
As tuition costs continue to rise, saving and paying for college is an increasingly critical issue for families that have one or more members pursuing post-secondary education. The financial consequences of rising college costs on student and family budgets are evident from current statistics. What's more, a number of recent reports confirm that students from low- to moderate-income (LMI) families are more adversely affected by the challenges of saving and paying for college than students from more affluent families. In particular, these reports suggest that students from LMI families rely more on student loans than savings to finance their educations and, consequently, they graduate with comparatively greater student debt burdens than their more affluent peers.
Paying and saving for college, by the numbers
Nationally, two-thirds of all 2010 college graduates left school with student loan debt, and the average amount of debt for those students was $25,250—a 5 percent increase from the previous year.1/ Student loans have now surpassed credit cards as the second-largest category of debt on household balance sheets.2/ The elevated level of student debt comes at a time when there are fewer employment opportunities for recent college graduates than in previous years.3/ The poor labor market for college graduates has likely influenced a recent rise in student loan default rates. (For more on this, see the April 2012 issue of fedgazette, the Minneapolis Fed's business and economics newspaper, at www.minneapolisfed.org/publications_papers/fedgazette/index.cfm.)
Recent reports confirm what common sense suggests: students from LMI families (i.e., families with household incomes under $60,000) rely on borrowing to finance a larger portion of their college costs compared to students from more affluent families. According to the College Board, 7 out of 10 students from LMI families who earned a four-year degree from a public institution graduated with loans, compared to 4 out of 10 students from families with household incomes above $120,000. 4/ (See the graph below.)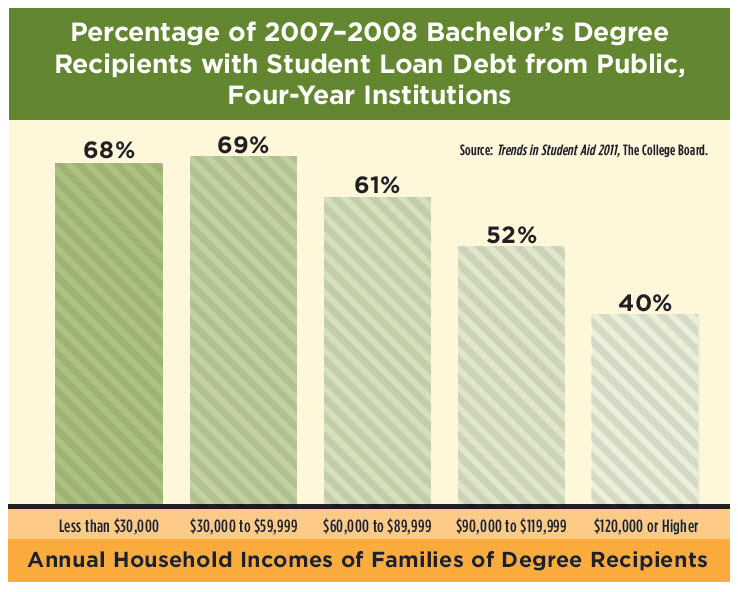 click to view larger image
The greater reliance on student loans is due in part to the fact that LMI families have, on average, less savings for college than more affluent families have. For example, the government sponsored education finance agency Sallie Mae reports that families earning less than $35,000 a year had saved, on average, $13,741 for college, while families earning more than $100,000 annually had saved an average of $51,067 for college. 5/ With less in savings, LMI families have less money to apply to college costs. According to Sallie Mae, students from LMI families used personal or parental savings to cover 31 percent of college costs, on average. In comparison, among middle- and high-income families, the share of college costs covered by savings was 41 and 53 percent, respectively. 6/
Future implications
Even as unemployment rates fall and the labor market improves, increases in college costs and student debt levels will likely persist. These economic barriers and college funding challenges may also affect the educational attainment rates of students from LMI families. In one recent study, 55 percent of students from families with annual household incomes below $32,000 had not obtained a degree after starting college six years earlier, compared to 32 percent of all students from families with annual household incomes above $92,000.7/
Some research suggests that these financial challenges may have additional, longer-term effects. One recent study of educational attainment found that, due to credit constraints, college-ready students from low-income families are becoming less likely to attend college than their more affluent counterparts.8/ Given this outlook, making sure that students from LMI families have access to higher education opportunities will remain a challenge.
---
1/ Average 2010 student debt amounts in Ninth District states were: Michigan, $25,675; Minnesota, $29,058; Montana, $22,768; South Dakota, $23,171; and Wisconsin, $24,627. North Dakota data were not available. See Student Debt and the Class of 2010, The Project on Student Debt, at projectonstudentdebt.org.
2/Based on data from consumer credit reports, the total debt balance of American households was estimated to be $11.7 trillion in the third quarter of 2011. Residential mortgage debt made up by far the largest share of the household debt balance (72 percent). Student loan debt came in a distant second (7 percent), surpassing credit card and auto loan debt (each at 6 percent). See Quarterly Report on Household Debt and Credit, Federal Reserve Bank of New York, November 2011, at www.newyorkfed.org.
3/For example, as of May 2012, the overall unemployment rate nationally was 8.2 percent, while the rate for 20- to 24-year-olds was 12.9 percent. See Current Population Survey, Bureau of Labor Statistics. Available at www.bls.gov.
4/Trends in Student Aid 2011, The College Board. Available at www.collegeboard.org.
5/How America Saves for College 2010, Sallie Mae. Available at www.salliemae.com.
6/Ibid.
7/Persistence and Attainment of 2003–04 Beginning Postsecondary Students: After 6 Years, National Center for Education Statistics, U.S. Department of Education, December 2010.
8/Lance Lochner and Alexander Monge-Naranjo, The Nature of Credit Constraints and Human Capital, National Bureau of Economic Research Working Paper No. 13912, April 2008.