Message from the First Vice President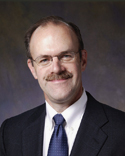 2011 was a year of both continuity and change for the Bank. During the year, our staff in research and policy, supervision and regulation, and operations continued their work to fulfill our responsibilities to the Federal Reserve's mission to foster the stability, integrity and efficiency of the nation's monetary, financial and payments systems in order to promote optimal economic performance. In 2011, we also experienced notable change in some areas of our operations. This change was due to dynamics long evident in the System's operations: operational consolidation to improve efficiency and growth in statutory responsibilities.
For 2011, the Bank posted strong operating results. Expenses were below budget and operating metrics were achieved. The accompanying "2011 by the Numbers" highlights the scope of some of the Bank's operations. Over the past decade, this "By the Numbers" summary of some of our key operational activities has changed enormously. In my 2007 letter, I noted that during 2006, the Bank had processed 769 million checks worth $851 billion. By 2010, this activity and the several hundred employees involved in it were gone, as the System completed its conversion of check processing from physical handling of the paper items to electronic processing of digital images of the items and the consolidation of this physical processing activity from 45 offices to just one. In less than a decade, we have seen a complete transformation of the check processing business made possible by the System's leadership to put check images on the same legal footing as the original items.
This dynamic of technological change creating opportunities for greater efficiency and the System reorganizing and consolidating its operations to take full advantage of these opportunities is evident across our operations. In information technology, we are engaged in a multiyear effort to consolidate our server farms and networks Systemwide to achieve greater efficiency. As 2011 began, the U.S. Treasury's Bureau of the Public Debt was in the process of selecting between the Minneapolis Fed and the Pittsburgh Branch of the Cleveland Fed to be the sole surviving site for conducting retail securities operations as fiscal agent for the Treasury. At one time, all 12 Reserve Banks conducted this work in their districts for the Treasury. Technology has allowed consolidation and significant operational savings. In February, the Treasury announced its selection of Minneapolis as the surviving site. We completed this consolidation in 2011 on schedule and on budget.
For the System's supervision and regulation area, assuming expanded responsibility pursuant to the Dodd-Frank Act as systemic risk regulator, supervisor of thrift holding companies and supervisor of systemically important financial market utilities requires significant additional resources. Evolving regulatory and supervisory frameworks require increased emphasis on the analysis and review of financial organizations' risk profiles. In this regard, the Bank is strengthening the analytical and technical skills of staff in order to address these new demands.
In 2011, there were a number of opportunities for the Bank to leverage its expertise and expand its System responsibilities. The Bank's legal function assumed a new responsibility for System work on employee data privacy. The Bank's information technology function is partnering with the Chicago Fed to lead an initiative to evaluate content management technology and is working with the Board of Governors' supervision and regulation function on a broad document management framework and on supervision and regulation's specific document management tool selection.
Another area of greater emphasis in 2011 and going forward is the Bank's outreach efforts. To address this priority, the Bank hired a senior vice president responsible for outreach and community affairs as a member of the management committee. She oversees our efforts to facilitate interaction and provide analytical support on issues ranging from the inner city to rural areas and to American Indian reservations. She is also coordinating our efforts to strengthen and broaden our dialogue with business owners, bankers, community leaders and community groups. As part of these efforts, we are continuously evaluating our activities and communications with the goal of enhancing transparency, understanding and accessibility.
Last year, we established an Office of Minority and Women Inclusion consistent with Section 342 of the Dodd-Frank Act. While the office is new, its objectives, which include promoting inclusion of minorities and women across all levels of our workforce, ensuring participation of minority- and women-owned businesses in our procurement activities and fostering financial literacy, reflect long-standing priorities of the Bank. The annual report of the OMWI director, published each March, will provide us a new channel to communicate our activities and results.
Going forward, the Bank will continue to seek opportunities to leverage its strengths in making important System contributions while at the same time pursuing financial and operational strategies directed at ensuring that all System objectives are met efficiently and with high quality. The Bank will continue its focus on academic research in applied economics and is expanding its capabilities related to selected public policy issue-oriented research.
The Bank's continued success in addressing challenges is a result of our employees' strong commitment to excellence and the Bank's core values. As we look to the future, this unwavering commitment to our core values and to acting in the public interest, as well as our commitment to excellence, will allow us to successfully meet future challenges.
James M. Lyon
First Vice President