Mini-banks provide hands-on education in personal finance
During her 18-year teaching tenure at New Richmond High School in New Richmond, Wis., Ann Scharfenberg has witnessed the tenuous understanding many of her young students have of personal finance. As an economics teacher who includes a personal finance component in her curriculum, she has seen, all too clearly, a disconnect between her students' rosy expectations of their financial futures and the black-and-white realities of adulthood.
"They weren't getting the basics about income and expenses," she says.
To help dispel some of the misunderstandings, Scharfenberg partnered with WESTconsin Credit Union, a financial service provider serving the western Wisconsin region of the Ninth Federal Reserve District, to start a dialogue with students on the fundamentals of personal finance. When representatives from WESTconsin made in-class presentations on everything from credit reports to personal loans to the different financial services that banking institutions offer, Scharfenberg saw an impressive level of engagement among her students.
"The kids were really excited about the chance to learn," she recalls. "They would go home after a presentation, talk to their parents, and then, a few days later during another presentation, ask many more questions."
Sound financial education, delivered in class or in practice, is critical to helping young people develop the skills and knowledge needed to make sensible decisions about money. To offer practical financial education for New Richmond High School's students, WESTconsin Credit Union opened a scaled-down branch—or "mini-bank"—within the school, in the cafeteria near the lunch line. The mini-bank provides a hands-on means for kids to learn the financial basics that will serve them in their adult lives.
"They can stop in and ask questions any time," says Marie Gremore, who serves as the office supervisor at the New Richmond WESTconsin Credit Union and is a frequent presence at the New Richmond High School mini-bank. "We have a passion to help students learn about finance. And any little part that we can do to help them learn is worth it."
A long history of student savings
At their core, mini-banks are school-based, student-oriented savings operations that enable students to open savings accounts with legitimate banking institutions. The concept of a school-based savings program is not new; according to the U.S. Department of the Treasury, "In 1915 ... the American Bankers Association staff collaborated with New York City School Board members and local thrift institution personnel to set up school banks in schools across the city. By 1917, the program included 180 public school-based institutions and $250,000 of student savings deposits"1/ —more than $4.5 million in 2012 dollars.
Mini-banks in the Ninth District date to at least 1996, when the late Elouise Cobell, who was then serving as the executive director of the Native American Community Development Corporation (NACDC), a nonprofit affiliate of Denver-based Native American Bank, led the effort to open a mini-bank at Browning Middle School in Browning, Mont., on the Blackfeet Indian Reservation. The program enjoyed such success that other schools in Montana began operating mini-bank programs through partnerships with local Native American Bank branches. In 1999, First Interstate Bank, a regional bank headquartered in Billings, Mont., opened its first mini-bank at Hardin Intermediate School in Hardin, Mont.
"We modeled our mini-bank programs after the successful operation of Elouise's mini-bank program on the Blackfeet reservation," says Kelly Bruggeman, executive director of the First Interstate Foundation.
Although the mini-bank program sponsored by WESTconsin Credit Union opened later, in 2008, its goal is the same as that of its Montana predecessors: to provide a means for students to save and learn.
Enticements and engagement
While mini-banks in the Ninth District share a common goal, they vary in setting and structure. In New Richmond, for instance, WESTconsin Credit Union employees operate a physical branch in the school, while at Browning Middle School, school officials work with a trained "Mini-Bank Coordinator" to operate a classroom-based, student-staffed and -directed savings program in conjunction with Native American Bank. Likewise at Lincoln Elementary in Miles City, Mont., where school sponsors help operate a student-run, classroom-based mini-bank connected with First Interstate Bank.2/
Services offered by mini-banks in the Ninth District vary, too. For example, at New Richmond High School, as well as at the three other high schools in which WESTconsin Credit Union operates mini-banks, students can open checking accounts in addition to savings accounts.
In order to entice more students to learn positive savings habits, most of the mini-banks in the District offer low-cost products or other attractions. WESTconsin Credit Union, which operates three middle school-based mini-banks in addition to its four high school-based ones, offers all mini-bank customers a $5 match on initial deposits. At the high school-based mini-banks, WESTconsin also offers a $100 certificate of deposit—a product that features a considerably smaller minimum deposit than the current $500 CDs available to nonstudents at the credit union. Students at schools with mini-banks served by Native American Bank receive piggy banks when they open accounts, while at the mini-banks sponsored by First Interstate Bank, student savers earn 4 percent interest on their savings balances, well above the market rates available across the nation.
"We believe that offering the student savers a higher interest rate provides an incentive that helps the students see the power of saving," explains Bruggeman of First Interstate Foundation.
All the mini-banks use student engagement to teach valuable organizational and communication skills. The NACDC, which operates 10 Native American Bank-affiliated mini-banks in Montana schools (plus 7 more in schools in Idaho and Colorado and 1 in development on the Red Lake reservation in Minnesota), recruits a board of directors composed of students to set policies for each mini-bank. These same board members staff the bank during operating hours, working as tellers, new account representatives, and customer information representatives. Students hold similar positions in the mini-bank operations connected with First Interstate Bank, which sponsors 16 mini-bank programs in Montana and South Dakota (and 5 more in Wyoming). And at the 4 WESTconsin Credit Union high school mini-banks, students work in paid teller positions to gain front-line experience in a retail financial services setting.
"Last year, we had ten students apply for our two teller positions," says Russ Blasius, vice president of the New Richmond WESTconsin Credit Union. "They were all very impressive. This year there has been strong interest in the positions as well."
Scharfenberg adds, "It's a nice opportunity for students to get work experience and earn some income."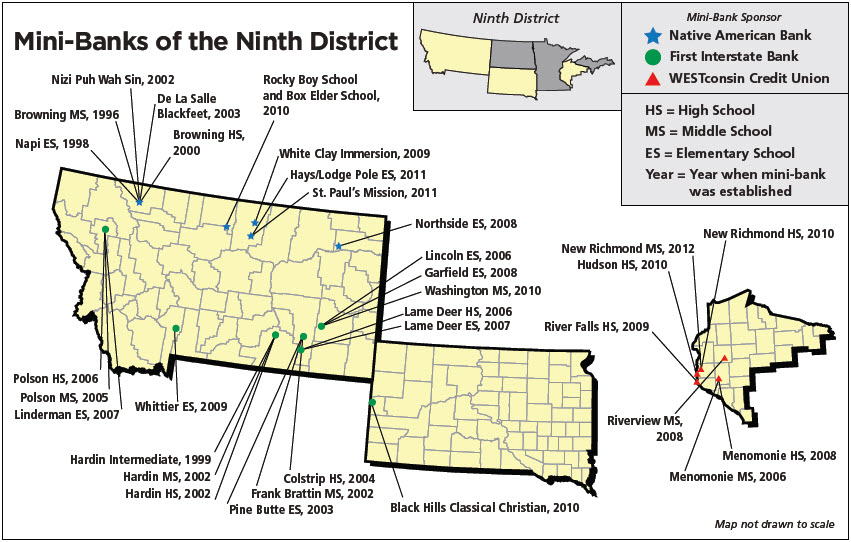 click to view larger image
Mutual benefits
Mini-bank programs can provide benefits for financial institutions and students alike. In addition to the positive relationships they develop with their host communities, the banks and credit unions behind each mini-bank operation are developing banking relationships with many students who are likely to emerge from school as responsible patrons. These relationships are especially important given that, as of 2009, approximately 9 million U.S. households (7.7 percent) were unbanked, meaning they had neither a checking account nor a savings account. Moreover, 15.6 percent of American Indian households, the children of which are the primary constituency served by the NACDC's mini-banks, are unbanked.3/
"Mini-banks teach kids the fundamentals of saving, and they carry those skills with them into adulthood," says Angie Main, the current executive director of the NACDC. "They give students an awareness of finance and help build trust of banking among students."
Mini-banks may have a regulatory benefit for financial institutions as well. Because the Community Reinvestment Act (CRA) encourages depository institutions to help meet the needs of the communities in which they operate, especially low- and moderate-income communities, banking organizations that operate mini-bank programs directed toward low- to moderate-income communities may receive positive CRA consideration. Financial institutions that are interested in the potential CRA implications of mini-banks should contact their federal banking regulator to discuss the matter.
For students, the benefits of participating in mini-bank programs include:
Learning good savings habits. Understanding the need for savings and exercising fiscal discipline can help students achieve financial independence as they enter adulthood.
Discerning the quality of financial services. Exposure to such concepts as interest rates and certificates of deposit can help students understand the range of banking products available to them. Students may rely on the lessons learned in mini-bank programs while making banking choices as adults.
Developing confidence in dealing with financial institutions. Early exposure to mini-banks can prepare students for interactions with banks and credit unions as they reach adulthood.
Unanticipated benefits can accrue to mini-bank participants as well. Main relays the story of a young man who was attending college in Missoula, Mont., and was in the process of applying for scholarships.
"He wasn't sure what to write about, but then he thought of his experience with the mini-bank program and decided to write about it. And guess what? He was awarded the scholarship."
A hand-in-hand partnership
Although scholarships lie beyond the expected outcomes of mini-bank programs, these school-based savings opportunities can produce win-win scenarios for all parties involved. Students learn the fundamentals of personal finance and financial institutions earn trust through their community outreach.
According to Russ Blasius of WESTconsin Credit Union, the relationship that was forged years ago between New Richmond High School and the credit union has produced this enhanced level of cooperation. Says Blasius, "We'll be there as long as they want us to be, and we'll assist in financial education as they see fit. Our partnership goes hand-in-hand with the financial literacy goals of the school and what we want to do in the community."
For more information on the mini-bank systems discussed here, contact Marie Gremore, WESTconsin Credit Union, at 715-246-2068 x7533; Jaime Bechel, NACDC, at 406-338-2992; or Kelly Bruggeman, First Interstate Foundation, at 406-255-5396.
Off-the-shelf mini-bank products
Starting a mini-bank from scratch involves many decisions about program details, including what type of banking services to offer, how to record transactions, where and when to operate the mini-bank, how to develop marketing materials, and how to determine appropriate student participation levels. However, there are some off-the-shelf mini-bank packages available that are designed to ease the start-up process. One example, KidzBANK (www.kidzbank.com), is an all-inclusive mini-banking kit that supplies everything from the software students use to make deposits to the marketing materials used to publicize the savings program. KidzBANK requires a partnership with a local financial institution. Another off-the-shelf product, School Savings (www.schoolsavings.com), is an online school-banking program that works with students' existing savings accounts at any financial institution.
---
1/ "School-Based Bank Savings Programs: Bringing Financial Education to Students," Community Developments, Office of the Comptroller of the Currency, April 2009.
2/ Differences between credit-union-sponsored and bank-sponsored mini-banks may be due in part to the fact that these financial institutions operate under separate regulatory schemes. Credit unions, banks, or other financial institutions that are interested in sponsoring mini-banks should contact their primary regulator for guidance.
3/ FDIC National Survey of Unbanked and Underbanked Households, Federal Deposit Insurance Corporation, January 2009. Available at www.economicinclusion.gov.