Moderate rise in rail rates powers district coal
The Powder River Basin in southeastern Montana and northeastern Wyoming is by far the largest supplier of coal for U.S. power plants; the region provides almost half of the roughly 900 million tons burned annually to produce electricity. Low sulfur content is one reason why Powder River coal is popular. Another is low prices; huge surface mines produce coal for $8 to $15 per ton—less than one-sixth the price of coal mined in the Appalachian Mountains.
A recent government report shows that Powder River coal became an even better deal for power companies over the past decade, thanks in large part to only moderate increases in rail transportation costs.
Trains carry more than 70 percent of U.S. coal used to generate electricity, so changes in rail rates can have a big impact on the total cost of coal delivered to power plants. That's especially true for Powder River coal, hauled in long unit trains over hundreds of miles; transportation accounts for more than half of the total delivered cost of coal from the region.
The U.S. Energy Information Administration tracked rail shipment prices to power plants from 2001 to 2010 and found substantial differences among the six major U.S. coal basins. EIA analysts found that, adjusted for inflation, rail transport rates for Powder River coal increased less than those for coal from other coal-producing regions (see chart). Powder River carriage rates rose less than 2 percent annually over the nine-year period, although they rose faster from 2009 to 2010.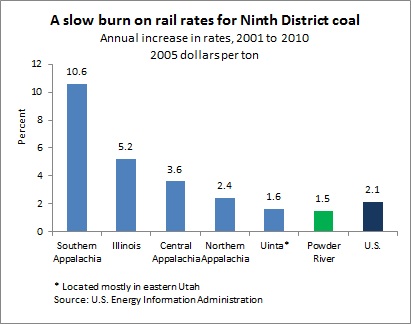 However, average increases in rail rates between Powder River mines and specific states varied widely. For example, rates for shipping Wyoming coal to Minnesota power plants increased 7 percent annually, while costs for Wyoming coal headed to Wisconsin plants rose only 3 percent per year.
In addition, EIA found that rising mining costs in other parts of the country have made Powder River coal more cost competitive nationally. From 2007 to 2010, average delivered prices for district coal increased 22 percent—less than half of the price hike for coal from mines in Kentucky and West Virginia. As a result, Powder River producers have made inroads into Midwest and southeastern markets once predominantly served by central Appalachian coal.