Bakken tops in oil production growth
In October, the United States reached an important milestone on the march toward energy independence—more crude oil was pumped from domestic ground than was shipped in from abroad. Domestic production topped 7.7 million barrels per day (bbl/d), exceeding imports for the first time since 1995, according to the U.S. Energy Department.
That milestone might not have been reached—or it would have taken longer to reach—if not for surging crude production in the Bakken region of western North Dakota and eastern Montana. In September, the district's oil patch hit its own milestone, crossing the 1 million bbl/d threshold. The bulk of that production came from wells in North Dakota, the nation's second-biggest oil-producing state.
North Dakota and Montana account for only about 13 percent of total U.S. production. But output has grown—and is expected to keep growing—faster in the Bakken region than in the rest of the continental United States and in the nation as a whole (see chart). The North Dakota Pipeline Authority, a state agency that supports pipeline development, forecasts at least a 19 percent increase in Bakken production through the end of next year.
The NDPA recently updated its forecast to reflect advances in well development and drilling techniques over the past few years. Oil companies are spacing well sites closer together—a practice known in the industry as "downspacing"—and drilling multiple wells from single concrete pads. Both methods boost drilling efficiency and reduce labor and infrastructure costs. In addition, producers are tapping into deeper oil reserves—layers of oil-bearing shale below already established oil zones in the Bakken and Three Forks formations.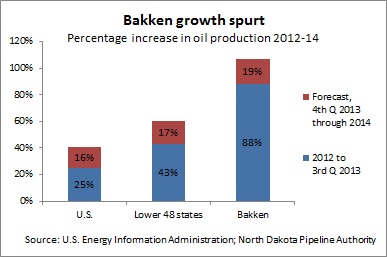 These advances—facilitated by high oil prices that have prompted investment in shale oil plays across the country—hold promise for more record-setting months in the Bakken. The chart shows the NDPA's conservative production forecast; another development scenario projects even higher oil output in 2014 and for years to come. The NDPA's latest long-range forecast shows Bakken production peaking a decade from now at about 1.5 million bbl/d.