The federal government administers a veritable alphabet soup of guest worker visa programs through which employers may hire foreign workers on a temporary basis. Each is designed for specific types of workers, and there are rules meant to protect visa holders and U.S. workers.
Most work visa programs are administered by U.S. Citizenship and Immigration Services and the Department of Labor's Employment and Training Administration. The U.S. Department of State is chiefly responsible for the J-1 cultural exchange program. A brief guide: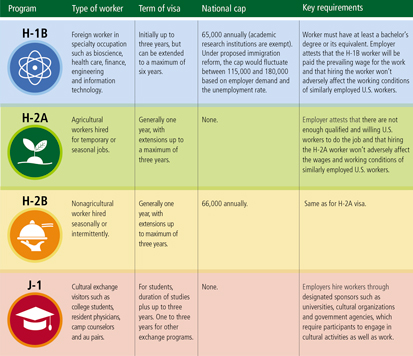 Other guest worker programs include the O-1 visa, for foreigners with extraordinary ability in the sciences, arts, education, business or athletics; the L-1A, for corporate transfers from abroad; and the H-1C, for foreign nurses working as registered nurses in medically underserved areas.
Proposed immigration reform would create new guest-worker categories meant to ease restrictions on foreign temporary labor without harming U.S. workers. The "W" visa would allow low-wage nonagricultural workers to work year round, not just seasonally as in the H-2A and the H-2B programs. And undocumented agricultural workers who can demonstrate that they've worked in the country for a certain amount of time would be issued a "blue card" and permitted to apply for permanent U.S. residency.