Development programs help ex-offenders join the workforce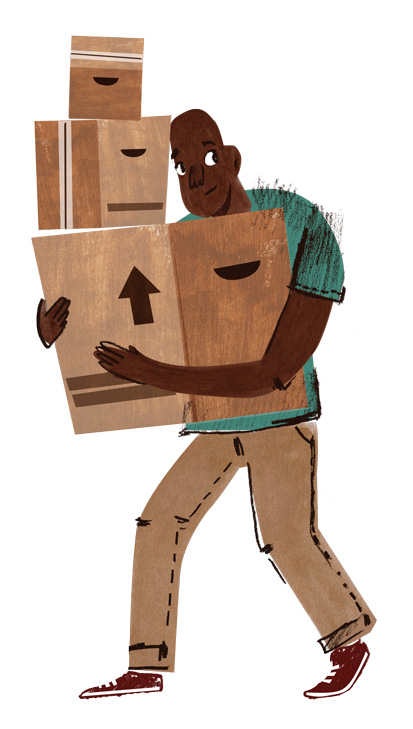 When the subject of ex-offenders in the workforce comes up, one of the questions that Lisa Lundmark likes to pose requires little imagination to answer.
"If the public doesn't want to give ex-offenders the support they need to get a job, what is the natural result of that?" asks the strategic advancement manager at AccessAbility, Inc., a Minneapolis-based nonprofit organization that helps people with multiple barriers to employment find high-quality jobs. "There are so many people who want to turn up their nose at ex-offenders or look past them, but the outcome of that is not good. They need a second chance."
For an ex-offender reentering mainstream society, finding legitimate, gainful employment is an essential step toward creating a productive new life. But whether due to a lack of education and skills on the part of the job applicant or to bias on the part of employers, getting hired can be a formidable challenge for someone with a criminal record.1/
AccessAbility and other similarly missioned organizations across Minnesota recognize this quandary and have developed an assortment of programs to help ex-offenders obtain—and maintain—the best living-wage jobs they can find. The underlying principle of the programs is that helping ex-offenders find employment doesn't just improve the financial circumstances of the former inmates themselves; it also has positive secondary effects that accrue to society in the form of reduced incarceration costs, increased income and payroll tax receipts, lessened reliance on social services (e.g., Medicaid, food stamps, etc.), and decreased crime, among others. In the view of Lundmark and her counterparts at other organizations that work on this issue, workforce development programs for ex-offenders make sense both economically and socially.
Greater Twin Cities United Way, which provides support to a range of anti-poverty programs throughout the metropolitan region, is committed to supporting employment efforts for people with criminal records. Says Andrea Ferstan, Greater Twin Cities United Way's director of system strategies: "With a shrinking workforce, high incarceration costs, and a changing labor market that demands an array of foundational workplace behaviors and technical skills, we can no longer afford to have a significant portion of our population unprepared and unable to succeed in our workforce and in our communities."
The numbers show the need
To get a sense of the potential demand for ex-offender workforce development programs, look no further than the staggering number of people who have exited or currently inhabit the American prison system. According to one analysis, there were up to 6.1 million ex-prisoners in the U.S. in 2008.2/ In 2012, more than 1.5 million men and women were incarcerated in state and federal prisons. In Minnesota, which has the highest inmate population of the states that lie entirely in the Ninth Federal Reserve District, approximately 9,900 people were held at the gopher state's eight adult prisons.3/ That number ranks as the 32nd largest prison population of the 50 states. However, more than 122,000 men and women in Minnesota were supervised by community corrections and county probation programs in 2012—a large group of individuals who have criminal records that may give prospective employers pause.4/
The cost of corrections systems is staggering as well. In 2010, federal, state, and local governments spent, in aggregate, more than $80 billion on corrections. State, county, and municipal corrections systems in Minnesota spent a total of $860 million in that same year.5/ According to John Schadl, a spokesperson for the Minnesota Department of Corrections, the average annual cost of incarcerating an inmate in 2012 totaled nearly $31,000. With so much money spent on a population that has a recidivism rate, in Minnesota, of 61 percent, 6/programs that help guide ex-offenders into sustained, gainful employment could help produce savings and benefits for both the ex-offenders themselves and society at large.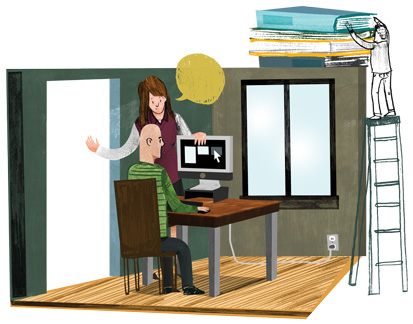 Same endpoint, different paths
Workforce development organizations that are geared toward people with barriers to employment are actively working with the ex-offender population in metropolitan areas throughout Minnesota. (See the sidebar below for a link to more information). These organizations all operate their programs with a common goal in mind—to help ex-offenders secure and sustain living-wage work—and they all address the fundamental requirements for gainful employment: soft skills development, basic education, and hard skills training. But each has designed its program curriculum in a distinct way, often to reflect the specific needs of its participants.
AccessAbility: Earning a wage from day one
For instance, AccessAbility offers career training services for ex-offenders through a three-step program that builds on a progression of responsibility and independence. According to Lundmark, the organization's Project Connect ex-offender program, which it launched in 2011, helps individuals with criminal records obtain jobs that offer the highest potential wage per hour, with maximum earning potential and upward mobility.
"We want people to sense that there's actually a career path that they can follow, and that they can earn more money the longer they work," she says, explaining that program participants initially earn approximately $7.50 per hour and, on average, earn $10.93 per hour upon placement. "What differentiates us from other organizations is that 100 percent of participants come to us unemployed, and the day they're enrolled in our program, they start earning wages. From day one, they earn a paycheck."
AccessAbility advances participants through the three phases of its program as they acquire the skills—soft and hard—necessary for more demanding jobs with independent employers. The first phase involves working at one of AccessAbility's business service operations located at one of the organization's own sites; participants typically engage in jobs like materials recycling or packaging and assembly services.
The second phase again involves working for an AccessAbility-owned business, but one that is situated at the site of an external employer; participants provide services necessary for the business's operation, such as light industrial work. And the third phase involves securing a permanent job with the phase two employer or another external business that is independent of AccessAbility.
The Project Connect program takes between three months and one year to complete, depending on the participant. Job developers and case managers assist program enrollees throughout the process to address barriers to employment. They continue to monitor participants for up to two years after the conclusion of the program. So far, more than 250 ex-offenders have graduated through the Project Connect program and have obtained jobs. After one year, 91 percent of those placed had retained their jobs.
Twin Cities RISE!: Emphasizing empowerment
Twin Cities RISE! (TC RISE!) is another organization that offers workforce development programs for people with criminal histories. But what differentiates this organization from other similarly missioned nonprofits is its focus on personal empowerment.
"We believe that helping individuals find internal strength is absolutely critical to support the needs of the people we serve," says Arthur Berman, executive director of TC RISE!. "Our training doesn't help them just get a job, it helps them keep a job. To us, that is the single most important measure of success."
With offices in Minneapolis and St. Paul, TC RISE! has been providing, for more than two decades, a "long-term, high-touch model" that not only teaches the soft and hard skills required of many employers but also helps program participants explore and alter some of the personal, ingrained attributes that may have prevented them from successfully pursuing satisfying, legitimate work—attributes like emotional regulation, empathy, and self-esteem. Personal coaches work with participants regularly.
"We don't believe in quick fixes," says Berman, noting that TC RISE! serves between 500 and 600 individuals per year. "Sometimes people drop out because they're not ready for the rigors of our program. But the ones that complete the work succeed at high rates."
According to Berman, people who have finished the program, which takes about a year, can expect to secure a job that pays, at minimum, $20,000 annually. In 2012, in fact, TC RISE! graduates earned an average of $25,000 a year—a significant increase from the average of $6,100 a year they earned in the period between being released from prison and going through the organization's curriculum. Moreover, Berman says that 81 percent of the program graduates remained in their jobs for at least a year and 70 percent stayed for a second year. Only 16 percent of the people who finish the program reoffend. Among those who enter the program and drop out, the rate of reoffending is higher—33 percent—but still substantially lower than the 61 percent statewide average.
SOAR Career Solutions: Schooling individuals to move up
In Duluth, Minn., SOAR Career Solutions (SOAR) has been helping ex-offenders transition from incarceration to the community since 2006, when it launched its Community Offender Re-entry Program (CORP). SOAR assists CORP participants on a range of needs, including workforce development.
Like the programs from AccessAbility and TC RISE!, SOAR's CORP uses a development coach/case manager for each participant. However, instead of working with ex-offenders after they are back in the community, SOAR begins working with individuals approximately two to three months prior to their prison release date to ensure a smoother transition back into society. Once they're released from prison, CORP participants move on to SOAR's pre-employment workshops and training opportunities, which are also open to all in-need community residents. Participants go through hard- and soft-skills trainings similar to those taught by AccessAbility and TC RISE!. They can also take short-term, fast-paced training courses that are funded through grants from the Minnesota Department of Employment and Economic Development and local foundations. The courses last from 8 to 12 weeks and are offered by Lake Superior College, an accredited institution of higher learning. Course participants can earn industry-recognized certification in fields such as welding, industrial sewing, machine operation, and truck driving.
"The schooling we provide from the college is a building block to move up," says Emily Edison, SOAR's executive director. According to Edison, SOAR's CORP has assisted nearly 400 individuals since its founding. Of the 54 clients CORP has served since July of this year, one-third are now employed. Except for some individuals who either cannot work due to disability or are pursuing life-stabilization goals prior to launching a job search (goals such as securing safe housing or receiving chemical dependency treatment), most of the remaining clients are now either searching for employment or furthering their education and skill-building.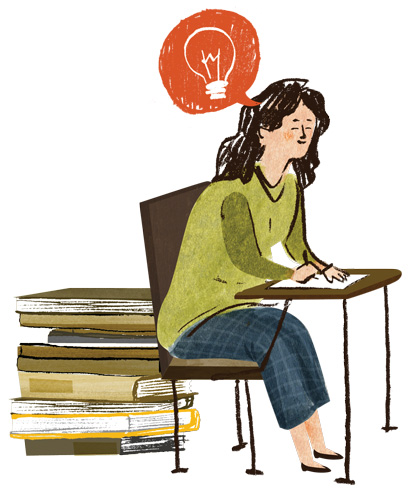 Working with other support organizations
SOAR's activities extend to much more than just workforce development, however. It also connects ex-offenders to services that they often need to successfully reintegrate into society, such as housing, mental health support, and transportation. The same is true of TC RISE! and AccessAbility; all three regularly work with the constellation of organizations and government departments that make up the human service safety net.
"For those short-term things that may come up with a client, like housing or transportation issues, we'll work with other nonprofit partners in the community to help our participants overcome them," says AccessAbility's Lundmark. "Because these organizations all do different things, our goal is to collaborate with others that serve ex-offenders so that we all do what we do best and there's no overlap or duplication of services."
That could mean a case manager from AccessAbility reaches out to a housing provider, such as Volunteers of America, to ensure that a program participant has access to accommodations. Or it could mean a case manager from SOAR works with the St. Louis County Human Services Department to ensure a CORP participant gets enrolled in the Supplemental Nutrition Assistance Program, commonly referred to as food stamps.
As Ferstan of the Greater Twin Cities United Way explains, "Many of these organizations work together because we need to ensure that there is a continuum of services."
Creating value on a limited budget
Helping ex-offenders find gainful employment and build productive lives seems like it would be a worthy cause for the state and other funders to support, particularly if the estimated return on investment, or ROI, is large. According to Berman, the ROI in the TC RISE! model is large indeed: Over the past 15 years, for every $1 the state has invested in the program, the return to Minnesota taxpayers from reduced state subsidies, increased state tax receipts, and lowered recidivism has been $7.72. That represents a 672 percent ROI over the time period.
But funding isn't always forthcoming. Edison notes that, despite demonstrating the success of its CORP program in the past, SOAR has had to cut the number of case workers it employs, and thus reduce the number of offenders it can help, because of a lack of funding. Currently, SOAR's single remaining CORP case worker has 45 ex-offender clients, and SOAR plans to drop that number to 35 in order to maintain the integrity of the services it can provide. Furthermore, as of August 2013, 13 individuals are on the CORP waiting list—a number that still doesn't reflect the program's high demand, given that corrections officials, who recommend SOAR's program to inmates, have not been widely advertising CORP because of its known capacity limitations.
"There's more beef that we could add to our programs and more people we could reach, but because of our lack of funding we've had to scale everything back," explains Edison.
Ferstan of Greater Twin Cities United Way remains adamant that workforce development programs for ex-offenders are a societal necessity.
"We have to recognize that there are a lot of collateral consequences that get in the way once someone has any kind of record," she says. "We must ensure that there is an adequate level of support in the community to help them succeed. Employment is one key to that success."
For more on other, similar programs in Minnesota
The workforce development initiatives profiled here are not the only such programs in Minnesota. To learn about other organizations across the state that offer workforce development programs for ex-offenders, visit the "Ex-Offender Resources" section of www.minnesotaunemployed.com.
The hard and soft of workplace skills
Taken as a set, "hard" and "soft" usually refer to physical properties, such as the scratch-resistance of a substance or the mineral content of a community's tap water. But in the workforce development world, the words refer to the two main types of skills needed to succeed in the workplace. People who possess hard skills, or technical abilities, have the know-how and dexterity to perform specific, required tasks like welding, automotive repair, or masonry. People who possess soft skills, or emotional and social awareness, demonstrate an ability to successfully manage stress, resolve conflicts, and navigate interpersonal dynamics in the workplace—behaviors that contribute to improved productivity and job retention.
---
1/ According to a survey of employers on their willingness to hire people with various stigmas, such as having an unstable work history or having a criminal history, only 40 percent of respondents said they were willing to employ ex-offenders. A description of these findings can be found in Ex-Offenders and the Labor Market, a November 2010 report authored by John Schmitt and Kris Warner and published by the Center for Economic Policy and Research. For more, visit www.cepr.net/documents/publications/ex-offenders-2010-11.pdf.
2/ When individuals who were sentenced to parole or probation only are included, the estimate is as high as 13.9 million. See the Schmitt and Warner report referenced in footnote 1.
3/ Prison population figures are drawn from Prisoners in 2012–Advanced Counts, published by the Bureau of Justice Statistics in July 2013. It includes prisoners with sentences longer than one year. The inmate count reported by the Minnesota Department of Corrections (MDOC) is lower than the federal number by several hundred people. For more information on federal statistics, see www.bjs.gov/content/pub/pdf/p12ac.pdf.
4/ The number of supervised individuals is from a July 2012 MDOC fact sheet titled Notable Statistics: Minnesota Department of Corrections, available at www.doc.state.mn.us/aboutdoc/stats/Default.htm.
5/ For more information, see "Justice Expenditure and Employment Extracts Series" published by the Bureau of Justice Statistics at www.bjs.gov/index.cfm?ty=pbdetail&iid=4679.
6/ This figure reflects the recidivism rate between 2004 and 2007. For more information, see State of Recidivism: The Revolving Door of America's Prisons, Pew Center on the States, April 2011.