Eastside Financial Center launches prepaid card with unique perks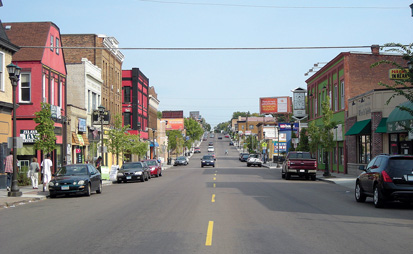 Many individuals and families on the East Side of St. Paul, Minn., know all too well the reality of living day-to-day without a checking or credit account. Monthly check-cashing fees, transportation costs associated with in-store bill pay, the inability to participate in services that require a valid debit or credit card, and the personal safety concerns that come with carrying large amounts of cash are just some of the issues these unbanked households face.
Calculations based on data from the 2011 FDIC National Survey of Unbanked and Underbanked Households and the U.S. Census Bureau suggest that about 1 in 5 households in the East Side's Payne-Phalen neighborhood lacks access to full banking services.*/ The reasons for the lack of access are many. For the individuals in some unbanked households, blemishes in their banking and credit histories may preclude them from obtaining an account, while for others, low wages or fixed incomes may prevent them from maintaining the minimum deposit requirement. And for immigrants, language barriers and lack of trust may contribute to low utilization of financial services.
Financial well-being is the goal
In recent years, several prepaid card products have been developed to meet the needs of individuals who lack access to a debit or credit card. Among the most well-known are Bluebird (www.bluebird.com) and Green Dot (www.greendot.com). While these types of cards do address some of the issues associated with not having a checking or credit account, they do not offer features or services designed to improve individuals' overall financial health, nor do they help individuals build relationships with local financial institutions. In addition, the average monthly fees associated with some prepaid cards can exceed those of a traditional checking account.
However, a new prepaid card available to households in the Twin Cities area is designed to help manage cardholders' personal finances while keeping fees in check. The Eastside Financial Center (www.lssmn.org/efc), a program established by the nonprofit organization Lutheran Social Service of Minnesota in 2008 to improve the financial well-being of low- to moderate-income households on St. Paul's East Side, teamed up with Sunrise Banks N.A. (www.sunrisebanks.com) to launch the new prepaid card, which debuted on June 25. The Eastside Financial Center Prepaid MasterCard offers a pair of perks that is not available through any other prepaid card on the market: financial counseling and access to a traditional savings account. Cardholders will have the opportunity to:
Meet with a Lutheran Social Service financial counselor to develop a financial plan and review their credit report;
Open a Special Thrift Savings Account, a savings product co-developed by Sunrise Banks and the Eastside Financial Center that has no enrollment fee or monthly minimum balance requirements; and
Monitor monthly spending online.
These activities are not mandatory for cardholders. However, Eastside Financial Center staff members are optimistic that the card will be an effective tool for encouraging budgeting and saving behaviors that can ultimately lead to improved financial well-being.
"The prepaid card is in line with our goal and vision to be a one-stop financial shop where customers can receive financial education and access to other wraparound services that will support them in their journey toward financial stability," says Eva Song Margolis, the center's director.
In addition to linking cardholders to financial education, minimizing fees was an important factor in the development of the card. Unlike some prepaid cards on the market, which charge a service fee each time money is loaded onto the card, there is no charge for loading money onto an Eastside Financial Center prepaid card. Instead, the card carries a flat fee of $4.95 a month. Cardholders can deposit funds onto their cards at any of Sunrise Banks' eight Twin Cities branches. Cardholders who receive wage or benefit checks also have the option to enroll in direct deposit using a simple form that can be downloaded online. Cardholders can withdraw funds from any Sunrise Bank ATM free of charge, including the ATM located in the Eastside Financial Center. For each withdrawal at an ATM outside of the Sunrise network, cardholders pay a $1.50 fee, in addition to any fees that the ATM operator may charge. Eastside Financial Center staff members can provide guidance on administrative steps, such as completing the direct deposit form, and can offer cardholders tips on ways to access cash without incurring charges.
To help customers manage their spending, the Eastside Financial Center Prepaid MasterCard incorporates the Good Funds model, which requires that sufficient funds be available in order for a transaction to be approved. With this structure, there are no overdraft fees; if the customer does not have enough money available in his or her account, transactions are simply declined. Other consumer protection measures include FDIC insurance and limited cardholder responsibility in the event of loss or theft.
Although households in the Payne-Phalen neighborhood are the target service population for this card program, underserved customers in the Twin Cities who live outside of St. Paul's East Side will also be eligible for enrollment. In fact, the only program eligibility requirements for cardholders are that they must have photo identification and a physical address. Individuals who do not have a Social Security Number will be able to enroll using an Individual Taxpayer Identification Number.
Transforming the nonprofit-bank relationship
Eastside Financial Center hopes to enroll a minimum of 400 prepaid card customers in the program's first year and to exceed that number in 2014. The success of the card will, in part, be measured by the number of cardholders who elect to take advantage of the card's unique perks. Program partners anticipate that the challenges of marketing to and educating the public on how the card works will be the biggest hurdles. They plan to rely heavily on word of mouth and community service providers in order to recruit program participants.
Says Margolis, "We are trying to transform the relationship that nonprofits have with financial institutions, from 'How many new customers can the bank acquire?' or 'How will this support their CRA [Community Reinvestment Act] requirement?' to 'How can institutions deliver services that are sustainable, scalable, and grounded in consumer need?' I think our prepaid card with Sunrise Banks is a good example of that paradigm shift."
A commitment to the Compass Principles
By design, the Eastside Financial Center's prepaid card embodies the four Compass Principles that the Center for Financial Services Innovation (CFSI) has established for excellence in the financial services industry. Sunrise Banks is currently one of seven financial companies nationwide that have committed to incorporating the Compass Principles into their products and services.
CFSI's Compass Principles
Embrace inclusion
Build trust
Promote success
Create opportunity
For more information about the Compass Principles and CFSI, visit www.cfsinnovation.com/content/compass-principles.
---
*/ The calculations involved applying the FDIC's estimates of the Twin Cities area's unbanked and underbanked population to 2007–2011 U.S. Census Bureau American Community Survey numbers for households living in ZIP Code 55310 (i.e., the Payne-Phalen area). The final calculation was adjusted to reflect additional demographic factors associated with being unbanked or underbanked that are prevalent on St. Paul's East Side. The FDIC report defines individuals as unbanked if they lack any kind of deposit account at an insured financial institution. Underbanked individuals are defined as having a bank account but also relying on alternative financial service providers, such as check-cashing outlets.