Federal tax credit program helps spur Butte business revival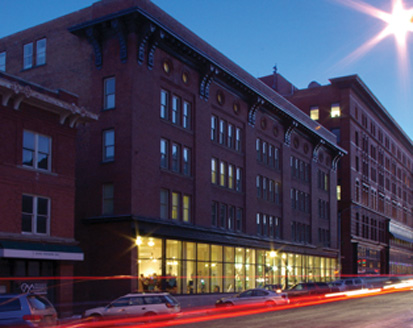 As local observers recall, the pulse of economic life in the Uptown section of Butte, Mont., in 2006 registered a steady but slow pace. Dozens of century-old buildings lining the streets of this nationally recognized historic district did little more than conjure images of a bustling past. Still, the predominantly brick buildings—some vacant and boarded, others occupied on the ground floor but otherwise mothballed—were endowed with good bones, and it seemed possible, with some type of bold investment, to reanimate the commercial district of this old mining settlement.
Nick Kujawa understood this potential well. He had grown up in Butte and knew the streets and history of the area intimately. And as a New York City-based real estate lawyer engaged in development projects, he knew firsthand how a bold redevelopment in a high-potential, low-investment area can be the potent force needed to spur revitalization.
So when his father contacted him to tell him about Silver Bow County's redevelopment requests for the old Sears building—a five-story, 100-year-old monolith in Uptown Butte that had been shuttered for decades—the younger Butte native knew he had to act. Kujawa flew back to his home city and examined the building. After further research, he understood what the area needed: an anchor, something to give other prospective businesses, and private capital, the confidence that the economic pendulum was on the upswing.
Four years later, Kujawa, having been awarded the redevelopment rights by the county and having partnered with a local construction firm, was the proud co-owner and operator of a full-service grocery store and four floors of market-rate apartments—a mixed-use redevelopment of the historic Sears building that drew on an innovative mixture of public and private financing and helped catalyze a resurgence of economic activity in Uptown Butte.
"I was looking for a transformative project," explains Kujawa, "and this was it."
"Twinning" tax credit programs to leverage private financing
From the outset, redevelopment of the 80,000-square-foot former department store generated more questions than answers. Who would be willing to invest in such an endeavor? The structure's steel frame and brick exterior, both mostly intact, exuded the raw potential that splashy redevelopment projects were built on, but overall the building was in terrible shape.
As one of Kujawa's then-prospective partners recalls, "You could stand on the roof and look down into the basement."
Moreover, how would Kujawa find the millions of dollars needed for the project? He had access to $1.4 million in personal equity, but would prospective bank investors be willing to make the loans necessary to acquire and refurbish the building? After all, no comparable development projects, or "comps," had been completed recently or were currently under way in the Uptown section of Butte, and they would have been helpful risk indicators for financial institutions seeking to gauge their potential investment. This was a significant challenge that Kujawa encountered as he sought out conventional financing for a year and a half. Then the 2008–2009 contraction in private finance prompted him to look elsewhere.
That's when Dave Glaser, the prospective partner who had stood on the building's roof and gazed down to the cellar, announced his support. As the president of Missoula-based Montana Community Development Corporation (Montana CDC), Glaser envisioned the same watershed investment as the lawyer/developer, and he recognized how the redevelopment of the historic Sears building could be a stimulative boon to Butte. What's more, his organization had the ideal tool to help: New Markets Tax Credits (NMTCs).
The NMTC Program, established by Congress in 2000 and administered by the U.S. Department of the Treasury (Treasury), is intended to "spur new or increased investments into operating businesses and real estate projects located in low-income communities," according to Treasury's web site.1/ Treasury awards tax credit allocations to Community Development Entities (CDEs), which then re-distribute the tax credit allocations to corporations and individuals who invest private capital in a qualifying project. Since the program's inception, Treasury has awarded more than $36 billion in tax credit authority to CDEs across the country. To some, the NMTC Program has the reputation of being an investment tool that is used primarily in large urban areas. But it can be applied in settings with considerably smaller populations, too. Glaser knows this firsthand: Since 2008, Montana CDC, which is a CDE, has received and re-allocated more than $123 million in NMTCs to projects in Montana and Idaho. Many of those projects were in smaller urban or even rural areas.
To be eligible for this funding, Montana CDC requires prospective projects to meet several criteria, including being located in a low-income census tract.2/ The Sears building—located in a tract with a median annual household income of $20,469, or roughly half the $40,030 median for the entire county3/ —matched Montana CDC's NMTC requirements on all points and, according to Glaser, was ideally suited to leverage an NMTC allocation. And so in 2009, several weeks after Glaser's Butte visit, Montana CDC awarded Kujawa an NMTC allocation that added $1.9 million in capital to the project.
Concurrent with his discussions with Montana CDC, Kujawa had been exploring other financing options, including applying for federal historic tax credits through a program administered by the U.S. National Park Service. The Sears building lies within the Butte-Anaconda National Historic Landmark District, a designation the area received in 1961 because of its location at the center of national mining-related labor movements in the late nineteenth and early twentieth centuries. If Kujawa could parlay these attributes into a successful application for federal historic tax credits, the Sears building would be the first project of its kind in the state of Montana to "twin" federal historic tax credits and federal New Markets Tax Credits.
Several weeks after receiving notice of the NMTCs from Montana CDC, the Sears building project was awarded historic tax credits worth nearly $1.5 million in additional capital. With a total of nearly $4.8 million now raised from personal and federal sources, Kujawa was able to secure a $1.3 million low-interest loan from the Butte-Silver Bow Urban Revitalization Agency and a nearly $3 million commercial loan from Glacier Bank. The grand total of $9.1 million was enough funding to buy and rehab the historic building on Granite Street.
"When the right person has the right tools at the right time," says Montana CDC's Glaser, "they can get amazing things done for the community."
Building to satisfy local demand
With the project fully funded, Kujawa and his construction partners set about transforming the old department store into a community asset—a retail food source, a high-quality residential option, a family destination, and a job creator with the potential to inject additional money into the local economy.
The previous grocery store serving the residents of Uptown had closed several years prior, leaving the closest retail food outlet about a mile and a half away.
"We heard from a lot of people that we needed a market in Uptown," says Karen Byrnes, the director of the Community Development Department and Urban Revitalization Agency for Butte-Silver Bow. "The majority of the low- to moderate-income residents in Butte live near the Sears site, and it's extremely important that they have access—even walkable access—to this new market."
Recognizing the area's limited retail food options, Kujawa and his partners built a full-service grocery store called the Hennessy Market. It offers a wide array of foods, from generic-label canned and frozen foods to organic brands and fresh produce. The market also offers a catering service, deli, bakery, and butcher. For the 12,000 residents of the Uptown area, as well as the thousands of daytime workers whose offices and job sites are located nearby, this neighborhood store is now a convenient, go-to source for food.
"We're very happy that the grocery store is an 'integrated' market and serves everyone in the area," says Kujawa, who, along with his wife Jen, manages the store. "Our goal is to provide the whole mix of things, including the basics."
On the four floors above the grocery store sit 34 one-, two-, and three-bedroom market-rate apartments with high ceilings, sleek bathroom fixtures, large kitchens, and hardwood floors—design features that weren't found in the existing Uptown housing stock. Kujawa had heard over and over of the need for "high-quality market-rate living options" in Uptown Butte, and he was happy to build them.
But Kujawa and his partners didn't stop with just the retail food store and the new housing units. Below the grocery store, in the basement that Montana CDC's Glaser viewed from the roof, they constructed a fully finished commercial space that is now leased by a family-oriented, hands-on science museum that opened its doors to the public in late 2011.
Says Kujawa: "We wanted this building to be a fully mixed-use development."
For the building's rehabilitation, Kujawa and his partners tapped into the wealth of labor talent residing in the surrounding area. The construction itself generated nearly 50 new jobs and paid out more than $1 million in wages over 15 months. Post-construction, the Hennessy Market now employs 30 Butte residents—three-quarters of whom were previously unemployed and half of whom live in Uptown—and provides 24 families with a primary job and benefits. Over the next ten years, the economic impact of the Sears building is estimated to be $12 million.4/ Moreover, the features and components of the building's redevelopment are equivalent to those required by the LEED (Leadership in Energy and Environmental Design) Silver certification, which means they adhere to strict environmental standards for material re-use, energy and water efficiency, and indoor air quality.
A catalyst for business growth
The pace of economic activity—specifically, business creation—in Uptown Butte is steadily gaining speed. According to Karen Byrnes, 42 businesses have opened in the area since 2005, during the years that the energy around the Sears project started to coalesce.
"We're seeing a lot of interest in housing, retail, and restaurants," she says. "There's a definite excitement about the area."
One of those new businesses is Headframe Spirits, a distiller of hard liquor products that is owned and operated by John and Courtney McKee. In 2009, after surveying the area and recognizing its potential, they purchased a building that was constructed in 1919 and had served as a Buick dealership. The building boasts massive 12' by 12' windows. From the outside, passersby can view the newly installed copper and stainless steel stills situated in the former showroom, which has its original marble flooring. Above the showroom, on the second floor, an expansive, 5,000-square-foot former dance hall hosts the distillery's tasting room.
"There are so many great old buildings that just scream to have something done in them," he says. "We sensed a lot of possibility in Uptown and wanted to be here to operate our business out of one of them."
Around the corner from Headframe Spirits and the Hennessy Market is an eight-story structure built in 1906 that is now, thanks to an entrepreneur named Ron Ueland, a mixed-use development of condominiums, office space, retail space, and a restaurant. Called the Metal Bank Building—named for the entity that once operated from it—the building was purchased and rehabbed in 2007 to meet the emerging demand in Uptown. Ueland owns several other properties, including units in a condo development in Seattle, and believes he bested that Pacific Coast property primarily because of the historic character inherent in the Butte architecture.
"It has all of its original flair and beauty," he says, noting that the architect, Cass Gilbert, also designed the Minnesota State Capitol and the U.S. Supreme Court building. "I don't have any available condos left, but people are still calling me."
Ueland redeveloped his property at the same time that Kujawa was redeveloping the Sears building. And while Ueland did not pursue federal tax credits for his Metal Bank Building rehabilitation, he noted the power that NMTCs can have in spurring development, how they can have a "multiplier effect that can be tremendous once momentum gets going."
Kujawa reels off a list of the newly opened businesses that feed off and contribute to all of this energy: an engineering firm, small restaurants and cafés, coffee shops, personal services like hair salons and spas, a microbrewery (in addition to the distillery). And, of course, more housing.
His latest development endeavor—after the conclusion of the Sears redevelopment—is an eight-story condominium tower. The building, kitty-corner from the Hennessy Market, is 110 years old and is considered the first skyscraper in Butte. The ground-floor tenant, a women's clothing store, has operated out of the building for nearly three decades and will continue to do so, but the upper seven floors, all of which had been vacant for the better part of the past two decades, are being converted into condos. Kujawa is paying for the multi-million dollar project with conventional financing.
"All of them have sold," he adds. "Taking an empty building and creating spaces where people can be owners who are now committed to lifting and supporting the neighborhood is a tremendous benefit for the area."
In all, Uptown has notched about $12 million in residential investment since 2007, according to Byrnes of Butte-Silver Bow. In addition to Kujawa's and Ueland's rehabs, the area has seen some newly constructed duplexes and fourplexes pop up.
"It's huge for our community," she says.
A commitment to the future
Kujawa sees interest in the area skyrocketing but cautions that the Uptown rebirth is still in the making. To build on the momentum, the property and business owners in Uptown are forming the Uptown Butte Business Improvement District. One of their first orders of business will be to voluntarily support a property tax levy, all with the intention of promoting and maintaining the area's growing economic vitality.
Recently, Kujawa and his fellow entrepreneurs remaking Uptown Butte received some good news: NorthWestern Energy, a multi-billion dollar electricity and natural gas provider, announced its intention to build a $23 million office building at the intersection of Main Street and Park Street, just one block west and two blocks south of Kujawa's Sears building. NorthWestern already has a corporate presence in the area, occupying several buildings in Uptown, but from Ueland's point of view, the power company's decision to invest millions in a capital project underscores its commitment to the future of Butte, and particularly of Uptown, as a viable economic center.
Kujawa concurs, adding, "We just heard they've gotten approval to receive New Markets Tax Credits."
---
1/ For more information about the New Markets Tax Credit Program and what constitutes a CDE, visit cdfifund.gov/what_we_do/programs.asp.
2/ Other Montana CDC criteria are: the project must have high community impact, the total cost must exceed $4 million, at least 20 percent of the income from the completed project must come from commercial (i.e., nonresidential) use, and the completed project must not be sold for at least seven years.
3/ Figures are drawn from the U.S. Census Bureau's 2011 American Community Survey 5-Year Estimates.
4/ Employment, wage, and economic impact figures are from Montana CDC.