Social impact bonds offer promise of savings, profits, and positive outcomes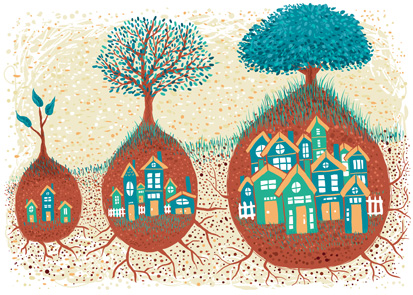 For state and local governments, the costs associated with social issues can be staggering. Take long-term homelessness, for example. Addressing the health needs of the chronically homeless population involves elevated numbers of trips to the emergency room, increased usage of Medicaid, and frequent mental health consultations. There are also the expenses associated with temporary shelters, police calls and jails, and the personnel running those institutions. All of these services come with price tags, and much of the cost is paid for with public money. These expenses are primarily associated with reactive, supportive services—balms that salve the symptoms but do not address the root causes of homelessness. In the end, these emergency services draw money away from other interventions that social service providers could pursue on behalf of their homeless clientele.
But what if there were a way for a state or local government to allocate more money to the organizations working with homeless populations, knowing with confidence that the public's money was being spent effectively? If the organizations succeeded in transitioning chronically homeless individuals to stable, productive lives, wouldn't the government, on balance, be saving money by not having to pay for expensive supports and emergency services?
Over the past couple of years, a handful of cities around the globe have been testing this argument, as governments, nonprofits, and individuals or organizations that invest in social service efforts explore a new social investment tool called a social impact bond (SIB). SIBs hold the promise of not just producing a positive social outcome, such as helping a homeless individual find stable and permanent housing, but also saving the government money. And, in theory, SIBs can produce profits for investors. If this win-win-win scenario proves to work, it has the potential to up-end the funding model for an array of social services.1/
The ABCs of SIBs
The most common SIB model involves four primary actors: an intermediary, the government, a service provider, and private investors. The government contracts with an intermediary to obtain social services, such as transitioning high-need homeless individuals into stable living situations. For payment, the intermediary receives money from the government only if certain performance targets are met. This is called pay-for-success contracting (or outcome-based contracting or performance-based contracting); the performance is subjected to careful evaluation, which the government itself is responsible for arranging. Moreover—and this is a fundamental characteristic of SIB models—the government pays the intermediary after the services are provided, with the idea that the money will come, at least in part, out of the savings the government reaps from reduced usage of social services (such as emergency room visits, Medicaid, etc.).
Because payment from the government comes after the provision of services, the intermediary must, in the interim, raise its own operating and program funds. One way to do that is to sell bonds—i.e., social impact bonds—to private investors. The intermediary then subcontracts with a service provider to actually deliver the social services. Upon the successful delivery of services, the government pays the intermediary its agreed-upon fee, and the intermediary then pays back the bondholders according to the bond terms, which could include a profit.2/ (See the chart below.)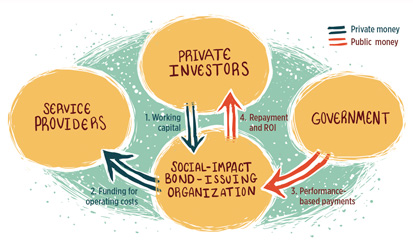 Pursuing what works
The triple-win scenario of achieving positive social outcomes, generating government savings, and returning investor profit is the most visible benefit of the SIB model. For the government, another prominent benefit is that the service contract is risk-free; in other words, the government pays only if the intermediary delivers its agreed-upon outcomes. But the less-recognized benefit of SIB-backed social service contracts is a continual drive for innovation.
Because investors are paid only when performance targets are achieved, it behooves the intermediary to ensure that its service providers are meeting expectations in order to fulfill the outcomes established in the contract. This means the intermediary will encourage the service provider to pursue social service strategies that really work. If the service provider does not employ effective interventions, the intermediary has the option to subcontract with a different service provider that uses different methods. In effect, the pressure to succeed will weed out social service practices that don't deliver adequate results.
Barriers and considerations
In theory, the SIB model appears to be a simple machine. But in practice, it has many moving, often complicated parts, and there are many facets and repercussions that must be considered.
One challenge inherent in the implementation of SIB-backed pilot projects is the need for rigorous, objective assessment of whether the targeted outcomes were achieved. The "gold standard" of assessing project outcomes is to have program evaluators (typically, third parties) measure the differences in outcomes between a treatment group and a randomly selected control group. In the case of our homelessness example, adequately sized populations of homeless individuals, randomly assigned to receive assistance or not, would have to be tracked, or similar research-like protocols would have to be implemented. That would be a challenging task given the relatively itinerant nature of some homeless individuals. Tracking a similar universe of assisted and unassisted populations, or implementing other rigorous protocols, would be needed for other SIB-funded projects. However, alternatives such as comparing outcomes to historical norms may also work.
Another consideration is ensuring that the government has adequate resources to establish and monitor SIB-funded contracts. This means there must be committed and knowledgeable staff who shepherd the project from inception to completion, which can take multiple years. And it means there must be an appropriate level of technical expertise on hand, as SIB-funded projects require the drafting of outcome-based contracts, cost-benefit analyses, and complex evaluations, among other things. Furthermore, steps must be taken to ensure that the assisted populations are not abandoned in the event of a failed SIB-funded project. Again in the case of homeless interventions, this would mean that base-level social services, such as temporary shelters, would still be available regardless of the interventions being provided through an SIB-funded project.
Pilot projects test the model
Determining exactly which social services are appropriate for SIB-financed projects remains unclear, but some potential areas are emerging. They include:
Lowering recidivism rates among adult ex-offenders;
Counseling at-risk youth who will soon age out of the foster care or juvenile justice systems;
Delivering workforce development training for difficult-to-employ individuals;
Providing preventive care for individuals at risk of developing specific ailments, such as asthma and diabetes;
Delivering in-home health services to elderly people so they can avoid nursing homes; and
Providing prenatal, early childhood, and preschool services to improve the chances of success for at-risk or low-income households.3/
Pilots testing these interventions are currently under way or being planned. The oldest—and first—pilot of an SIB-backed project was launched in 2010 in Peterborough, England, with the goal of reducing the rate of recidivism among adult men imprisoned for sentences shorter than 12 months. Social Finance Ltd. (the intermediary) raised £5 million to fund the delivery of interventions—job training, substance abuse counseling, etc.—to approximately 3,000 inmates. If the rate of recidivism is reduced by more than 7.5 percent over six years, Social Finance will be paid a portion of the cost of reoffending, up to £8 million.4/
Youths who are incarcerated on Rikers Island in New York City are also the target of an SIB-funded intervention project, this one announced in 2012. MDRC (formerly Manpower Demonstration Research Corporation), an intermediary with a history of testing emerging policy concepts, received a $9.6 million loan from Goldman Sachs5/ to design and coordinate a program to provide a range of therapeutic services to youths ages 16 to 18. The services will be provided by the Osborne Association and the Friends of Island Academy, both of which are subcontractors of MDRC, and the project will last four years and reach an estimated 3,400 youths annually. The Vera Institute of Justice will evaluate the effectiveness of the interventions by measuring recidivism rates of the youths 12 and 24 months after their release dates and comparing the rates to historical norms. The City of New York Department of Correction will pay MDRC anywhere from $4.8 million, if readmission to prison is reduced by at least 8.5 percent, up to $11.7 million, if readmission is reduced by at least 20 percent. For MDRC and Goldman Sachs to break even, readmission must drop 10 percent.6/ Anything above that would result in a profit.
In Fresno, Calif., an initiative is being planned to reduce the incidence of asthma emergencies among 200 high-risk children. Nearly 20 percent of the children living in Fresno are diagnosed with this respiratory condition, compared to 10 percent nationally, and approximately 20 people a day are rushed to the emergency room for asthma-related ailments, costing the city nearly $35 million annually. Two intermediaries, Collective Health and Social Finance Inc. (the sister organization of Social Finance Ltd. of the Peterborough pilot), together received a $1.1 million investment from the California Endowment to work with local service providers to deliver in-home interventions for a year, such as identifying asthma triggers and explaining how to remediate them. The goal of the project is twofold: to reduce the number of trips to the emergency room and thereby decrease the City of Fresno's annual hospital costs for the target population from an average of $16,371 per person per year to $7,773, and to establish a viable market for a "health impact bond" (HIB). The pilot project is projected to save $1.6 million. When the initiative is scaled up and expanded to 3,500 participants, the savings could be upwards of $27 million.7/
The innovation continues
For SIBs (or HIBs, in the case of Fresno) to have any sort of substantial impact on the way services are funded and delivered, they must be employed on a large scale. The pilot SIB projects unfolding in communities around the globe are starting out small—probably too small at this stage to be considered a major shift. But the pilot projects are continuing the process of identifying effective strategies while weeding out ineffective ones. This is both important and necessary, as the results of these efforts, over the next several years, will go a long way toward evaluating the viability of SIBs as an alternative approach to providing valuable social services.
Online extra: A conversation with Steve Rothschild of Invest in Outcomes
Steve Rothschild is the founder of Twin Cities RISE!, a workforce development organization headquartered in Minneapolis. He is also the current CEO of Invest in Outcomes, which helped devise the human capital bond, a variation of a social impact bond that relies on the government to sell bonds rather than an intermediary. In an online-only interview with Community Dividend, Rothschild shares his perspectives about performance-based funding for nonprofits. He also discusses his recent book about nonprofit leadership, titled The Non Nonprofit: For-Profit Thinking for Nonprofit Success. To read the interview, visit the Community Dividend section of the Publications & Papers tab at www.minneapolisfed.org.
---
1/ SIB advocates have noted barriers that impede government-only solutions to capturing the same benefits and savings made possible through SIBs. They include difficulties in recognizing how spending by one department can create savings for another department (for example, if an intervention by a human services department results in decreased incarceration rates among the individuals served, thus lowering costs for the corrections department), annual budgets that limit how savings in future years can be used to justify spending today, and political pressures that can make it difficult to defund a less-effective existing program in favor of a more-effective alternative.
2/ This description of the SIB model is drawn from the article "Social Impact Bonds: Lessons Learned So Far" by Hanna Azemati, Michael Belinsky, Ryan Gillette, Jeffrey Liebman, Alina Sellman, and Angela Wyse. It appeared in Community Development Investment Review, Volume 9, Issue 1, 2013, published by the Community Development Department of the Federal Reserve Bank of San Francisco, available at www.frbsf.org.
3/ See footnote 2.
4/ For more on this, visit www.socialfinance.org.uk/sites/default/files/SIB_Launch_PR.pdf.
5/ The Goldman loan will be partially guaranteed through a $7.2 million grant made by Bloomberg Philanthropies.
6/ From an August 2012 press release by the City of New York and the article "Rikers Island: The First Social Impact Bond in the United States" by John Olson and Andrea Phillips, which appeared in the Community Development Investment Review issue referenced in footnote 2.
7/ From the article "Can Pay for Success Reduce Asthma Emergencies and Reset a Broken Health Care System?" by Rick Brush, in the Community Development Investment Review issue referenced in footnote 2.