Techies and neighborhood groups hack their way to community solutions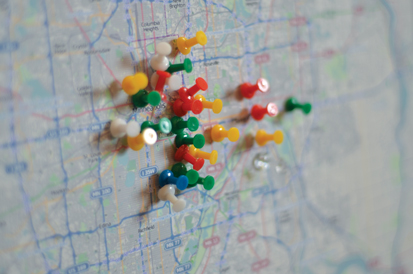 On a sunny Saturday morning last May, several dozen people filed into a large conference room at the central library in downtown Minneapolis to develop, over the course of the day, a battery of digital tools aimed at helping local neighborhood groups address a range of issues their communities face.
The gathering was an example of a "civic hackathon"—an event at which community leaders, acting as subject-matter experts, join forces with volunteer technologists (i.e., programmers, graphic designers, visualization experts, etc.) to collaboratively design and build computer applications and tools that address local needs. At the May event, billed as Visualizing Neighborhoods, participants prototyped 11 such applications while forming scores of community relationships.
"For neighborhood organizations, these events can provide a unique way of engaging a group of very talented, community-minded activists," says Kristen Murray, who helped organize Visualizing Neighborhoods while working as a research assistant for the Center for Urban and Regional Affairs, a Minneapolis-based, University of Minnesota-affiliated organization that provides community groups with technical assistance. "In the end, organizations or individuals get a better understanding of an innovative computer application that could help address some aspect of their work—and sometimes get a fully-functioning tool—while the connections among community members are strengthened."
Pitch, choose, hack
Hackathons don't follow a rigid, engraved-in-stone script, but they do progress along some general phases. First, event participants—both technical experts and community leaders—meet to discuss the problems the community is trying to address and brainstorm ideas about possible solutions. To begin the process, community leaders "pitch" their projects by describing their issues or concerns and the technical experts then offer suggestions for addressing them. For example, at the Visualizing Neighborhoods event, a community representative described an apparent lack of electoral participation in his neighborhood during non-presidential elections. In response, a technical expert suggested building an application to map voter turnout during different election cycles. This back-and-forth is then repeated for each of the participating community groups until a project is identified from each one.
Next, the technical experts divide themselves into groups based on which of the pitched projects they would like to work on. To ensure the best results, participants are encouraged to form project teams whose members bring diverse skills to the work.
The teams then begin building, or "hacking," their applications. This is typically the longest phase of any hackathon and its duration depends on the length of the full event. At the Visualizing Neighborhoods event, which was scheduled for the length of a single work day, the hacking phase lasted about six hours. In a longer hackathon—spanning a three-day weekend, for instance—it can last more than two full work days.
Finally, the teams present their work and, should their applications not be complete, discuss next steps. Organizers might also include a judging period and awards ceremony for the best application.
Cities sign on
At Visualizing Neighborhoods, which was attended by about 50 people (approximately 40 technical experts and 10 subject-matter experts), the scope of projects ranged from the voter participation application mentioned above to an online tool for recommending neighborhood-based outdoor recreation routes. (See the "From pitches to projects" sidebar below for more examples.) But the latitude of the applications—what they do and how they do it—depends on the technical skills of the individual team members, their collective imagination, and the data that are available to them.
Data, often public data collected by a government entity, are the critical ingredients of many applications. The datasets held and maintained by various federal, state, and city departments reflect the on-the-ground conditions within a community, and a government's willingness to share this information and foster an open data atmosphere can go a long way toward creating a productive environment for hackathons and other community development efforts.
The City of Minneapolis, recognizing its role in the process, signed on to co-sponsor Visualizing Neighborhoods. It secured the meeting space at the library and publicized the event at another community-focused conference being held in Minneapolis that weekend.1/ The city's support was an explicit endorsement of the tech-focused, community-building intent of the hackathon.
"We're really pleased with these types of efforts and plan to watch and participate in them in the future," says Otto Doll, the chief information officer for the City of Minneapolis. "In fact, we may adopt and maintain some of the apps produced at these events and make them available more broadly. They can augment the city's ability to respond to public needs."
The City of Minneapolis was also involved in a hackathon held the next week—an event called Hack for MN—as was the City of St. Paul. In fact, Hack for MN was part of a broader initiative to host 95 different hackathons in cities across the country during the same weekend. The nationwide initiative, called the National Day of Civic Hacking, had the support of multiple entities at the federal level, including the White House, as well as state and city governments.2/
Building apps and community
The Hack for MN event spanned two days and the Visualizing Neighborhoods hackathon lasted just eight hours. The durations of both events set ambitious time frames in which to conceptualize, design, and roll out a finished product. Consequently, most of the applications that participants worked on at both hackathons are still in the development phase. And that's why Alan Palazzolo, a local open-source software developer and data-access advocate who served as co-organizer of both events, prefers to stress the community-building aspect of civic hackathons over the actual applications they produce.
"Hackathons are about coming together to find new and innovative ways to tackle problems or otherwise lending one's specific skills to a problem," he explains. "While the activities in a hackathon are outwardly directed toward building an app or a tool, the events are actually about building stronger communities and developing relationships with one another so that this work can continue into the future."
From pitches to projects
The Visualizing Neighborhoods hackathon in May 2013 yielded an assortment of projects, including:
Using data to find out how many people are served by individual bus stops in a given neighborhood.
Facilitating dialogue between parents and schools.
Developing a way to promote the services offered by a recently opened, neighborhood-based, 24-hour childcare center.
Mapping a projection of what 14,000 new jobs will look like along a developing transportation corridor.
Visualizing crime data in the city to address public perceptions of safety.
The good side of hacking
The word "hacker" usually conjures images of cybercriminals breaking into government IT systems or infecting computers with malware. But "hack" also means to solve a problem or make something useful through creativity and resourcefulness. Whether due to frugality, anti-corporate sentiment, or the simple joy of problem solving, this "do-it-yourself" interpretation of the term has caught on in many non-techy spheres, such as food, fashion, and home improvement, as evidenced by the popularity of web sites like www.lifehacker.com and www.hackaday.com.
---
1/ The other event was the 38th Annual Neighborhoods USA conference. For more information, visit www.nusa.org.
2/ For more about the National Day of Civic Hacking, visit http://hackforchange.org/.