A new tool for the college graduate job market
For those graduating from college and looking for a job, or for those heading to college and looking to choose a career path, the state of Minnesota has a new tool that offers a snapshot of how previous postsecondary graduates have performed in the job market.
The Graduate Employment Outcomes website is a collaboration between the Minnesota Department of Employment and Economic Development and the Minnesota Office of Higher Education. It offers prospective students and soon-to-be graduates information on wages and employment achieved by those receiving graduate, bachelor's, associate and sub-baccalaureate degrees.
For example, the site shows that the most popular majors among the graduating class of 2011 were in health, business management and humanities, together accounting for about half of all degrees issued in the state (see chart). Such information can help incoming students view the supply pipeline (and their competition) in certain fields.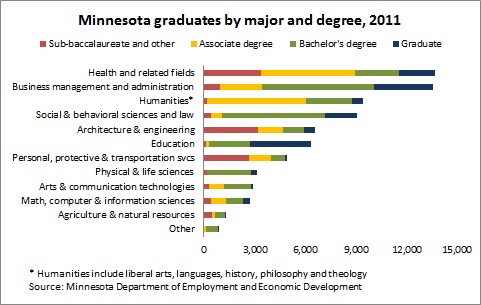 The tool also allows a comparison of wages across majors within degree types. Site users would find, for example, a number of sub-baccalaureate certificate holders who worked full-time and earned well over $40,000 during their second year after graduation in 2011 (see table), but also that earnings vary with the type of degree.
However, users need to be cautious in interpreting the results of the tool due to data limitations.
For example, the online tool shows that employment 12 months after graduation is higher for sub-baccalaureate certificates (71 percent) and associate degrees (72 percent) compared with bachelor's degrees (63 percent) and graduate degrees (63 percent). This flies in the face of unemployment levels that are inversely lower as a person gets more education.
Part of the explanation likely can be found in what is not measured by the new data tool, which matches graduates of postsecondary education institutions in Minnesota with state unemployment insurance wage records. While this data match accounts for many Minnesota graduates, it doesn't capture graduates who are self-employed or are employed by a business in another state; nor does it track graduates from other states who are employed at a business in Minnesota.
As a result, part of the answer to the 12-month employment puzzle likely stems from the fact that recipients of associate and sub-baccalaureate degrees from Minnesota institutions are historically more likely to reside in Minnesota before entering a postsecondary education program and remain in Minnesota after graduation to work compared with bachelor's and graduate degree holders. This means they are also more likely to show up in the data.