As fedgazette Roundup has documented before, farm values have been on an upsurge in recent years. The growth has been so steep that it has prompted discussions about whether farmland is overvalued. On the one hand, booming crop prices have increased the return on the land, reflected in higher rents. But memories of the 2007-09 financial crisis, with its origins in real estate, as well as the 1980s farm crisis, have stoked concerns of a farmland bubble.
But new data suggest a pivot, or at least a cooling period, in farmland prices, according to the Minneapolis Fed's April survey of agricultural credit conditions for the first quarter of 2014. The survey found that prices for non-irrigated farmland fell an average of almost 2 percent across the Ninth District compared with a year earlier. While that would still leave prices well above the levels of just a few years ago, a broad-based fall in values is noteworthy.
Comparisons across the district reveal that the fall in values took place mostly in Minnesota (see map). In other district states, the price continued to increase, albeit at a slower pace than the double-digit growth typical of previous years. The survey indicated further that land rents (also shown on the map), which are more directly tied to the productive value of land, dropped by even more around the district and across a broader swath of territory.
Not every type of agricultural land has turned down either. The survey found that ranchland prices continued to climb and at a faster pace than cropland. This is especially noteworthy because the price of ranchland has typically grown more slowly than cropland during the run-up period. Livestock prices have climbed to historic highs, and a reduction in crop prices means dairy, cattle and hog producers are reaping fatter profit margins, so robust pastureland values might be expected.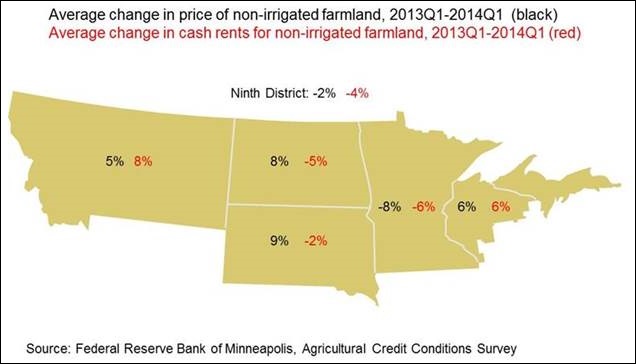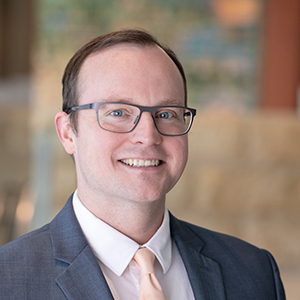 Request as a speaker
Joe Mahon
Director, Regional Outreach
Joe Mahon is a Minneapolis Fed regional outreach director. Joe's primary responsibilities involve tracking several sectors of the Ninth District economy, including agriculture, manufacturing, energy, and mining.