Farmland sales down in Ninth District
After several years of big increases, there are mounting indications that farmland prices have started to moderate. The change in the quantity of farmland bought and sold can offer added insight into what's going on in that market.
The volume of farmland sales is harder to verify because no central agency tracks land sales nationally. Further, there are relatively few transactions, and individual pieces of land don't change hands very frequently, often less than once a generation. For instance, in Minnesota, one of the only states for which a detailed record of land transactions is available, just under 120,000 acres were sold in 2013, out of 26 million farm acres in the state.
For this reason, the Minneapolis Fed's second quarter (July) Survey of Agricultural Credit Conditions asked lenders a special question on land sales: "How does the volume of farmland sales this year compare to last year in your area?" As the chart shows, most respondents reported that the number of sales was down.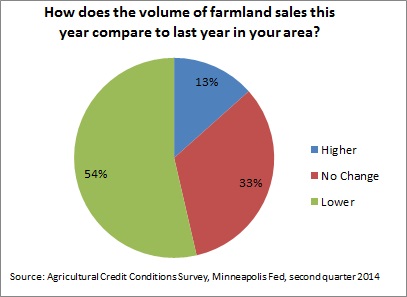 A Minnesota lender said that the "land market is really a big guess, as very little [is] selling," adding that the expectation was for "prices to decline as grain prices fall."
These findings suggest that falling crop prices are helping to lower demand among farmland buyers, causing farmland values to level off (as economic theory would imply). Fewer farmland sales also imply that rather than selling into a plateauing market, farmers appear to be holding tight to their land at the moment.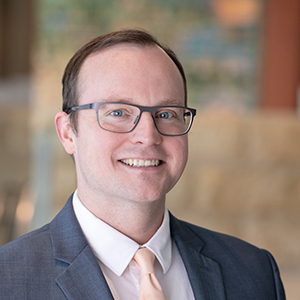 Request as a speaker
Joe Mahon
Director, Regional Outreach
Joe Mahon is a Minneapolis Fed regional outreach director. Joe's primary responsibilities involve tracking several sectors of the Ninth District economy, including agriculture, manufacturing, energy, and mining.