Mass CDFI recertification push winnows list, ensures compliance
In early 2013, the U.S. Department of the Treasury's Community Development Financial Institutions Fund (CDFI Fund) announced that any certified community development financial institution (CDFI) whose original or most recent certification was at least three years old would have to apply for recertification. The mandate was issued to ensure that all certified CDFIs continued to meet the certification criteria required for designation as a CDFI by the Treasury. CDFIs certified within the previous three years were presumed to still meet the criteria, but each was assigned a triennial recertification date relative to its date of most recent certification.
CDFIs are specialized financial entities that work in areas of the market that are underserved by traditional financial institutions. They include regulated institutions, such as community development banks and credit unions, and nonregulated institutions, such as loan and venture capital funds. CDFIs provide a range of financial products and services and related technical assistance in economically distressed areas, as well as to targeted populations for which it has been demonstrated that access to credit and capital is significantly challenged. Products offered by CDFIs include mortgage financing for low-income and first-time homebuyers and not-for-profit developers; flexible underwriting and risk capital for needed community facilities; and technical assistance, commercial loans, and investments to small businesses in underserved low-income areas. To be certified as a CDFI, an applicant for certification must demonstrate that at least 60 percent of such services are provided to low- and moderate-income (LMI) communities.
CDFI certification has multiple benefits. Only those organizations that become certified CDFIs have access to the suite of financial and technical assistance funds offered by the CDFI Fund, the single largest federal source of funding for CDFIs. Since its inception in 1994, the CDFI Fund has awarded more than $1.9 billion through its annual competitive awards process to enable CDFIs to expand their product and service offerings. Additionally, the CDFI Fund has allocated $36.5 billion in federal tax credits through its New Markets Tax Credit Program, which the U.S. Congress established in 2000. Community Development Entities (CDEs) that successfully utilize the program can use these tax credits to raise capital from private investors, thereby better enabling the CDEs to make investments and loans to businesses and development projects that foster economic growth in distressed areas1/ Finally, some CDFIs have effectively leveraged their certified CDFI designation to attract additional investors, such as foundations. In other words, simply being a formally recognized CDFI has value.
By the numbers
At the time of the recertification announcement, there were roughly 1,000 certified CDFIs. Of this total, nearly 750 were required to apply for recertification, with the balance having been assigned future recertification application deadlines. Ultimately, approximately 500 of the 750 organizations chose to apply for recertification.
To be recertified, each organization had to complete an application demonstrating that it met the statutorily required criteria for certification, including having a primary mission of promoting community development and being primarily a financing entity. Most of the applications were due by April 8, 2013, and were processed over the ensuing months.2/ As of February 28, 2014, the Treasury recognized 806 organizations across the country as certified CDFIs (including those recertified in 2013, those that did not have to recertify, and newcomer CDFIs that applied for their initial certification during 2013). The breakdown of CDFIs by organization type is listed below, with numbers in parentheses representing the number of CDFIs of each type headquartered in the Ninth Federal Reserve District:
Loan funds: 490 (52)
Credit unions: 176 (6)
Bank or thrift institutions: 78 (1)
Depository institution holding companies: 49 (1)
Venture capital fund: 13 (1)
Of these 806 CDFIs, 67 are Native CDFIs, a Treasury-recognized self-certification for CDFIs whose efforts are focused primarily on Native American communities. Native CDFIs have access to resources available through the CDFI Fund's Native American CDFI Assistance Program and are also eligible to apply to the other programs offered through the CDFI Fund.
Of the roughly 500 CDFIs that applied for recertification, more than 475 have successfully completed the process and been recertified. Approximately 65 recertification applicants did not receive immediate approval during fiscal year 2013 because their recertification applications evidenced deficiencies that the CDFI Fund believed could be remedied with additional information about the entity and its operations. These organizations were granted a temporary "cure" period with the expectation that they would successfully address the identified issues within 90 days of being notified of that determination. As of this writing, the vast majority of those organizations have been recertified.
Of the 750 organizations required to apply for recertification, approximately 240 did not submit recertification applications. According to interviews Community Dividend conducted with five of those organizations, their reasons for not reapplying included:
A change within the organization's target market. One organization serving the Bakken oil region noted that income in its target market increased to the point where the population no longer qualified as LMI.
The perception that the administrative burden associated with both the recertification process and any awards made through the CDFI Fund outweighed the perceived benefits. One organization, in discussing financing and capital opportunities, mentioned "better options" available to it.
A change in leadership that resulted in either a lack of awareness of that organization's active CDFI certification or lack of knowledge about the CDFI program.
An organization's going out of business, changing mission, or merging with another organization. In some instances, newly merged (and often renamed) organizations applied for CDFI recertification and received the designation.
A focused pool
As a result of the 2013 recertification process, the CDFI Fund now has a smaller pool of organizations carrying the certified CDFI designation. However, the certified CDFIs that remain have all recently demonstrated their commitment to the ongoing mission of promoting economic growth in low-income communities. To support this smaller but more focused pool of CDFIs, the CDFI Fund will continue to provide an array of financial awards, technical assistance awards, capacity-building opportunities, and other resources.
For more on the CDFI Fund, visit the Treasury's CDFI Fund web site at www.cdfifund.gov. CDFI certification criteria can be found at www.cdfifund.gov/docs/factsheets/CDFI_Certification.pdf.
For more information
For more about CDFIs, including articles, resource links, a "Find a CDFI" search feature, and a timeline showing the history of the CDFI industry, visit the Minneapolis Fed's CDFI Resources web page at www.minneapolisfed.org/community_education/cdfi.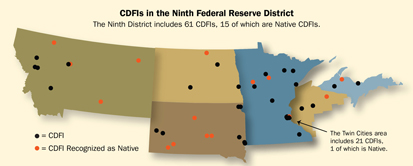 ---
1/ A CDE is a domestic nonprofit or for-profit corporation or partnership that serves as an intermediary vehicle for the provision of loans, investments, or financial counseling in low-income communities. Entities certified as CDEs by the CDFI Fund are eligible to apply for New Markets Tax Credit (NMTC) allocations and to receive loans or investments from other CDEs that have received NMTC allocations.
2/ The CDFI Fund made available a list of due dates depending on the original certification date of the organizations. To view this list, visit http://www.cdfifund.gov/docs/2013/certification/CDFI_Certification_FAQ_04022013.pdf..