Maximizing the tribal land buy-back program: How priority lists can help tribes influence what's purchased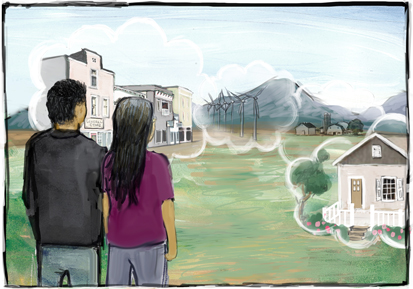 Lisa Leppa
Since December 2013, the U.S. Department of the Interior (DOI) has mailed out thousands of letters to people across the country who own interests in land on the Pine Ridge Indian Reservation in South Dakota. The letters contain official offers from the U.S. government to purchase the interests at market-based prices and then immediately transfer ownership to the Oglala Sioux tribal government. Offer recipients have 45 days to decide whether to accept or decline. The offers are part of the Land Buy-Back Program for Tribal Nations, a $1.9 billion, ten-year initiative—part of the settlement of a class-action lawsuit—that seeks to consolidate land on reservations and restore it to tribal control.
The main question facing individual landowners—To sell or not to sell?—itself generates a lot of questions: What is my emotional connection to the land? Do I rely on money currently generated through the use of the land? Am I comfortable forgoing any future money the land might generate? Whatever conclusion an individual makes regarding his or her land interests, the decision is a private one that requires personal reflection.
For tribes, the buy-back program also poses a central question—What should we do with land that we reacquire?—that itself spawns more questions: What types of land do we value as a tribe? What are our tribe's long-term economic development goals and how can the acquisition and consolidation of land help us achieve them?
As tribes start to answer these important questions, experts in the field recommend that they develop a "priority list" as a first step to help them identify specific parcels within their reservation whose acquisition would advance their long-term land-management goals. In addition to consulting the priority list during their own land-acquisition efforts, tribes can submit it to the DOI, which in turn will incorporate as many of the identified parcels as feasible into its buy-back offers.
"A priority list is very important," says Anthony Morgan Rodman, senior advisor on tribal relations for the DOI. "We want to make sure, to the best of our abilities, that we include the tribe's priorities in the offers."
Fractionation and checkerboarding
To fully understand the importance of a priority list, it's best to start with some background on the buy-back program and the parcels of land it was designed to consolidate. The program was created under the settlement terms of Cobell v. Salazar, a class-action lawsuit over the federal government's management of Individual Indian Money accounts, held in trust by the federal government on behalf of individual Indians, that receive lease payments and other revenue generated by the use of reservation land. (For more on the case and its settlement, see the sidebar below.) The land in question consists of fractionated allotments that are held in trust by the U.S. government. Allotments, also called individual allotments or tracts, are the original 40-, 80-, or 160-acre parcels of reservation land that the U.S. government designated and held in trust for individual tribal members according to terms of the Dawes Act of 1887.
Fractionation refers to divided ownership that developed as the original allotment owners passed away and their heirs received equal, undivided interests in the land. With each new generation of heirs, fractionation interests in individual Indian land allotments continued to grow exponentially. Critically, the land itself was not divided up; instead, the heirs became owners of a percentage of the entire allotment—in other words, they inherited a title interest in the allotment. By definition, a fractionated tract has two or more owners; while the typical tract has a few dozen or so interests associated with it, some have hundreds—even more than a thousand—interests.
Land within reservations that was not allotted to individuals or the tribe was declared "surplus" by the U.S. government and sold, often to non-Indians, and has since been owned in an exclusive and absolute form of land tenure called fee simple. The mixture of individual trust allotments, fee-simple land, and tribally owned land on reservations has created a complex pattern of land-tenure types called checkerboarding.
Fractionation and checkerboarding can make it prohibitively complicated for tribes to acquire land within a reservation, especially contiguous parcels that could be combined to accommodate large-scale commercial, agricultural, or residential uses. Acquiring the interests within a fractionated allotment might require negotiating with dozens or even hundreds of owners, while the checkerboarding of reservation land means there is often little consistency in land-tenure types among adjacent parcels. By enabling tribes to acquire interests in fractionated allotments, the land buy-back program is designed to reduce fractionation and checkerboarding and facilitate the consolidation and use of reservation land for development purposes.
Buy-back basics
Collectively, about 150 American Indian reservations in the United States contain more than 92,000 fractionated tracts, equaling about 10.6 million acres of land; there are nearly 2.9 million fractional interests associated with this land, or more than 30 interests per tract, on average. Of the 150 reservations, 40 contain about 90 percent of the fractionated land. Because of this, the DOI is focusing the bulk of its early buy-back activities on these 40 reservations. Nineteen of the 40 are located in the Ninth Federal Reserve District states of Montana, North Dakota, South Dakota, Minnesota, and Wisconsin.
Although the budget for the buy-back program has been set at $1.9 billion, administrative and implementation costs (for outreach, land research, appraisals, etc.) will be drawn from this total, as well as money for a scholarship fund dedicated to American Indians. This will leave approximately $1.5 billion to purchase interests. For the individual interest owners, participation in the buy-back program is completely voluntary, and only those interests that are willingly sold will be purchased.
The DOI established purchase ceilings for each reservation based on the number of fractionated tracts, the total associated acreage, and the number of purchasable fractional interests. Purchase ceilings are intended to maximize the number of reservations that participate in the buy-back program by protecting against the risk of premature exhaustion of available funds. Within the 40 reservations where the DOI is focusing its early buy-back efforts, the Pine Ridge Reservation has the highest ceiling (approximately $125 million) while Fort Yuma, located in California and Arizona, has the lowest (approximately $6.5 million). The median purchase ceiling is $18.5 million.
Strategic prioritization
Developing a priority list can help tribes pursue their economic development goals more strategically. Denise Mesteth, director of the Oglala Sioux Tribe land office on the Pine Ridge Reservation, explains that her tribe targeted specific land parcels according to several criteria: the parcel is within a three-mile radius of one of Pine Ridge's nine towns, also called districts; is at or near a major road junction; lies along a major road; is or could be used as agricultural land; or falls within the boundaries of a tribally managed national park that is in development*/. After factoring in all of these criteria, the tribe created a list that included more than 6,000 parcels.
"Prioritizing this land made sense from an economic development standpoint," Mesteth says, noting that she used a mapping software package to help identify the appropriate parcels. "By gaining development control over the land, we think that the tribe—as well as private individuals working with the tribe—will have a greater opportunity to create and build businesses or homes at many of these locations."
In order to control the use of a fractionated tract, a tribe (or anyone) needs more than 50 percent of the land's total ownership, a threshold that Mesteth characterizes as "key" to pursuing development activity. Prior to the buy-back program, the Pine Ridge Reservation was one of the more checkerboarded reservations in the country; of its more than 2.2 million acres of land, the Oglala Sioux controlled roughly 407,000 acres and fractionated allotments made up nearly 1.2 million acres. But since the program's purchases commenced in 2013, the tribe has gained control over an additional 194,000 acres. According to Mesteth, all of the newly acquired land was identified on the tribe's priority list.
"We're pleased with the numbers so far," she says, "and we're hopeful that the people on the reservation are as excited for this as we are. Land consolidation gives opportunities for our tribal membership to be entrepreneurs and to have the American dream of becoming a homeowner."
The Umatilla Indian Reservation in Oregon is considerably smaller than the Pine Ridge reservation—172,440 acres—but it still has a high level of checkerboarding. According to Bill Tovey, the tribe's director of economic and community development, the Confederated Tribes of Umatilla own about 20 percent of the land within the reservation, with allotments making up an additional 30 to 40 percent; the remaining is privately owned, fee-simple land.
Land-acquisition activities such as outreach, land research, and valuation work have begun on the reservation and the first buy-back offers will be sent to allotment owners this fall. The tribes have created a priority list that includes roughly 400 of the reservation's 1,000 or so fractionated allotments. According to Tovey, the Confederated Tribes of Umatilla already have property set aside, near an interstate, for commercial and industrial use, so their priority list targets timber and agricultural land; property that will enable easier access between parcels they already own; and culturally significant land, such as cemeteries.
"For communities that want to put in a road or a water or sewer system—infrastructure—they'll be going through fee-simple property, allotted property, and tribal property," he says. "You have to negotiate rights-of-way, easements, those sorts of things, and that's expensive and challenging. But the more land you control, the easier it is. It's still difficult, but it's easier."
An opportunity to examine land use
The process of developing a priority list can have the concomitant benefit of identifying the current state of land use within a reservation. How much of the land within the reservation is residential? What percentage is commercial? How many acres are dedicated for agriculture? And who owns what?
For the Mille Lacs Band of Ojibwe, whose 60,000-acre reservation is in central Minnesota, developing a priority list was an opportunity to do just that. Lisa Johnson, the tribe's director of real estate, says other tribes can take stock of their reservations by going through this exercise as well.
"When you create a priority list, you're looking at data and summarizing it, and that's giving you a snapshot of what your reservation looks like," she says. "That's important. You need to know what you have."
The Fond du Lac Band of Lake Superior Chippewa knows a great deal about the land within its 103,000-acre reservation, which is about 75 miles to the north of Mille Lacs. According to the tribe's calculations, nearly 16 percent of the land is individually allotted and another 23 percent is tribally controlled. The rest is owned by other entities and private citizens. While the Fond du Lac Band's economic development plans do not currently include large-scale commercial projects, it would nevertheless like to acquire land for timber and residential use—a particularly challenging objective on fractionated land.
"The allotment lease process is highly burdensome," explains Sean Copeland, an attorney for the tribe. "Since Fond du Lac primarily uses land for no-rent residential leases, the band has had to contact all of the interest owners, who can number in the hundreds. The administrative burden is so bad that it's often easier to look at other land and leave the fractionated allotments alone."
Topping the tribe's priority list were those allotments where there was a previously established reason for acquisition—for instance, if a tribal member expressed a desire to build a house on a highly fractionated allotment. But next were the allotments where the tribe could gain or maximize its controlling power: land where the tribe owns between 40 and 49.9 percent of the interest, and can gain enough additional interest to exceed the 50 percent threshold to control the land. The tribe then listed lands on which it owns between 30 and 39.9 percent of the interest, and so on, down to 0 percent interest. It then listed allotments where it owned 90 to 99.9 percent of the interest and thus had controlling interest, and so on, down to 50 percent.
"Gaining total ownership—100 percent—would make it so we could avoid the allotment lease process altogether," Copeland says.
The Fond du Lac Band's priority list is also serving to focus tribal outreach activities. Copeland says that the tribe will aim its communication efforts on those people who own the allotment interests the tribe seeks to acquire.
A jumpstart for development
According to Cris Stainbrook, president of the Indian Land Tenure Foundation, an organization that promotes Native ownership and control of land within original reservation boundaries, the long-term economic benefits of the buy-back program hold great promise. He believes that, over time, the newly acquired land will allow tribes to develop businesses that in turn produce jobs. But, he speculates, with only 10 to 15 tribes nationwide having developed a priority list, the jobs may still be a ways off.
"There are a lot of tribes that need to be clearer on what their priorities are going to be," he says. "Developing a priority list is one way to jumpstart that process."
Even though Timothy Krohn's tribe isn't on the list of 40 reservations that the DOI will focus its initial efforts on, the land information manager for the Fond du Lac Band says the tribe is ready to go when the time comes.
"We don't really know when we're slated to start this program," he says, "but I don't see that as a reason to delay. I'm glad we went ahead and put this list together."
For more information about the buy-back program's implementation, visit www.doi.gov/buybackprogram.
Cobell v. Salazar: An uneasy settlement
The Land Buy-Back Program for Tribal Nations is a component of the settlement of a massive class-action lawsuit known as Cobell v. Salazar. Eloise Cobell, a member of the Blackfeet Nation in Montana, and four other plaintiffs filed the suit against the U.S. Department of the Interior (DOI) in 1996 over long-term mismanagement of Individual Indian Money (IIM) accounts. These accounts receive, hold, and disperse funds for the benefit of individual American Indians. An IIM account can include certain types of per capita payments, but primarily consists of funds generated when the federal government leases out trust allotments for ranching, mining, logging, or other purposes. Under an agreement reached in December 2009, Cobell v. Salazar was settled in the amount of $3.4 billion. Of that total, $1.9 billion was dedicated to consolidating the fractional land interests from the original trust allotments. The federal government, through the DOI, established the land buy-back program to pursue these land-consolidation goals. The remaining $1.5 billion of the settlement went toward direct payments to individual plaintiffs, in compensation for the mismanagement of their IIM accounts.
In Indian Country, reaction to the Cobell v. Salazar settlement in general, and the buy-back component in particular, has been mixed. While some individuals and tribes welcome the buy-back initiative, others have raised serious concerns about its design and implementation. Regardless of its reception, the program is moving ahead—and thus prompting individual Indians and tribes to consider the questions and actions discussed in this article.
---
*/ For more on this, see "First-ever tribal national park planned for Pine Ridge," in the April 2014 issue of Community Dividend, available at www.minneapolisfed.org.